Permanent link
06/30/2014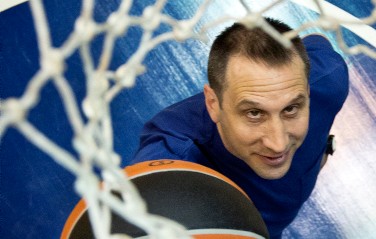 New Cleveland Cavaliers head coach David Blatt, who recently coached Maccabi Tel Aviv.
The Cleveland Cavaliers decided to draft Andrew Wiggins with the No. 1 pick, but they are waiting to hear whether King James would be willing to come home. In either case, the man who will really need to help this team get to the playoffs is their new head coach, former Maccabi Tel Aviv coach David Blatt. This is a great moment in Jewish sports. Blatt is the only current Jewish head coach in the NBA. Former NBA Head Coach Lawrence Frank is hoping to catch on as an assistant with the Los Angeles Clippers.
In baseball, pitcher Jason Marquis, who is coming off Tommy John surgery, has signed a minor league deal with the Philadelphia Phillies, while former White Sox player Kevin Youkilis' Japan playing days have been cut short due to injury. Toronto Blue Jays outfielder Kevin Pillar was sent back down to Triple-A after having a temper flare when he was pulled for a pinch hitter. On the good side, Ian Kinsler is making a strong case for the All Star game with a .308 batting average and 10 HR for the Tigers.
In this year's MLB draft, it appears there were six Jewish ball players taken including Michael Fagan, Julian Brazilli, Nate Irving, Bradley Wilpon, Keith Weisenberg, and Kyle Ruchim. Ruchim played for Northwestern and Irving for the Virginia, which made it to the College World Series final last month.
At Wimbledon, Camila Giorgi (Italy) lost to Alison Riske in the second round, Michael Russell lost to Julian Reister and Duda Sela (Israel) lost to Mikhail Kukushkin. In Doubles, Scott Lipsky's team and Jonathan Erhlich's team were barely beaten. So there goes a Jewish Wimbledon!
In NFL news, Chicago Bears coach Marc Trestman has gone on the record backing quarterback Jay Cutler saying he is bigger and stronger than last season. Trestman will have fellow MOT Brian De La Puente on his offensive line this season.