Permanent link
All Posts
03/21/2012
I have a puppy named Levi. He's about eight months old, and he is an adorable chiweenie.
Chi-what? Yep, you read that right. Levi's a chiweenie. (Or as a friend said, a teeny chiweenie.)
Take the cutest features of a Chihuahua and a Dachshund, mix them together, and that's Levi.
I got Levi in November, when he was a tiny puppy. Today, I got to thinking about all the things that raising him (yes, raising like a child) has taught me.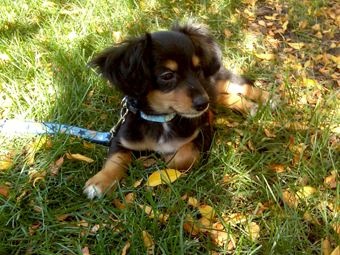 Until you have perfected raising a dog from puppy to adulthood, you will never be ready for parenthood. I'm not the first to say that having a dog, particularly a puppy, is like having a child. Except that you have nine months to prepare for a baby, during which you go to classes, read books and prepare yourself for the being that will dominate your every thought and breath for at least the next two decades.
If you go to a pet store and purchase a puppy, like I did, all it takes is a few minutes and it's a done deal. Most people, me included, probably don't "prepare" for having a dog at all, let alone as much as they should. (Cats are different – their independence makes them much lower-maintenance pets. And maybe their intelligence too. Kidding.)
I didn't read anything. I didn't think about what I'd do when he'd start treating the carpet like a toilet. I didn't imagine a situation in which he'd rip through a wire, or stick his nose into a socket and electrocute himself, causing him to spend the night at an animal hospital, hooked up to an IV. I didn't consider that he'd turn into a little bully, pestering the cats and pulling at their ears with his teeth like Mike Tyson.
Having a child certainly isn't a prerequisite for having a puppy, but perhaps having a puppy should be a prerequisite for having a child. You develop patience, immunity to the smell of poo, and most importantly, self-restraint that will prevent you from harming your future child after they've done something wrong. (At least you'll be able to speak in the same language as your future child!)
Also, being cute will get you off the hook for just about anything. There have been times I've wanted to scream at Levi at the top of my lungs. Like all the times that he ate through a nice pair of shoes, dragged cat poo out of the litter box, ripped up the carpet, howled like a coyote at 3 a.m…. you get the picture. But every time I've picked him and wanted to yell at him, I couldn't. I tried, but I was powerless. Want to know why?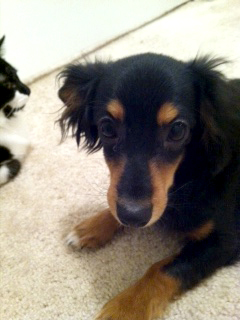 This face. Look at this face. Can YOU yell at this face? Thought not.