Permanent link
09/30/2013
I don't know many people who can't find an appreciation for a toasted bagel mounded with cream cheese and covered in salty hand-cut lox. Throw on some crisp cucumbers, sweet onions, and a juicy tomato and you are set.
The problem is one bagel already has 500 calories and let's face it – I would rather drink sawdust than eat fat-free cream cheese.
Another common problem I have with lox and bagels is that I always seem to crave it at the wrong moments, like Saturday night instead of Saturday at brunch time. I can't go down to the local deli to satisfy my craving, especially if I've already invited friends over for a dinner party.
A quick fix is to take the same flavors passed down from bubbe and make them modern and elegant by serving them as an appetizer or starter. This smoked salmon crudo provides a reduced-calorie option as well. By whipping the crème fraiche, you are incorporating air and therefore able to eat more of it. The bagel is replaced by toasted pumpernickel crumbs, giving you flavor and crunch without loading you down with carbs and calories.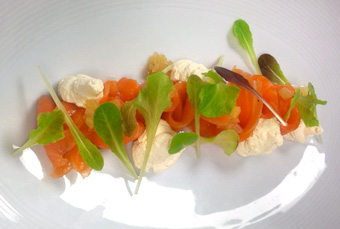 Smoked Salmon Crudo
Serves 2
6 oz smoked salmon
1/8 c pumpernickel bread crumbs
6 oz creme fraiche
1 t cayenne pepper
1 small apple (peeled and diced)
1 small shallot (minced)
2 T sugar
1/2 c champaign vinegar
2 cloves
Salt to taste
Place shallot, Champaign vinegar, sugar and cloves in a pot and bring to a boil. Take of off heat and pour into a bowl over the apples. Season with a pinch of salt and cool down apples immediately. Meanwhile, whip crème fraiche with cayenne pepper and salt to taste. Continue whipping until firm peaks appear. Strain apples from pickling liquid and discard cloves.
To assemble dish roll individual slices of smoked salmon. Arrange on platter alternating dollops of crème fraiche. Finally sprinkle pickled apples and pumpernickel bread crumbs over top.
Use micro mustard greens or celery leaves as an optional garnish.