Permanent link
08/31/2015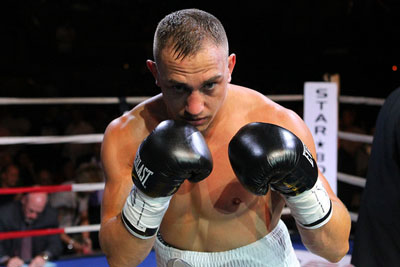 Meet the newest Jewish boxing sensation, Cletus Seldin. He isn't just hard-hitting, he is repping the Jewish people hard too. Take notice!
1. Tell us a little bit about yourself.
I grew up in Shirley, N.Y., which is a working-class neighborhood in Eastern Long Island. I graduated from Longwood High School and I played multiple sports through my years there. I was the starting cornerback on the 2004 Long Island championship team, I was a second-in-the state-wrestler, played lacrosse … I held the state record for a deadlift of 470 pounds at 145 pounds, and I took fifth place in the Eastern USA regionals bodybuilding competition. Don't mess with me when the Dallas Cowboys are on and I'm a food connoisseur. Outside of the ring I'm a really laid back, fun guy to be around, but when I work, I work hard and I don't let anything get in the way.
2. How did you get into boxing?
I started boxing around 2005 after my brother took me with him to the MMA gym where he attended. I was actually pretty good naturally because of my wrestling background and believe it or not, I tapped out the Sensei my first day there. I even worked my way up to a brown belt in Judo. But what I found out was that my stand-up fighting ability was pretty bad. There was a local boxing gym in Shirley that trained a couple big name guys and they had a really good amateur reputation in the Golden Gloves. When I started there I was getting knocked around pretty good by experienced amateurs until made a decision to start going every single day until I was beating those same guys, and that's what I did. I started winning exhibitions and winning amateur competitions and now the rest is history.
3. Have you ever considered going into MMA or wrestling?
MMA, yes. Before I started boxing, like I said earlier, I was doing MMA training. But once I started excelling in boxing, I haven't really looked back toward MMA. I can't say that I never will in the future, but as of now I am 100 percent committed to boxing. As for WWE, nope, never really crossed my mind.
4. How did you get the nickname The Hebrew Hammer?
The Hebrew Hammer alias started when I was still competing as an amateur. I was going to all of these tournaments and people started noticing my really hard-hitting right hand. They would say "Wow, that kid has a hammer. What is he, I don't know. Umm, I think he's Jewish. Yeah he's got a hammer, The Hebrew Hammer." And that was it, I'd go here, they said it, and I'd go there they'd say it and eventually I just stuck with it. I'm the Hebrew Hammer.
5. What was your Jewish life like growing up?
There are very few Jewish people in the town and in the schools where I grew up. So there was plenty of misinformation and Jewish banter. Nothing really offensive, it was more ignorant humor type of stuff and you learn to adapt. But I was a tough little kid back then. Small but tough, and eventually everyone realized that if you said something that I really didn't like, you were going to have to answer for it, or fight. But I did like growing up in a Jewish household. It makes you feel part of something special and you have a certain insight that can't be learned. We weren't terribly religious, but we kept the holiday traditions, I had a bar mitzvah, and everyone in my family all have Hebrew names as well.
6. What is next for Cletus Seldin?
The next step for me is to become a contender for a World Championship Title shot. I feel ready whenever they are. Ultimately, I want to fight anyone in the world at 140 pounds with a belt. I want to fight them all and I want all the belts.
7. What does life look like after boxing?
If I can get another three or four solid years out of my career as a boxer, that would be great. ;Right now I'm in top shape, I feel excellent, and I can easily fight at least 4-6 times a year. As for life after boxing, I don't know with certainty where this road is taking me now, so I couldn't tell you where it'll take me then. But I can tell you that I've always been solid on my own two feet, so wherever I do end up after boxing you can expect good things.
8. What else should we know about you?
Fans should know that I do what I do not only for myself, but I do it to represent a part of every hard-working American, and everyone with dreams, ambition, drive, and the courage to do what it takes to get where you want to be.