Permanent link
06/16/2014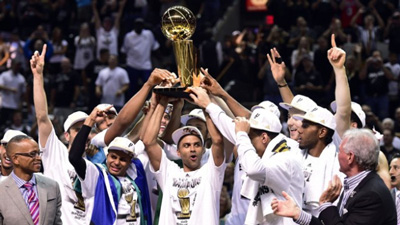 Over the last couple weeks, I've thought a lot about writing about how this trend of stars teaming up is not good for the NBA. How I missed the old days when the best players wanted to play against each other.
And we felt the same way as fans. I wanted to see MJ vs. Magic Johnson – not with Magic. That's what the Dream Team was for. Players were competitors who didn't become friends until long after their playing days were over. Now they're all friends.
At some point I started to think, as a Bulls fan, if you can't beat 'em, join 'em. Let's not choose between Melo and Love, let's get both Melo and Love. Super teams are apparently the only way to win now.
And then I watched this year's NBA Finals, which concluded with the San Antonio Spurs completing a 4-1 series win last night over the Miami Heat. The Spurs are the antithesis of the new age super team. They are a team with a core built from the ground up through the draft, with role players from free agency filling gaps. They are not flashy and you won't see them in commercials, but you will see them play fundamental basketball the way it was meant to be played.
So to see this team beat the "Big 3" so handily helped restore my faith in the NBA. I wasn't just happy that the Heat lost, but I was thrilled that the Spurs were the team that did it. I've always been a fan of the way they play from the days of David Robinson to the present. Tim Duncan is my favorite non-Bulls NBA player of all time. And I love the way they run their organization – just look at the team they've put together. They are filled with late first round or second round draft picks, free agents picked off the slush pile, and international players. No big stars teaming up, no max contracts, no celebrity status. And it doesn't escape me that the Spurs won because their defense just flat out shut down the Heat.
So this brings me back to the Bulls, and the thought that they should be modeling their team after the Spurs, not the Heat. They have the smart, defensive-minded head coach. They have a solid core of home grown players. So what is missing that will put this team over the edge? They need to be able to score. They aren't just missing one player – they need more of a "pick your poison" team. Players like Danny Green and Patty Mills need to fill out their bench, guys that are a threat with the ball. They don't need to be stars averaging 30 points a game, just guys that scare you if their left open. The Bulls don't have that guy. Derrick Rose is the closest thing they have, but who knows what he'll be like when/if he comes back for a full season. Maybe that player is Carmelo Anthony or Kevin Love, or maybe it's someone we haven't talked about yet.
But the Bulls aren't as far from elite as we think. They need to stay healthy, and Tom Thibodeau needs to take a page out of Pop's book and learn how to evenly distribute his minutes and allow his players to be at their best come playoff time. These are potentially easy fixes, and watching the Spurs in this finals has me off my thought that the Bulls needed to just clean house and find stars. NBA championships can still be won the right away. The Spurs proved it, and the Bulls can too.