Permanent link
06/01/2012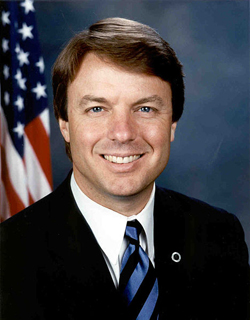 I have been following former U.S. Senator, Vice Presidential nominee and presidential hopeful John Edwards' trial until its conclusion on May 31 when he was found not guilty of one charge and the jury deadlocked on the other five. Edwards' charges were based on his alleged misuse of campaign dollars.
Edwards' life reads somewhere in between a Greek tragedy and Telenovella. However, the sordid details are not what fascinated me, rather the steadfastness of his daughter, Cate Edwards, who has stood by her father throughout the entire trial.
Cate, age 30, is the daughter of Elizabeth Edwards, who lost her life to metastatic breast cancer. Her parents separated soon after Elizabeth found out about her husband's affair with a woman with whom he has a daughter who he initially denied fathering.
Cate has been through more tragedy in her young life than most people experience over a lifetime. Besides her father's epic, humiliating and public fall from grace, her mother died in 2010 and her brother, Wade, died in a car accident in 1996. If John Edwards had gone to jail, Cate would have taken custody of her two younger siblings.
The question begs to be asked, why would Cate sit by her father every day during the trial (and pre-trial hearings)? How could she stand listening to the gross details of his confirmed and alleged transgressions? Before the verdict, Cate leaned on her father's shoulder and told her dad that she loved him. After the verdict, Edwards thanked Cate for sitting through the trial and sitting through the testimony of the terrible details of infidelity.
How and why does she still love him?
It doesn't seem to be for opportunist reasons. Cate is a married, Harvard Law School graduate, who now runs the Elizabeth Edwards Foundation. She doesn't need the Edwards name— especially now that it's so tarnished.
Cate was able to do something that I don't think many people could. She was able to still love her father by seemingly compartmentalizing his misdeeds. Whatever anger or hurt she must have felt towards him; somehow her love transcended those emotions and propelled her to play the leading lady role at the trial. Perhaps after suffering so much loss, she decided that despite his flaws, she was not willing to also lose her father, even though no one would have blamed her for abandoning him.
I can only think that while John Edwards has no future in public service (maybe one of the networks will hire him in a year or so to host a talk show), his personal life remains intact and strong due to the seemingly unconditional love of his daughter.
He is a lucky man.