Permanent link
04/25/2013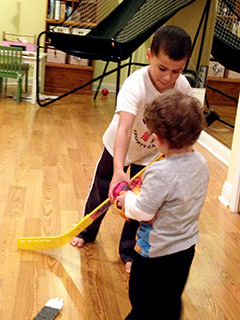 The other day I was visiting some friends and per usual, their six-year-old son wanted to play floor hockey with me in their basement. I came prepared this time—I was wearing two layers, brought a stick for me (he's a lefty) and the fun began. I was running around for about 15 minutes before game one ended. I inched him out by one point. I sat down and let his dad take over for a game. While sitting down, I realized, next time I need to wear dri-fit or some other wicking shirt because I was a sweaty mess. I took it a little easy when we played the next match because I wanted to stop sweating before dinner. As we left, my wife asked me, "Does Ryan think you are there to visit him, or his parents?"
The next day my oblique muscles (the muscles on the side of the abdominals), were sore. I'm not use to whipping a puck around. Do you think I had a workout?
My answer is yes! Getting on a bike or a treadmill are not the only ways burn calories. You know that you need to exercise, so why not go out and have some fun!
It would be great if we could all get to the gym five days a week, sugary treats tasted awful, and vegetables tasted like ice cream but it's not reality for everyone. Instead of planning an intense fitness schedule that's unrealistic, start off small. Figure out how you can schedule activities that are fun and get your heart rate up. Here are a few examples:
• Hip Hop/WERQ/or other dance class
• Dancing with the Stars or other DVD
• Paddle tennis is the new rage, find a convenient location 
• Boxing is a great workout and requires no equipment to shadow box
• Jump rope
• Clean your house or car
• Walk with a friend at lunch, before work, after dinner…
• Floor hockey with a friend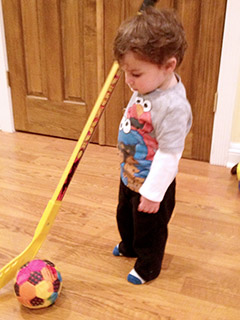 Those are all relatively inexpensive ways to exercise. If my suggestions do not appeal, figure out what you like doing and get moving! Send me a line and let me know how you have fun while working out.