Permanent link
All Posts
10/01/2013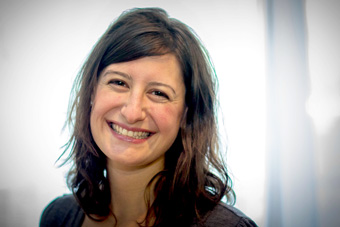 Last we heard from Erica Weisz, it was 2011 and she and her husband, Sam, were blogging for Oy!Chicago about their trip to Uganda to bring dental aid and education to the Abayudaya Jewish community. Just two years later, Weisz is now the author of her first children's book: One Thousand and One Words.
The book tells the story of Theodore, who speaks recklessly to the kids in his class. Despite his father's warning that he'll use up all his words, he does not watch what he says, and one day he wakes up totally speechless.
Weisz, a Highland Park native and graduate of the University of Wisconsin-Madison, says she has storytelling in her blood, a trait passed from her papa to her mother to her. As a teacher, she began to work storytelling into her lessons, and now she's bringing her stories to life through art.
The idea for One Thousand and One Words came about because Weisz had witnessed a lot of verbal bullying in and around the classroom, and saw a need for a children's book that could teach the importance of creating a safe space in schools for children to express themselves and communicate without fear of peer ridicule. This inspired her to write and illustrate a book that would capture the attention of elementary-aged students and challenge them to "think and read between the lines," a book that "speaks to character-building, communication and personal growth."
Seeing as a number of you enjoyed our recent post "5 children's books to read as a grown-up," we thought Weisz - a grown-up who writes children's books - was definitely A Jew You Should Know.
1. Tell us about the workshops you bring to schools and why combining art and storytelling is such a valuable teaching tool.
Through my workshops in schools and libraries, I use One Thousand and One Words to create a dialogue with students to address in a positive and engaging way, how we can be kinder and turn down the volume on bullying and hurtful speech. Coupling the story with an art project connects their learning from the book to a personalized experience. It can be very challenging for children to verbalize their emotions. Through art, students explore a different outlet to authentically express themselves.
2. What Jewish values do you think most influence the work you do and the stories you tell?
The essence of all Jewish values was taught by Hillel who said, "What is hateful to you, do not do unto others." Focusing on this simple, yet still so profound golden rule, is what continues to motivate me. My goal in teaching and with this book is to fill students with chesed (kindness) and mindfulness of their actions.
3. How did your time in Uganda change your perspective and/or enhance the work you do as an author and educator?
The support that the Abayudaya community provided for one another was incredibly beautiful and overwhelming. I was especially moved by how the children interacted and were so intuitively aware of how to help, without being asked. Seeing these qualities displayed, I realized how my own community back in the States has pulled further away from this type of support system. It made me want to bring it back through positive stories and books that hold a teaching message.
4. What are some of the best newer children's books out there that you recommend for young families?
I fell in love with Line 135 by Germano Zullo and illustrated by Albertine. I am captured by its simplicity in word choice, while sending a powerful message about navigating one's own compass in life. It's a powerful read for young families, encouraging children to express their own views, especially when it differs.
I also enjoy If You Want to See a Whale by Julia Fogliano and illustrated by Erin E. Stead. When I first read it, I was immediately reminded of one of my favorite stories, The Missing Piece by Shel Silverstein. As Silverstein explored in his book, Fogliano explores the wonderfully simple joys that can often get lost when on a larger-than-life journey.
5. If you could write and illustrate the next adventure of any famous children's lit character, which character would it be and what might the story be?
I would have so much fun entering into the whimsical world of Max from Maurice Sendak's Where the Wild Things Are. Max's imagination would carry him to another far off place, this time, venturing to the mysterious underwater world. He would travel through the dark depths of the ocean, encountering the sea monkeys and their kingdom. I think this time, though, Max would find himself taking on a different role under their rule, and not as lucky to be king...
6. What do you love most about what you do?
I love the process of drawing-where it takes me and how I get lost playing with different mediums, juxtaposing textures, and interacting with the colors. I love to explore the emotions of the characters both visually and with playful words. I also have so much fun watching kids' expressions as they read and discover emotions that the story and pictures evoke inside of them.
7. In an alternate universe where you couldn't draw, write or teach, what would you do?
I could see myself as a fishing guide. I can't imagine anything more peaceful and relaxing than being out on the water all the time. And sharing the secrets to find the best fishing holes. When you catch a fish no matter your first or your hundredth, I would get to see that same expression of sheer excitement that keeps me going.
8. What's your favorite Jewish thing to do (or how do you Jew?) in Chicago?
On a spiritual level, the L'chaim Center has helped me explore and grow spiritually as a Jew, and I find myself much more conscious and aware of my Jewish values through their growth-centered programs. When it comes to making and keeping my Jewish connections, I have the most fun with organizing throwdowns. We bring our Jewish friends together to celebrate different holidays with a Bobby Flay-inspired kosher eating fest. Using the essence of the traditional holiday elements and twisting our own flavors gives us an excuse to extend the holidays to friends that might not otherwise celebrate.