Permanent link
Meet Shalom Klein, chairman of Jewish B2B Networking 
03/29/2011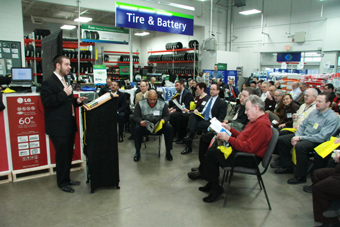 Shalom Klein facilitating an introduction to one of the networking event attendees.
You might say Shalom Klein was born to schmooze.
In fact, within hours of our interview, I already had several emails from Klein connecting me to people I should know.
It's this passion for networking and entrepreneurial spirit that makes Klein so successful at what he does. As the chairman of Jewish B2B Networking, Klein spends his days (and most likely his nights) making connections for small businesses in the Chicago Jewish community.
About a year and a half ago, Klein left his PR job in New York to come home to Skokie and work for the family business—Moshe Klein & Associates, Ltd., which handles bookkeeping and accounting for small businesses. Klein said it's his nature to stay in touch, and so he naturally began connecting people.
In June of 2010, Klein decided he wanted to introduce his clients, family and friends and held his first event at Slice of Life in Skokie. While he expected a small turnout of maybe 20 people, 75 people showed up.
"The outcome was great," Klein said. "People were already doing business with people they met that day."
And just like that, Jewish B2B Networking was born. In just nine months, Jewish B2B Networking has a mailing list of 12,000 people and over 3,000 people have come to events—plus, at least two or three dozen people have found jobs thanks to connections made during these events. Each month, hundreds of people show up for monthly networking meetings—175 people showed up to a speednetworking event at 7:30a.m.—and monthly networking open houses held at different businesses. Events are also being organized in Detroit and St. Louis.
"I believe we've tapped into the small business community," Klein said. His events attract a diverse crowd, with about 80 percent looking to connect business to business, and about 20 percent looking for jobs.
A few months ago, Klein launched the website JewishB2Bnetworking.com where members can register for events, create profiles, search for jobs and post to a blog.
"The goal is stimulating the Jewish and Jewish-friendly small business community and people doing business with each other…[to] create that network and create business opportunities around Chicago," he said.
Jewish B2B Networking and Jewish Vocational Service (JVS), a JUF agency, have been collaborating on programming, presentations and reaching out to the community—and according to Gail Gruen, executive director of JVS; they are planning more collaboration in the future.
Klein is also the publisher of  Jewish Business News , a monthly publication with a circulation of 15,000 that he launched this January available at local businesses synagogues, kosher and kosher-style restaurants.
And in June, just a year after his first event, Jewish B2B Networking is planning a free, all-day event featuring a business trade show, networking, job fair and employment expo with big name speakers.