Permanent link
02/18/2010
As two young Jewish women working in partnership to navigate our way through careers in the Jewish community, we were so excited to meet Amy Schiffman and Stefanie Pessis Weil, two young moms, and business partners, working in the Jewish nonprofit world, and wanted to share their story with the Oy!Chicago community: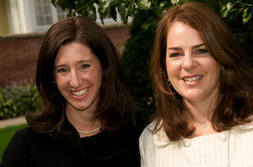 Stefanie Pessis Weil (left) and Amy Schiffman (right)
When Amy and Stefanie met 10 years ago, they immediately clicked—forming a partnership and friendship that was clearly beshert.
It was then when Stefanie got a job with the Jewish Council for Youth Services, where Amy was working as the director of development. From there they went on to work together at Ida Crown Jewish Academy in Skokie until in early 2008, when they decided to go off on their own.
"We started joking around that one day we were going to go into business together," Stefanie says. "We would always get phone calls from nonprofits saying, 'can you give us advice on this or give us advice on that.' One day we looked at each other and said, let's do this."
Amy, of Wilmette, and Stefanie, of Highland Park, wanted to find a way to balance their lives—finding time to have their careers and be there when their kids get home from school. Utilizing their backgrounds in social work and Jewish communal service and a combined 30 years of nonprofit experience, Amy and Stefanie founded Giving Tree Associates—a full-service consulting firm for nonprofit organizations, which much like its name, has grown from the ground up.
Thanks to their connections in the Jewish community, within just a few months of deciding to go off on their own the word had spread and they already had four clients.
"It's really true that when you open your mind to something, then the opportunity comes knocking," Amy says.
Since they first incorporated in February of 2008, they have worked with about 20 clients—both Jewish and non-Jewish organizations—including Chicago Jewish Day School, Beber Camp in Wisconsin, Imagination Theater and even Sigma Alpha Mu Fraternity. They have since hired several other young female consultants—two of which they discovered at the JUF Job Fair last June—and are currently looking to expand their staff.
Though Giving Tree Associates works with organizations of all sizes and sectors, they say they are most valuable to organizations with very few or non-existent development resources. Most clients have small to mid-size budgets, meaning under $6 million. Services include campaign management, event management, grant writing and research, strategic campaign planning and organizational development.
"In this economy, what organizations, and especially small nonprofits, are struggling with is [in the past] we could get by on earned revenue alone before with a little bit of fundraising and now we just can't…suddenly we have to fundraise to the tune of 100,000 a year, so how do we do that?" Amy says.
According to Stefanie, Giving Tree Associates distinguishes itself from other consulting firms by using a really hands-on approach.
"The way we're unique from most large scale consulting firms, is that we don't just go in there and assess a situation and say here's your plan, now execute it," Stefanie says. "We actually hand-hold our clients…We're teaching them how to fish."
Before they even take on a client, Amy says, they must have an understanding that both the professionals and volunteers of the organization are dedicated to the cause.
"We are definitely not the least expensive game in town and that's because we pour our heart and soul into every project that we have," she says. "We really haven't had a client yet who hasn't been really satisfied. Generally we take the time to really get to know [each organization]."
As we wrapped up our interview, Stefanie and Amy realized Giving Tree Associates had something big to celebrate this month. "We are at our 2 year anniversary!" Stefanie says. "We made it through, we seem to be thriving and it's really exciting."