It was a sunny Friday morning and I woke up excited for my phone to ring. Today was the day I would receive my bid from the brothers of Zeta Beta Tau, and tomorrow night I would be initiated into the fraternity. I was sure of it.
This was something I had wanted for a while. For one, my father was in ZBT; seeing the many life-long friendships he formed in college and the impact it had on him, I wanted a similar experience for myself. But freshman cannot rush fraternities at my college, so I spent my first year getting to know a couple of the brothers and patiently waiting for my chance to rush. The wait was finally over.
At 11 a.m. the day I was to receive my bid, I sat down in my Documentary Research class next to two friends I had made while rushing ZBT. The professor taught us how to use the many camera features on our phones and instructed us to take photos around campus. Great, I thought, I would be able to check my phone for any messages or missed calls.
I wandered off on my own for 20 minutes. No calls. When I met up with my friends, however, they shared that they had received messages from the ZBT president. My message will come soon, I thought -- he can't reach out to everyone at once.
After class, I grabbed lunch with a senior in ZBT whom I knew from summer camp. As we discussed how fun rush week had been, I got curious and probed him for answers:
"Did everyone receive a bid?" I asked. The response that I got troubled me a little.
"No, not everyone did. It's hard to get to know everyone that rushed over the course of a few days," he explained. "Even if you did not receive a bid, you always can still hang out with us."
Did that mean I didn't receive a bid? Why not? And what would be the point of hanging out with everyone in the fraternity if I couldn't be part of it?
My excitement transitioned into anxiety. I had not only attended all the rush events, but I actively participated in all the activities to show them how interested I was. I had connections to the fraternity. But sure enough, I didn't receive a bid.
The amazing weekend I had anticipated turned into one of questioning. What made me different from the rest of the students rushing? I was so interested in taking an active role in the fraternity -- why would they leave me out?
Up and down my Facebook newsfeed that weekend I saw pictures of students celebrating their acceptance into fraternities and sororities. Man did that really sting. The biggest blow was seeing a photo of the ZBT brothers at their initiation night. I felt completely on the outside, that maybe I didn't deserve to be in the fraternity after all.
As I continued to process my disappointment, I revisited what my friend said during lunch. "It's hard to get to know everyone that rushed over the course of a few days." Maybe they hadn't gotten to know me as well as I had thought. Even though I knew some of the brothers fairly well, I hadn't introduced myself to anyone else I didn't know.
A couple of weeks later, one of my friends was selling raffle tickets at ZBT's annual fundraiser for Children's Miracle Network Hospitals, and despite how raw everything still felt, I decided to help him out and buy a ticket. And as I walked away from the table, ZBT's president approached me.
"I haven't seen you in a while. What have you been up to?"
Hearing the president ask how I was doing suddenly motivated me. I realized that even though ZBT hadn't offered me a bid, the brothers hadn't forgotten me, and I wanted to get to know more of them. There was another opportunity to rush ZBT during spring semester, and though I wasn't sure I wanted to put myself out there again, getting to know more of the brothers now was my only chance.
Come second semester, I knew many of the brothers by name and even had some conversations with them in passing. But even as I felt closer to them, I was still hesitant to attend rush week. I did not want to go through the same experience of rejection again. Then, the weekend before rush week, I ran into my friend from summer camp.
"You are coming to rush week, right?" he asked.
"It's a tough decision," I said. "I still have not made up my mind."
"I understand, but the guys really want to get to know you more," he said. "Even if you don't end up joining ZBT, rush week is still fun."
Knowing that the brothers wanted me to rush ZBT again inspired me to do it. At the very first rush event, I made sure to build off my efforts from last semester. I put myself out there and in the best position to succeed.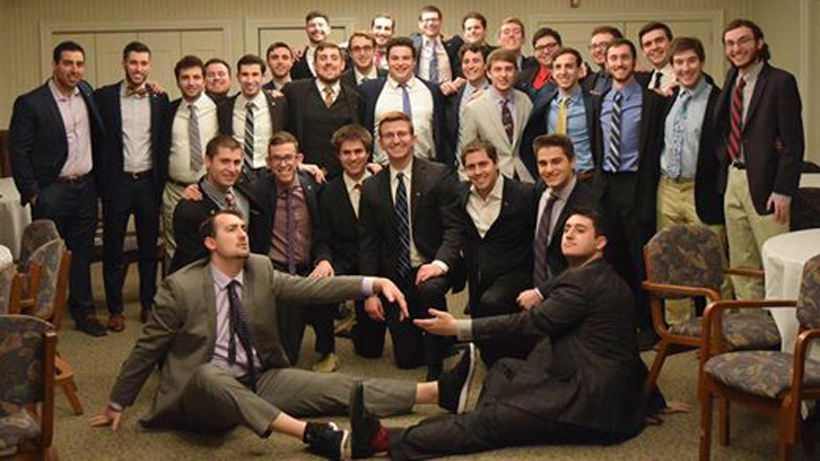 The entire chapter post initiation ceremony
Another sunny Friday came along and this time I was in the basement of my dorm doing laundry when I got a call from the president and the recruitment chair asking to meet. I felt a major sense of relief and accomplishment -- my decision to risk rushing a second time, and all my hard work, had paid off. Now I could experience all that brotherhood and the close-knit community of ZBT could offer, something I had wanted for myself since I arrived on campus.
Immediately after initiation, I took on the role of parent-relations chair, writing and publishing the fraternity's parent and alumni newsletter. In the fall, I will serve as our chapter's philanthropy chair helping run the Children's Miracle Network Hospitals fundraiser . As a brother of ZBT, I am part of a cohesive and caring brotherhood. Whether we're hanging out, grabbing meals or need help with our work, everyone is there for each other. That was worth giving a second chance.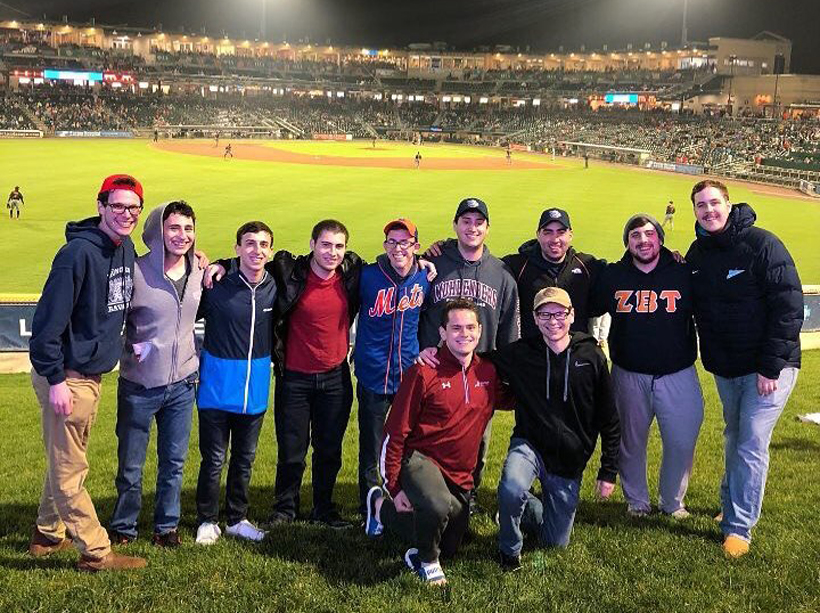 Attending a minor league baseball game with some of my ZBT brothers