For as long as I can remember, I wanted a family. I grew up as the youngest of three girls and could not have gotten through the rollercoaster of life without my two sisters by my side. Thankfully, my best friend, and husband, wanted that too.
Although we knew building our family would potentially be met with challenges due to my endometriosis, we didn't know how emotionally trying our journey would become.
I went through infertility treatment for about two years with one failed cycle of in vitro fertilization after the next. Every negative pregnancy test was another heartbreak; each failed cycle brought us further and further away from our dream of raising a Jewish family.
On our fourth IVF cycle we found out we were expecting. At our first ultrasound, we learned we were having twins. We were excited, but also scared. We knew there were many more risks with having multiples, but we were optimistic the hardest part of our journey was over. It was not.
I had a rough first trimester, but everyone kept saying, "that means your babies are growing." We were anxious and badly in need of relief during the second trimester, but instead we were faced with another challenge. Around 13 to 14 weeks I was diagnosed with hyperemesis gravidarum. HG is a condition in which you lose 5 percent of your pre-pregnancy body weight. I was unable to keep anything down. We had multiple ER visits -- we spent our "babymoon" at the hospital. I was placed on IV fluids five days a week with an indefinite timeline.
What came next were some very long, dark days. I spent many of them on the bathroom floor or in a dark room; noise from the television made my symptoms worse, light really shook things up, and any scent sent me into a horrible downward spiral.
I began to question G-d. I just couldn't understand why I had to suffer so much after already enduring infertility treatment. Despite feeling terrified that my babies were not getting the nutrients they needed, I couldn't bring myself to eat anything.
Around 20 weeks, I started to have some relief and was keeping down more food. We had made it through the worst of the HG, but only a couple weeks later, I noticed some unusual leaking, and my sweet dog, Izzy, would not leave my side. My husband insisted I was just "peeing my pants," but I called my doctor and we packed an overnight bag and went downtown to the hospital. Within minutes I was in a room with a triage doctor giving an internal exam. "Your water is leaking," the doctor said.
Before my husband and I could process, let alone blink our eyes, we were alone in the room. Tears just rolled down my face; I couldn't get a grasp on what all of this meant. We were beyond terrified -- our babies were not viable until 23 weeks.
Minutes later one of the doctors from our practice walked into the room and I will never forget the first words out of her mouth: "This is shitty."
Our options were not good. We could either terminate the pregnancy or remain in the hospital until I went into active labor, the babies were in danger, or an infection began. We were told 50 percent of women who have preterm premature rupture of the membrane (PPROM) deliver within the first week, with the likelihood of delivery increasing as the weeks went on. Mind you, that figure was based on single ton pregnancies. We needed to hold out longer than that to give our babies the best chance of survival.
Thus began what we hoped would be a very long stay at "Hotel" Prentice.
The days were long and full of constant monitoring and worry. There were many sleepless nights, long talks with our doctors, conversations with our rabbi and even a few scares, but I continued to hold my head up high and my spirits higher. The amazing team of doctors and nurses celebrated with us each additional day the babies remained in utero. Thankfully, the days turned into weeks.
On March 14, 2017, at just over 29 weeks, we delivered twin boys. Harrison Ezra (twin A) came out kicking and screaming. Brayden Chaim (twin B) had a 4.5-minute head entrapment which had the doctors and NICU team very worried (luckily, we did not fully grasp the severity of his condition).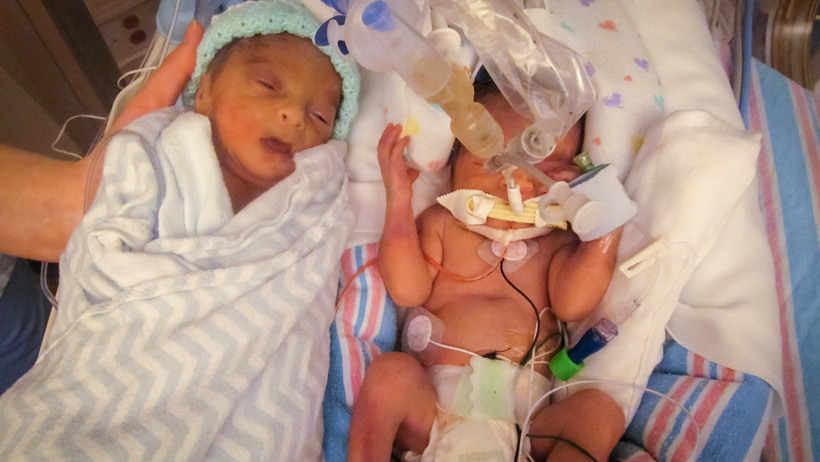 Brayden and Harrison in the hospital after birth.
As the NICU team whisked the boys away, they wheeled Harrison passed my bed and he looked me right in the eyes. It was almost as if he was saying, "Mom, I got this." Those unspoken words and that eye contact will stay with me for as long as I live.
The next 24 to 36 hours are a blur. Given Harrison had no fluid for 6.5 weeks, they were amazed he was doing so well. They warned us it could be a honeymoon period, but so far, he was doing great; better than Brayden, in fact. It didn't stay that way.
My husband and I were called to Harrison's bedside. We walked into a room of 20-plus doctors and nurses who surrounded our baby and our neonatologist attempted to explain what she believed was happening to our sweet Harrison. Even though he was hooked up to every possible life support, his organs were failing right in front of our eyes. Our hearts shattered into a million pieces as I signed paperwork for a blood transfusion.
The team of doctors and nurses working on Harrison and Brayden became our family during these absolute worst 8 hours of our lives. They held us, hugged us, and did everything they could to bring us comfort. Our social worker also contacted our families, who rushed to be by our side. Harrison passed away next to Brayden and in our arms, surrounded by his aunts, uncles, and grandparents at just under two days old.
During this most painful moment, we were lucky to be surrounded by our family. Our rabbi, Ari Averbach, came to pray with us and comfort us, allowing us to find some peace knowing Harrison was not suffering any longer.
We shared with him the Hebrew names we had picked out for boys. Harrison's Hebrew name is Ezra Schlomo. Ezra means "help" and Schlomo means "peace." Brayden's Hebrew name is Chaim Adar. Chaim means "life" and Adar means "noble," but also happened to be the Hebrew month the boys were born. The rabbi pointed out that Chaim is a word that is both singular and plural, meaning Brayden would be living his life, but also living life for his brother.
In the coming days and weeks we tried to balance the joy of watching Brayden hit the milestones that only a NICU family can truly understand, while grieving for the loss of Harrison.
We spent a total of 94 days in the NICU surrounded by the most incredible team who helped us through some pretty trying times. Brayden had a typical course for a 29-weeker, but when it came time to focus on feeding, he really struggled. Near the end of our stay we learned Brayden aspirated on thin liquids. At that point, they switched us to thickened feeds. He was discharged but continued to struggle taking in enough calories and started to lose weight.
Brayden was readmitted for failure to thrive about five weeks post-discharge from the NICU. At the hospital we were trained on how to place and use a nasogastric tube. This allowed us to tube feed Brayden while still working on bottles. The tube took some of the stress off bottle feeding while providing Brayden the proper nutrition he needed to grow and thrive.
Despite continued feeding therapy, his oral feeding continued to get worse to the point that he refused anything by mouth. After three months on the NG tube we decided it was best to have a gastrostomy tube placed. A G-tube is surgically placed directly in the stomach, whereas the NG goes through the nose and down the throat. Brayden has now been on G-tube feeds for about seven months. He has feeding therapy, occupational therapy, and physical therapy two times a week. Our schedule pretty much consists of feeding, attempting to nap, and a lot of therapy sessions.
Despite all our challenges and hurdles, Brayden is one of the happiest babies. He loves playing with musical instruments, talks/babbles all day long, and climbs on or in just about anything. He is making tremendous progress in therapy and continues to be strong and courageous in everything he does.
Meanwhile, not a day goes by when we don't think of Harrison and share his story. He will always be a member of our family and is greatly missed. As a family, we are beginning to figure out a new normal. We have gotten back into our routine of lighting Shabbat candles and celebrating the Jewish holidays with friends and family. Our home will always be one filled with Jewish traditions and we are slowly developing our own special way of honoring Harrison during the holidays.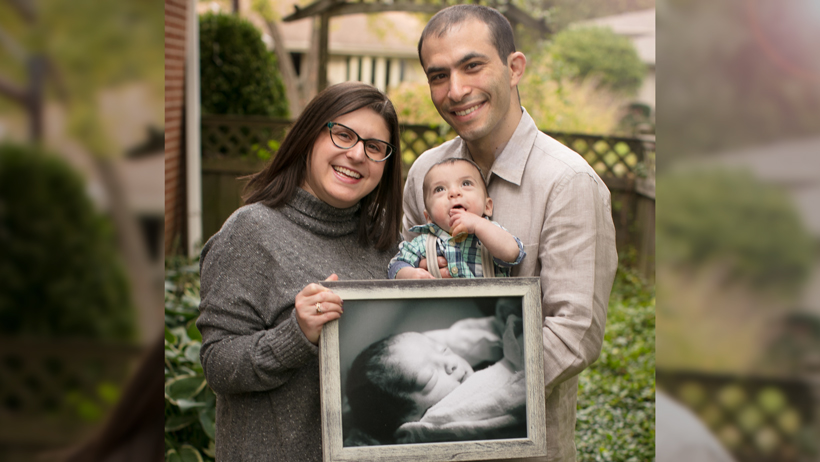 Brayden will grow up knowing he is a twin. He always will be a twin and I will always be a mom of twins. We just have a different experience than most families of multiples. Brayden continues to be, as I like to put it, #strongformybrother in all he does.
Looking back at the past few years, I am beyond grateful to have a loving, supportive, and dedicated husband. He is truly my beshert. We have grown closer, stronger as a team, and strengthened our Jewish faith as we faced each challenge and overcame obstacles. He had the honor of giving me shots during fertility treatment, holding my hair back during pregnancy, and wiping my tears through every step of the journey. Like every marriage, we have our ups and downs, but we always manage to help each other find peace and love in each day.
Carly Pinzur Sear's life has revolved around her involvement in the Jewish community. She grew up in Buffalo Grove, Ill. and spent her high school time involved in BBYO leadership roles and attending leadership camps in Starlight, Penn. and Israel. She received an Early Childhood Education degree at Indiana University where she also had the opportunity to study Judaic Studies and Hebrew. Part of her student teaching experience was in a Jewish preschool in Bloomington, Ind.
Read more stories in the "Bringing Up (Jewish) Baby" blog series at www.oychicago.com/baby.
"Bringing Up (Jewish) Baby" is being produced in partnership with jBaby Chicago, which helps expectant parents and families of newborns and tots (0-24 months) make connections, build friendships and engage in Jewish life in Chicago.