If you discovered Oy!Chicago in the early days, you definitely encountered some posts by Chai Wolfman. From 2008 to 2012, Wolfman shared stories exploring love, loss, music, art, Jewish tradition and parenthood, many of which bravely recounted her own experiences. She wrote about the joy of marrying her wife Mandi and the pain of having their love go unacknowledged by family members; the merciless process of watching a loved one begin to fade away; and the exciting -- read "messy" -- experience of being pregnant with and raising twins. In each piece, Chai invites the reader in like an old friend, making every reader feel welcome.
Writing is not Wolfman's only skill; she is also a visual artist. Primarily a painter of "imagined landscapes," she creates images that transport you to another world, one that occupies the dual spaces of "home" and the vast natural world. In her paintings, solid, colorful cities sprout up from the ground and float on deep blue seas while entire neighborhoods nestle into little groves that spiral far beyond the confines of their wooden frame.
"I'm interested in how every [imagined landscape] has contradictions," Wolfman says. "I spend a lot of time thinking about the history all around us and how we are connected to the past in our present day lives and environments."
Close inspection of Wolfman's paintings reveals little veins of thread winding through each scene. Most of her works feature this intertwining between the hand-painted and the machine-sewn, a technique that she says connects her to "past generations who created quilts to warm their loved ones" and helps her to "infuse that same love and intention of warmth into my paintings."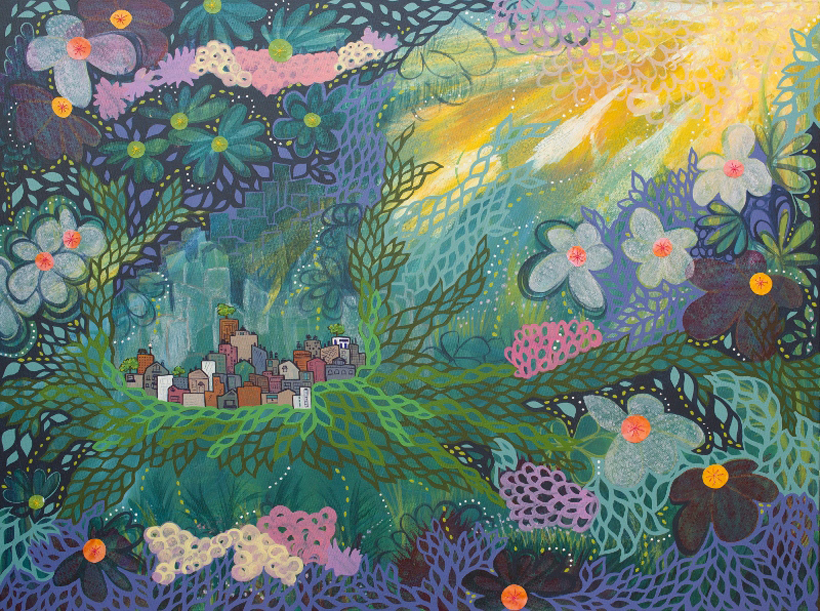 Submerged
Wolfman said her love of multi-media painting took off in her early teens, while staying in Door County, Wisconsin with her grandparents. The region's still winter meadows captured her imagination and inspire her still; little glimpses of her time in Door County make their way into many of her pieces.
While Wolfman is known for incorporating nature into her paintings, she also has a project for incorporating her paintings into nature. Two years ago, she started the Found Painting Project, for which she creates miniature works to hang on trees for passersby to discover and take home. Last year, Wolfman hung up about a dozen of these little paintings during a West Coast road trip, and over the next few months, she plans to leave paintings around Chicago to bring a little color to the city's dreary winter days.
"I hope to spark curiosity and add something positive to someone else's day," she said of the paintings.
If you do not happen across one of Wolfman's charming 3-by-4 in. paintings on your daily commute, however, you still have time to see a full group of her works at Uncommon Ground on Devon Avenue in Edgewater from now through Feb. 6.
Designed specifically for Uncommon Ground's intimate environment, the collection, entitled "Grounded in Hope," encourages diners to interact with the space in order to encounter the art, much like the pieces in her Found Painting Project encourage their discoverers to interact with the environment in which they are found.
Unlike a typical gallery, Wolfman's exhibition at Uncommon Ground features paintings hung over dining tables and tucked behind the bar. As a result, the best way to experience the collection is to walk around the restaurant and interact with patrons seated beneath them, inviting conversation.
The community response to this exhibition has been so positive that Wolfman is preparing a new group of works to display at the Uncommon Ground in Lakeview in January 2018.
To see more of Wolfman's work, check out her website, www.chaiwolfman.com. Her paintings, prints, and cards can also be found at Local Goods Chicago and at seasonal art fairs.
To experience some of her storytelling, here are links to a few of her best blog posts on Oy!Chicago.