Some things you grow to love over time. Some things you are born into. For me, being a Chicago Cubs fan is the strongest combination of both -- and then some.
On my mom's side, Cubs fandom was ingrained in her blood. In the 1960s, 1970s, and 1980s, my great, great uncle, Barney Sterling, was the official Chicago Cubs photographer. My mom often shares fond memories of her childhood that include sitting in the dugout with Ernie Banks' twin boys and taking photographs sitting on Lou Boudreau's lap and with Pat Pieper, you know -- normal kid stuff.
My mom's grandfather used to go to spring training before it was even a thing. You couldn't even buy tickets, but they would just show up to watch the team prepare for the season.
My great Uncle Barney died suddenly in 1982 at a team press conference, as told below by Chicago Sun-Times columnist Rick Telander:
"Back in 1982, the Cubs were announcing their new season's motto -- "BUILDING A NEW TRADITION" -- at a press conference at the Hyatt Regency Hotel. Dallas Green had been with the Cubs as president only a few months, but the new slogan was his way of thumbing his nose at the Cubs' losing ways.
As the lights dimmed for an inspiring video presentation, marketing assistant Buck Peden got his tie caught in the screen which was lowering from the ceiling. The film that came on was nothing but un-reviewed spring training footage of pitcher Fergie Jenkins making endless pickoff moves to first base.
As new PR man Bob Ibach saw with horror what was unfolding, Cubs cinematographer Barney Sterling keeled over with a stroke. The camera toppled sideways and the film kept displaying images on the wall. In the back of the room, the real Fergie Jenkins was partway through changing from street clothes into the new Cubs uniform, pants on the floor, and chaos reigned.
Ibach remembers that he couldn't let go of the spring-loaded screen or Peden would be strangled, and that through all of it Green stood in the back of the room, stunned."
My mom met my Dad in 1984 when she was working for the Chicago Tribune, who owned the Cubs at the time.
I remember my mom telling me the story of when she found out my dad had Chicago White Sox season tickets the year before; she questioned if she could move forward with the relationship.
We were never raised to hate the White Sox, and neither was she, but could she really date someone who loved the White Sox that much? Needless to say, she was pleasantly surprised when she found out the only reason he had season tickets was to ensure that he could attend the All-Star Game at Comiskey in July of '83.
Knowing my dad was also a Cubs Fan, she used her Chicago Tribune connection to her advantage. At that time, she could call up the marketing department at any time to get tickets behind home plate, which is one of the many ways she remembers wooing my dad (side note: I could truly not be prouder of this). My dad was a huge lover of sports, particularly Michigan football and basketball, the Chicago Bulls, and of course, our dear Cubs, so finding someone who shared at least one of them diehard fandoms and would grow to love the other teams as her own definitely helped seal the deal.
In the mid '80s, my mom's dad, whom I called Papa, had season tickets 25 rows back from home plate, and my dad and Papa bonded by going to games together and grew to be friends before becoming family. My Papa would drive in from the suburbs and park in the lot next to McDonald's across from Wrigley on Clark Street. My dad, who worked in the loop, would meet him there and change behind the car out of his suit and into his shorts and Cubs gear behind the car -- most definitely in public -- before heading into the ballpark.
As the 1984 playoffs began, my parents continued to go all out. One of my favorite stories, hands down, was that during the NLCS, my mom and her Chicago Tribune colleagues decided to ditch work to go to a bar to watch, where they were interviewed by Chicago anchor Joan Esposito. Coincidentally, my mom's boss was watching the news later that day at a bar and saw the entire interview. As you can imagine, they were reamed out the following day, which my mom said was "totally worth it."
My parents got engaged on Mother's Day in 1987 and married later that year. Before their wedding, the two attended the soft opening of Harry Caray's restaurant. My mom approached Harry and said "Hi Harry. I'm Sherri. This is my fiancé Jerry. Isn't that scary?" For anyone who has ever met my mother for even less than a minute, this is far from surprising. Harry couldn't have loved this more. He let out a boisterous chuckle and gave my mom a big kiss. This was nothing short of epic.
My mom became pregnant with me in 1989. I attended many games while in the womb, including my first playoff game, before being born within the first month of the 1990 season.
Growing up, I was always a daddy's girl. My dad loved sports more than anything, aside from his family. That said, anytime my dad was home and not working (he was a CPA and worked crazy hours because it), he would be lounging on the couch, remote in hand, watching everything from live games to ESPN Classic and everything in between.
"Send the kids down," he'd say to my mom.
I bonded with my dad by watching sports, asking him questions and growing to love the teams that he held near and dear while gaining a great appreciation for sports.
"Tell me about golf, Laur," he'd say.
"It's NOT a sport. It's a game," I'd respond. "Let's watch baseball, Dad!"
Good girl.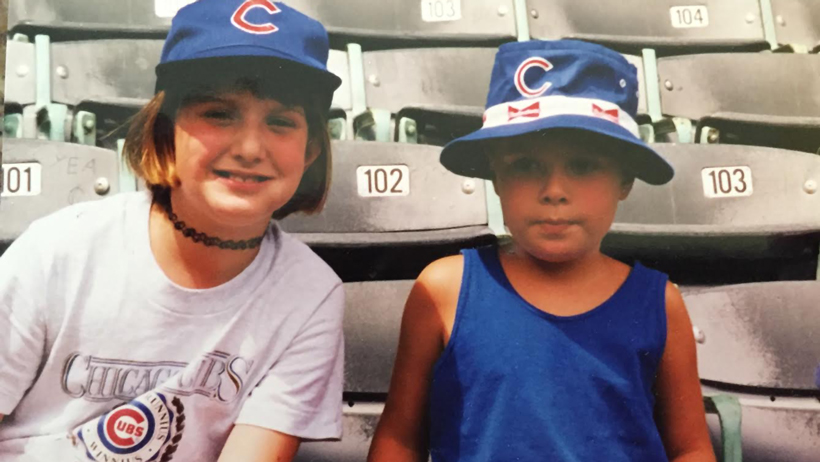 Growing up, I have the fondest memories of going to Chicago Cubs games, knowingly understanding that these were far from the glory days. My family would pile into a car and drive from Wilmette to Wrigleyville, heading through Ravenswood and listening to stories about the team. We would enter the ballpark with our pre-packed turkey sandwiches and chips to save money, knowing we would be allowed to buy twist soft serve after the 7th inning stretch as long as we left before the game was over to beat traffic, a tradition that I adamantly began refusing to follow once I went to games on my own.
In the late '90s, I remember the dichotomy between the tears in my parents eyes when Harry Caray passed away and the energy we felt from Sammy Sosa, Kerry Wood and, of course, in the lineup during the Cubs' Wild Card run in '98. Through it all, we kept cheering, together, the four of us.
When I was 10, my dad passed away suddenly in his sleep while I was at a sleepover party. Most of 2000 is a blur, but I do know that through what was probably the most tumultuous year of my life, I found solace in sports fandom, especially the Cubs. They finished last in the division with a 65-97 record that year, but baseball offered me an escape from reality. More importantly, supporting the teams my dad loved continued my connection to him even when he was no longer physically with me.
Following his death, I decided that, moving forward, I was going to have to cheer for the both of us, and I have been ever since.
The early 2000s were an emotional roller coaster. Beyond the inevitable family struggles, I remember rushing to the hospital in the early 2000s when my papa needed emergency surgery; a foul ball, hit by Mark Grace, shattered his thumb. I, of course, took this as an opportunity to use a classroom assignment of writing a letter to a company or organization to ask the Chicago Cubs for memorabilia in exchange for the trauma we endured … and due to the fact that I had been to more than 25 games without seeing one win. Although I am confident my letter was reputable for a seventh grader, the results were not exactly what I had hoped for, but I received a nice response with hopes for more wins and a signed picture of Mark Grace that appeared to have been taken from a disposable camera.
During these years, I also have wonderful memories of spending not only winter break and my nana and papa's condo in Scottsdale, Arizona, but also traveling there every spring in middle school, junior high, and high school for spring training. We would drive to Mesa to attend the games; it was always the only way I could imagine spending spring break. Highlights included the day we were driving next to Ron Santo, pounding on the windows in attempt to get him to notice us, and if I remember correctly, I think we made eye contact and may have even gotten a smile out of the legend.
In the mid-2000s, we attended game after game and I finally saw the Cubs win, proving to my family that I, in fact, was not the Billy Goat in human form.
As with any longtime Cubs fan, 2003 could have easily killed me. I remember sitting in my family room crying during game 7 (and probably game 6) of the NLCS. My brother also remembers sobbing, as a 10-year-old, and us wondering if we would ever get this close again. In complete contrast, a highlight of this era was attending the game in August 2005 against the Florida Marlins when Ryne Sandberg's number was retired. I felt the support, hope, and community that was present at dear Wrigley Field.
Sometime before leaving for college, my papa sold his season tickets. Even writing this, I feel pain in my chest, so if anyone has good advice on how to "let go" of things, let me know because I don't know if I will ever be able to not be heartbroken by this, but alas.
In college I remember the intense jealousy that plagued me when my mom and brother attended a 2008 playoff game. I hadn't been to one since I was in utero, so I was pretty crushed when I wasn't allowed to fly home for it. So, one of my first visits to a fraternity house involved me watching Game 3 of the NLDS. If you know recent Cubs history, you know that didn't go well, and as such, for the first -- and only time -- I drunk cried. I expected the boys that I had just met to be highly confused as to why this random Midwestern freshman was sitting in a frat house in D.C. in tears, but they said they were impressed with me and offered their top shelf liquor and condolences.
Between this loss in 2008 and Theo Epstein taking over ownership of the team in 2011, I continued to watch and attend as many games as I could. People often asked me how my family and I could keep searching for season tickets and supporting a team that had done nothing but let us down.
It may seem weird, but during the pain, losses, and struggles that I have experienced as a fan, I have never felt left down. I have been sad, disappointed, even heartbroken, but to me, baseball and the Chicago Cubs are not only about family. It is a family.
Family isn't perfect, but it's always valued above everything else through the thick and the thin. How could I turn my back on family even through dark times? I know my dad would never. I know my Papa would never. I know the rest of my family would never. I could never lose faith.
When Theo took over, another glimpse of hope game back into our lives. We pushed through some of the worst seasons to get to 2015. My brother and I, who also bond over baseball (please note: Brian knows more about baseball than anyone I have ever met and I think could, and should, someday make a career out of it), met in Pittsburgh for the 2015 Wild Card game; he flew from Boulder and I came from Chicago. Although my brother was almost both beaten up by a Pirates fan and arrested for refusing to leave when he got kicked out of PNC Park for heckling fans, we won and it was one of the best nights of my life. My brother left school for the NLDS and met me back in Chicago for two epic games, where we witnessed them clinch a spot in the NLCS at Wrigley.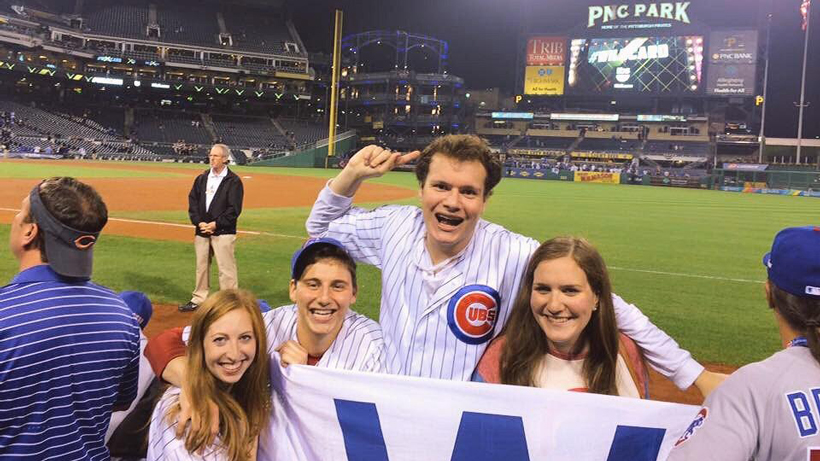 That was going to be our year, ( I even blogged about it then too ) but then fate took a turn for the worse as I sat on a rooftop overlooking part of the stadium with my mom and our best family friends watching our boys get swept by the New York Mets. Even with the tragic loss, Wrigley and the rooftops alike gave a standing ovation to the boys who we knew had the potential to win it all next year.
As I sat in the bleachers on opening night back in April with one of my best friends, decked head to toe in hats, parkas, and long underwear, I was ready. This could really be the year. After Addison Russell's winning three-run homer in the 8th, the stadium erupted and it felt like it was already October.
I attended game after game this season and was always proud to watch the team that I have loved since before birth advance, grow, and succeed. A highlight was spending my birthday with three of my best friends, including my mom, at Wrigley Field in amazing seats, where we not only met Blackhawks defenseman Duncan Keith, but my mom and brother surprised me with a birthday shout out on the scoreboard that said "Happy Birthday, Lauren With The Good Hair. Love, Mom." Truly incredible.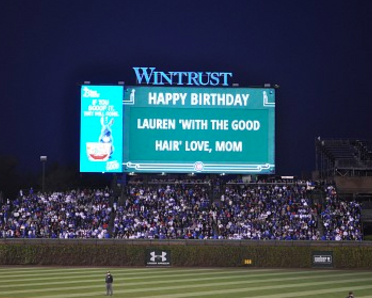 This season has been nothing short of incredible. My brother is in Colorado finishing school, so I don't get to see him often enough, but he's been home every weekend thanks to the Cubs and we attended the first (winning) NLDS game together. I also flew to L.A. for less than 48 hours on a whim to watch the Cubs in the NLCS with two of my closest friends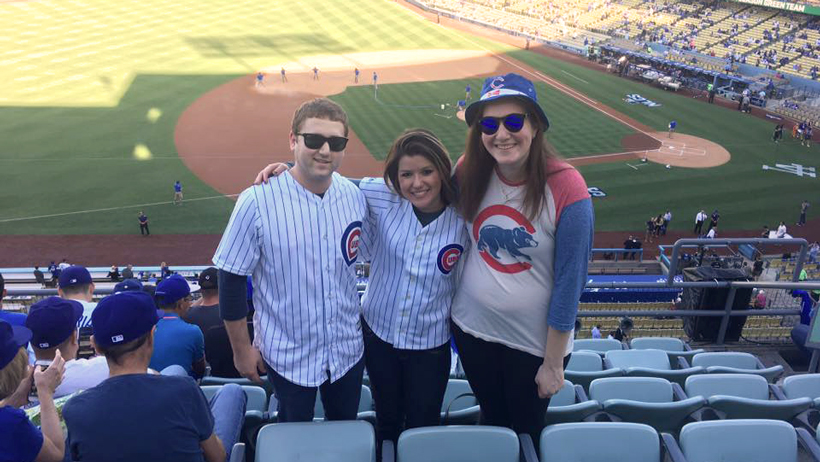 With friends in Los Angeles to watch the Cubs in the NLCS.
The cherry on top was my mom procuring tickets to NLCS Game 6 last Saturday less than 24 hours before the game. She was an unbelievably good sport and attended a wedding of one of our dear family friends in Michigan instead of joining my brother and me for a historic night. (Mom, you rock beyond words!)
I have never felt such energy. I have never felt so many emotions. I have never seen Wrigley so packed to the brim. I have never screamed (err, shrieked) so loudly. I have never had a night like this. As my brother put it: "if my wedding was today, I'd postpone ... this will be better than the birth of my first born." Respect.
I know as long as I live, I will never forget witnessing the best and most historical night of my life at one of my favorite places in the world. After 71 years, the team I love more than (almost) anything made it to the World Series.
As a writer (and a, sometimes non-stop, talker), I am rarely at a loss for words. However, I find it beyond challenging to put the metaphorical pen to paper and express what I am feeling right now, so I will leave you with this.
Does my stomach throb? Sure. Have I not been able to sleep because of the excitement? Most definitely. Am I ready? You bet.
Whatever happens though, the Chicago Cubs are family. From the rich historical connection and watershed moments my blood relatives and I have shared with and because of this team, to the family that is formed each time I enter Wrigley Field, I wouldn't trade my unwavering connection with this team for anything in the world.
Four to go, let's do this. #FlyTheW