Permanent link
All Posts
07/25/2011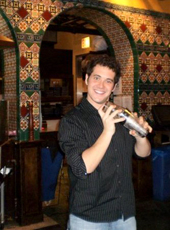 In case you've been living under a rock for the past several years, let me update you on a few things.
First, cellular phones can now do more than just send and receive phone calls and text messages.
Second, wireless internet capability has allowed anyone to share with the public not only what they like or do, but also when and where they do them. That way, one can see where people are in real time and even seek out the hippest and coolest places to hang out.
Third, we now have the capability of rating and critiquing places we visit and frequent, so we can aide others seeking similar journeys through urban nightlife and spend less time sifting through magazines, newspaper articles and other traditional information gathering sources.
Starting this past weekend, Chicago is showcasing a new Android and iPhone powered application called "SceneTap". You may have read about it in RedEye last week or heard about it from a friend, but in case you haven't, here's the scoop. SceneTap is a mobile application that monitors bar, restaurant and nightclub scene activity in real-time. As their website and advertisements detail, users can track athlete and celebrity movement, win vacation packages and other prizes, observe how crowded or busy a place might be at that moment, or even check out the guy to girl ratio. Chicago will be featuring 50 bars in the launch party tonight, but I can guarantee you that more destination places will capitalize on this innovative form of real-time networking in the very near future. Each destination will also be equipped with a giant spotlight, so you literally cannot miss seeing it on your journey around town. Just look up at the sky and follow the white beams of light!
Here are some of the lucky 50 that will be lighting up Chicago's skyline and cellphone activity (and some were even on my top summer restaurants list!). You can get the full list at http://scenetap.com/r/chicago.
• Wrightwood Tap
• Cans
• Benchmark
• Kirkwood
• STATE
• Big City Tap
• Vertigo Sky Lounge
• Timothy O'Tooles
• Sheffield's
• O'Donovans
• Shenanigans
• Duffy's Tavern
• Redmond's (Badger bar!)
• Casey Moran's
So Chicago, keep your eyes peeled during the nighttime. With the help of SceneTap and Batman-like spotlights piercing the night sky, you will know where the best times can be fully enjoyed. Plus, you've got more than one reason now to lift your eyes to the sky! I know that I will be sure to use SceneTap over the coming weekends, whether I am seeking out bars with a particular brew on draft or try to find out where Jay Cutler might be dining. Who knows, you may even bump into a few fellow Chicago Jews out on the town!
L'Chaim!