Permanent link
All Posts
05/25/2011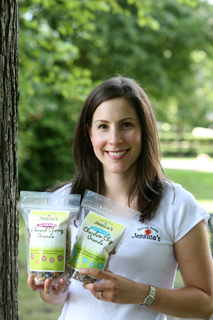 I fell in love—with chocolate chip granola! Not just any brand, but Jessica's Natural Foods granola. I was in Michigan with my wife visiting family and I ran into a Plum Market. Someone, possibly Jessica, was handing out samples of this awesome tasting treat. I thought, no way is this stuff healthy. I then do what I always do in this situation, I read the label. Not bad! The fat wasn't high and the sugar wasn't either. It's also gluten free, so perfect for those who have celiac disease.
At first I could not find the granola in Chicago, then after checking out a few Whole Foods, I found the product. I use it when I have a chocolate craving or when I want to mix something with yogurt and some berries. Usually when I find a product I love, I contact the owner of the company. My wife beat me to the punch.
Since the world is a small place, and everyone is on Facebook, my wife realized her friend from high school is Jessica! She was looking at a status update and put two and two together. As soon as I found out, I contacted Jessica to talk about Detroit's top-rated granola. Don't take my word for it—check the Detroit News.
Here's the scoop from Jessica:
How does an engineer become a baker?
I have always loved baking. I like how you add a dash of flavor and it effects the taste and texture. With a background in science I like to experiment and see if I add more brown sugar than white sugar, will my dessert turn out chewier? What happens when I substitute baking soda for baking powder…
Why gluten free granola?
A few years back my husband discovered that he has a gluten intolerance. He couldn't find any gluten-free granola so I started making it for him. As other people tasted it, I was encouraged to start selling it. And now it's available at several grocery stores and online. It's also sold at all the Whole Foods in their Midwest region.
What else do you like to bake?
I like to bake cookies, brownies, bars, muffins. I love comfort foods! I have a few recipes online. My favorite recipes that I posted are the apple crisp and the granola pie. You would never know they are gluten free. When baking cookies and muffins, I enjoy using recipes from Elana's Pantry. They're healthy and gluten free.
What's next for Jessica's Natural Foods?
We are already all natural, handmade and gluten free. Now I'm working on getting our kosher certification. I would also like to add another flavor of granola.
A quick game of word association with Jessica:
Gluten: Free
Cereal: Granola
Cookies: Chocolate chip
Work: Play
Relax: Sleep
If you like granola, try Jessica's, it's awesome! Currently the flavors are:
• Chocolate Chip
• Almond Cherry
• Vanilla Maple
If you have other favorite foods, send them my way.