Permanent link
All Posts
03/17/2011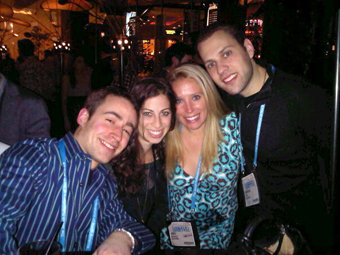 From left, Rob Simon, Ariel Zipkin, Amy Kirsch and Josh Liss
There is definitely power in numbers. We may be a small TRIBE, but when we band together there's no stopping us.  Last week, 1,200 Jews from across North America overwhelmed Las Vegas (is that even possible?) for the Jewish Federation of North America's TRIBEFEST conference.  This 3-day convention featured concerts, speakers, workshops, networking and performances all aimed at helping young adults identify with their own Judaism.
Vanessa Hidary, also known as the "Hebrew Mamita," opened Tribefest with her signature poetry piece (check it out, it's amazing!).  After a covertly anti-Semitic experience, she examines what being Jewish means to her, "I am the Hebrew Mamita, long lost daughter of Abraham and Sarah, the sexy oy veyin, chutzpah havin, non cheapin, non conspirisizin, always questioning, hip hop lovin, torah scroll readin, all people lovin, pride filled Jewish girl."
Discrimination may not prompt all of us to examine our own relationship with Judaism, so what does?  Like many North American Jews, I lead a comfortable secular life.  I'm not often asked to define or defend myself, so I don't.  It is all too easy to go about life and forget about where we come from.  The truth is we are a small race and if Judaism doesn't mean much to us, it might mean even less to future generations.
So…Jewish Federations of North America (JFNA) decided to create Tribefest, a conference with the tagline "connect, explore and celebrate."  They partnered with roughly 40 other incredible Jewish organizations and wowed the audience with amazing speakers and programs aimed to inspire and connect.
On day two, Jon Kraft and Mark Wilf, the Presidents of the New England Patriots and the Minnesota Vikings, respectively, told the audience about how Judaism is a central part of their lives.  Kraft said his family observes kashrut and that it's, "a very big part of my life to make sure my kids get a Jewish education and understand the traditions."  He continued, "It's also very critical that they understand the importance of the State of Israel."  Wilf says he takes pride in the shofar on the team's helmets, "there's no team like the Jewish people."
This conference showed just how strong our team can be.  Young adults woke early to participate in seminars and stayed together all through the night at parties and occasionally on the casino floor.  Jews from all over the country united under a common goal and some of the breakout sessions were so popular that they even "sold" out.
One breakout session particularly left a big impression on me.  It was called "What's Jewish about Pink Ribbons?" and featured speakers Jonny Imerman and Rochelle Shoretz.  Jonny is a local Chicagoan and founder of Imerman Angels, an organization that provides 1-on-1 cancer support and connects cancer fighters, survivors & caregivers.  Rochelle Shoretz is the founder of Sharsheret, an organization that supports Jewish women and families at every stage of breast cancer.  Jonny and Rochelle spoke very openly about their struggle for survival and how they built their non-profit organizations on "sheer passion".  Jonny recognized that during his battle with cancer he had support from his family and friends but no one who shared his experience.  Imerman Angels is the first organization to fill that void and the largest nationally to date.  This organization matches up cancer patients with survivors so the survivors can help patients keep up morale and show them that there is a life worth living after cancer.  You could feel the inspiration in the room.  Jonny and Rochelle are amazing people who have taken their struggles and created something huge—awareness and education about cancer, tools for coping, and comfort to those suffering.  I left the room thinking how I too wanted to do something big for the world.
There were many other speakers present.  Alina Spaulding recounted how Jewish Americans helped save her family and bring them from the former Soviet Union to the US.  Jon Meyer, one of the Chicago co-chairs for Tribefest said that what he really enjoyed about Alina was that, "after two nights of drinking and socializing, Alina's speech really brought it back to the whole point of the program.  People forgot about their hangovers and were in tears".
Mayim Bialik, best known for her years playing "Blossom" on TV, spoke about how the Jewish Federation solidified her Jewish identity during her formative years and how she has chosen in her adult life to become more observant. Ben Mezrich, author of "Bringing Down the House" and "The Accidental Billionaires," talked about his Jewish connections and rise to fame. Other speakers included: Members of the House Debbie Wasserman Schultz of Florida and Shelly Berkley of Las Vegas, security expert Aaron Cohen, Las Vegas Mayor Oscar Goodman, Congressman Joe Heck, HBO Real Sports' Jon Frankel, Idealist.org founder Ami Dar, and performances by Joel Chasnoff, Yemen Blues, Soulico, Y-Love and Diwon and hip-hop violinist Miri Ben-Ari.
It was apparent that JFNA did a lot right! People were trying to sneak into the convention and there was buzz all around the hotel at Mandalay Bay.  Where I think JFNA fell a little short, however, is identifying exactly who they are.  As the central address of the Jewish people (yes, I work at JUF, but no, they did not make me say this), I truly felt that the connection to the Federation was missing. Federation is no longer our grandfathers' organization, and we should be proud of our support and relationship with our local federations.  In Chicago, we raise around $80 million annually to provide critical services for the most needy in our society—both locally and abroad.  Why should we shy away from this while we highlight every other organization?  Isn't this also an amazing thing to be a part of?  I understand that the aim of Tribefest is to reach young adults in a new way.  The goal is to make it cool to not only be Jewish but to do Jewish, but let's not ignore who put this whole thing on and show how strong and committed we are to the Jewish people and the next generation.
That, I suppose is now our role at home: to ensure that Las Vegas was only just the beginning of Tribefest, to harness the passion and energy that began there, and to continue the momentum in our home cities.  Here in Chicago, we have lots of post-programming planned and I hope other Federations do as well.  It was said best at the closing session, "for the first time ever, what happens in Vegas, better not stay in Vegas,"…well, at least most of what happens!