Permanent link
All Posts
03/08/2011
Watching a child discover new things for the first time makes me nostalgic for innocence. The look of pure joy and unabashed pride is amazing to watch unfold on a child's face. With a wide grin and sparkling eyes, they can be openly proud of a job well done and no one thinks they are boastful or arrogant. Somewhere along the line of growing up we learn to be skeptical of trying new things: climbing to new heights, falling in love, speaking our minds. At some point we learn that people judge, reject, and fail. If we want to chase a dream, if we want to really grow, we must look into that collective face of fear and say: I'm doing it anyway. We have to be just like Erin.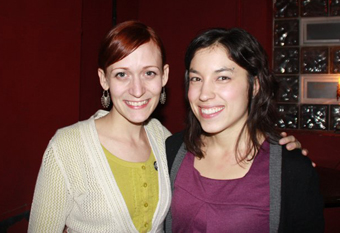 At Erin's farewell party
Here's what you do if your best friend packs up her car and drives out to Seattle, where she will now live despite your crying protests. You will drink a chocolate stout at the Long Room and take a lot of pictures and bond with all of her friends over her leaving. You will cry some more. You will make her set up Skype on your computer before she leaves. You will thank your creator for giving you your best friend and ask how in the world you are supposed to go shopping for the spring season without her by your side. You will wonder if you will still play your cello if Erin isn't nearby to play duets with you. You will feel grateful for all the cds you made together and you will wonder if writing songs over Skype will be frustrating or fun. But above all, you will feel inspired.
Because Erin's move to Seattle is the physical manifestation of chasing a dream.  At the same time of starting over in a new place, Erin is returning to her roots as a musician. An amazingly talented songwriter, I have no doubt that her voice and her keyboard and her violin will make an impact on people. My admiration runs deep.
I am currently attempting to write my first novel, my first attempt at fiction. And when I start to doubt myself and my story and my ability to communicate in general, I think about Erin in Seattle. She is there; she picked up her entire life and moved there. And if she can make a move like that, well, then I can sit at my computer and put some more words together. Plus, I have an example to set for two little dreamers named Violet and Autumn, who demonstrate for me every day that doing things for the first time is fun, and that doing those things every day is how we grow.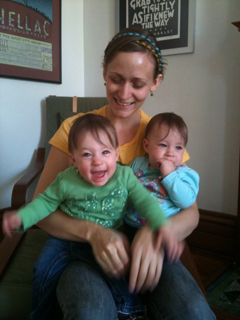 Three inspiring ladies: Erin, Violet and Autumn
Maybe we can't recapture innocence and no one will think we're cute if we radiate pure glee over our accomplishments, but Erin's move reminds me that we can start over and take new risks at any time. It still can be just as exhilarating as when my daughters first rode their new radio flyer bike, or first climbed the stairs, or first hugged the cat.
So thank you, Erin, for being an inspiration to me and reminding me that leaping far and having faith are possible at all times. I hope you are overwhelmed with a feeling of pride for taking this step and I hope it shows all over your beautiful face.