Permanent link
All Posts
Sing Out Chicago is March 13
03/01/2011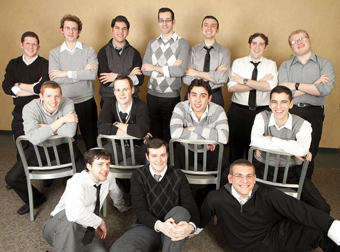 This past Chanukah, we all gathered around the warm, flickering glow of our… computers. We were mesmerized by The Maccabeats, and their catchy, clever, a cappella version of Taio Cruz' "Dynamite," which they re-cast for Chanukah as "Candlelight." To date, their video has had more than 4.5 million views on YouTube.
While the original song is about going to a dance club, the Maccabeats changed it to be about Chanukah. "I throw my hands up in the air sometimes" became "I flip my latkes in the air sometimes."
 
Ah… but who are these Maccabeats, you ask, and where did they come from?
Well, back in 2007, some guys at New York City's Yeshiva University noticed something. Many other colleges had Jewish a cappella groups— but not theirs. So they started an a cappella band of their own.
First, they needed a memorable name: Cornell University's was Chai Notes, and University of Michigan's was Kol Hakavod, and one in Chicago is called Shircago. So they decided on The Maccabeats.
They had auditions and were surprised by how many people were interested. Now, the group is 14 strong, about as many as The New Directions on "Glee." Then they started performing around campus.
You might think with a name like The Maccabeats, they would debut with a Chanukah song. Instead, their first video was of a Matisyahu song called "One Day." This video showed the group formation, and their auditions and rehearsals. (Take a second and listen— your ears will thank you.)
When they were looking for an idea for a second video, one of their members heard a YouTube singer named Mike Tompkins do a solo, multitracked, a cappella version of "Dynamite." Rather than repeat that, the band decided to create a Jewish version in time for Chanukah of 2010.
Unexpectedly, the "Candlelight" video went viral. Before they knew it, The Maccabeats were all over the Jewish press, including the Jerusalem Post. Then they went on "The Today Show" and CNN, written up in "The New York Times" and in "Time" magazine, and of course they were all over the blogs and Facebook. They even performed at Madison Square Garden. The Maccabeats then put out an album called "Voices from the Heights"  and went on tour. (Scroll to the bottom for sound clips, including "Lecha Dodi" to the tune of Leonard Cohen's "Hallelujah.").
When "Candlelight" made it to iTunes, it went into the Top 20 on two charts. It made it to #19 on the Holiday Digital Songs chart…and to #2 on the Comedy Digital Tracks, behind Adam Sandler's "Chanukah Song." This is the first time Chanukah songs were at #1 and #2 on any Billboard chart— and Billboard has been tracking song sales since 1894.
And now you can see them live! They will bring their singing, beat-boxing energy to the stage for  JUF's new Sing Out Chicago on March 13, at Skokie's North Shore Center for the Performing Arts. The first show is already sold out; a second show was added at 4:30.
"This will be our first Chicago-area performance—in fact, our first major concert in the Midwest—and we are very excited about it," said Julian Horowitz, musical director for the Maccabeats. "We hope everyone will come out to see us, and to support JUF!"
Tickets to Sing Out Chicago are $18 per person and must be purchased in advance through JUF, by calling 312-553-3530, or by e-mailing  SingOutChicago@juf.org . Attendance at the event signifies intent to make a donation to the 2011 JUF Annual Campaign, which can be paid in installments through December 2011.