Permanent link
All Posts
10/05/2010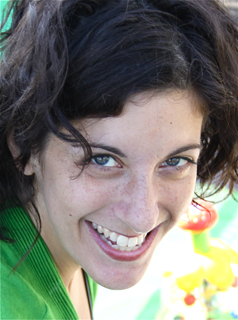 I've always wanted to belong.
To the Girl Scouts. The band. The cool kids who wore CB ski jackets and made out by the gazebo. In college it was the improv troupe, the choir, sometimes Hillel House. More often, the cool kids who drank wine coolers and espresso and tried to reinvent Plato by the bike racks. After graduation, I joined another theater, got a membership to a gym, my own account at Blockbuster, First Chicago Bank. To this day, I get a thrill from flipping open my wallet to reveal my bright green library card, my insurance card, my ten-cups-of-coffee-and-the-eleventh-is-on-us card. I treasure and maybe idealize the notion that there is a greater whole, a group of doctors or books or cups of coffee that know me, care about me, count me as one of their flock.
So it's embarrassing to admit that I have not belonged to a temple since 1991. That's when I moved from Westchester, New York, to start at University of Chicago. We had a family membership at Larchmont Temple, the reform synagogue in my town where my mom helped found the nursery school and I was Bat Mitzvahed. I never made an active choice to apply – I was just brought in and accepted. But once I moved to the Midwest, I became a Jewish drifter. Catching the Shehechyanu here and a Dayeinu there. Every once in a while dropping off some canned yams for a yearly food drive or writing a check for $36 around Rosh Hashanah, but really living and worshipping off the kindness of strangers.
In Hyde Park, I used my student status as an excuse. I went to the campus synagogue now and then, mostly treating it like another language class since the prayer books had a lot more Hebrew than the one I'd grown up with. My first job out of college was up in Evanston, so I snuck into a local shul there and found a new twinge of delight from being completely anonymous. Walking outside on a breezy Yom Kippur afternoon, I remember feeling energized by my solitude, and yet still connected by a minor chord that everyone was singing. Together.
I joined the Second City family in the late 90's, and the beautiful, generous producer emeritus Joyce Sloane took me under her wing for the High Holidays. She often wears large wool shawls and she literally tucked me in to her warm bosom as we sat next to each other at Anshe Emet in Wrigleyville. She insisted I nap on her day bed before we returned for Neilah services.
I moved back to New York in 2004 just days before my mother died. My father had passed away years before, my siblings had settled in other towns so our family status at Larchmont Temple was extinct. I moved in with my raised-Catholic-but-now-toying-with-atheism boyfriend in Brooklyn, feeling achingly adrift. I joined a yoga studio. I collected more of those coffee cards. I got a monthly metrocard and made sure I used one train for all my commuting needs even if it meant walking a half-hour across town to get to my temp job. I avoided temple for most of the year, then usually found my way to a cousin's seder or a friend's break the fast. Whenever I crept into the back row of a new synagogue, I made sure to leave without exchanging any hello's or making eye contact with the clergy.
Sure there's been a financial aspect to my drifter status. How can I commit to annual dues when I don't know how often I'll get to services and don't even know what they serve at oneg? There's also the pull to be anonymous again, to ride of that sea of voices, maybe even allowing me to join in louder because – hey, these people don't know me. And there's sheer laziness. Every Rosh Hashanah I slip into a different folding chair and then promise myself this time I'm going to stay. I'm also going to read Thomas Friedman's From Beirut to Jerusalem and keep up with the general elections and/or bake chicken on Friday nights. None of which I've come close to doing since I left Westchester in 1991.
Which brings me back to Larchmont Temple. This year, the Tuesday before Yom Kippur I emailed my rabbi from childhood. I know it's last minute, but any chance you'd have an empty seat if I promise to stay awake for the sermon? He wrote back immediately: Of course. Would love to see your punim. Ticket will be by the Willow Street entrance, where you used to creep in late to Hebrew School.
Though the sanctuary has been renovated and most of the members were new to me, I wept gratefully, hearing the familiar chords from the piano, gazing at the white embroidered Torah covers, the sun catching in the same stained glass I'd seen for my first 18 years of life. It was just as warm and soothing as I'd remembered it. I saw many of my parents' friends, some now toting grandchildren. I tried to pick out who was there from my Hebrew school class and whether they were here just for a visit? To live here more permanently? Or maybe somewhere in between…
My rabbi spoke about Zionism and Judaism and how the newest generation of young adult Jews – the campers and confirmation classes he instructs – have no concept of Israel as their home. I can't say that I do either. Friedman still sits on my shelf. I catch bits and pieces of the current peace talks in the news and struggle with how to trace it back to Israel's birth 62 years ago. I listened to my rabbi and now good friend describe essentially me – an adolescent in grown up clothes, still unsure of what and where constitutes my Jewish home.
So this is my New Year's Resolution numero alef for 5771. I am going to join a congregation this year. It could be Larchmont Temple, though I think the commute from Brooklyn would be hard with two kids in diapers. More likely it will be one of the doors I've walked through in Ft. Greene – my neighborhood for the past six and a half years and hopefully for many more. Maybe it will be Union Temple, where Rabbi Goodman's words have challenged me to think about my role in health care reform. Or the Brooklyn Jews' congregation led by Marc Katz and Jennifer Gubitz, who've welcomed me at Rosh Hashanah in the picnic house at Prospect Park, even inviting me onto the bima to be part of an aliyah for new mothers. Or maybe it will be somewhere I've never been to before. Where I am an anonymous voice, singing loudly. And I return. I say hello, and thank you. I commit to sharing in this sacred spiritual practice.