Permanent link
All Posts
08/16/2010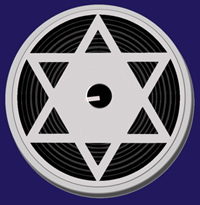 As promised, here are more Jewish movies with great soundtracks… this time consisting of songs previously released, then compiled just for the occasion of the movie. The nice thing about these compilations is that they offer music you might have a harder time finding, or getting into, otherwise. Again, they are presented chronologically:
1. The Graduate (1967)
It is never stated plainly that Benjamin and his folks are Jewish, but many film scholars believe they are. And since that means I get to mention a soundtrack full of Simon and Garfunkel's greatest hits, I'll agree. Here are "Sounds of Silence," "Scarborough Fair," and the indelible "Mrs. Robinson." The music for the older generation was written by Jewish jazz composer Dave Grusin, who later arranged the horns on Simon's hit "Late in the Evening."
2. Radio Days (1974)
Woody Allen's movies are always full of great old-timey songs. But this movie is set when radio was king. Allen loads the soundtrack with nearly 50 songs, from the sublime— "In the Mood," "Begin the Beguine,"— to the ridiculous: "The Donkey Serende" and "Pistol Packin' Mama." Many of the songs here are Cole Porter's, but many are by Jewish Tin Pan Alley greats: Gus Kahn, Jule Styne, Frank Loesser, et al. Also on display are the clarinet pyrotechnics of Jewish bandleaders Benny Goodman and Artie Shaw, and the sweet songbird stylings of Mia Farrow.
3. Dirty Dancing (1987)
A movie about a dance instructor better bring it when it comes to the music. "The kids" danced to "Be My Baby" and "Big Girls Don't Cry"… and dirty-danced to "Do You Love Me," and "Love Man." Meanwhile, their parents learned the proper steps to the foxtrot and waltz. (Sadly, the songs written in the '80s themselves— "Hungry Eyes," "She's Like the Wind," and "The Time of My Life"— show just how badly the music had slipped backward by then.)
4. When Harry Met Sally… (1989)
Jazz standards again, the twist this time that they are performed by Harry Connick, Jr. These are songs by the Gershwins, Rogers and Hart, and Ellington, and made famous by Sinatra, Armstrong, and Fitzgerald and repopularized thanks to this soundtrack. Here also are "Winter Wonderland" by performed by Ray Charles, and "Surrey With a Fringe On Top" from Oklahoma performed… by Harry and Sally.
5. Bugsy (1991)
A movie set in Vegas would have a Rat-Pack soundtrack, but the events of this movie are those that led to the creation of the "adult Disneyland" itself. So yes, more standards, but this time with an emphasis on slower, more intense tracks performed by sensuous chanteuses like Peggy Lee, Jo Stafford, and Margaret Whiting. "Come Rain or Come Shine," "Moonlight in Vermont,"  "Slow Boat to China," and "Why Don't You Do Right?" replace the upbeat tracks supporting the comedies in this list.
6. School Ties (1992)
Rock 'n' roll cajoled its devilish way even into the insular world of this New England prep school. Early rock classics like "Rock Around the Clock," "Smokey Joe's Café," and "Earth Angel" began to seep from beneath dorm room doors along with illicit cigarette smoke and to roil chaperones at sock-hops. As in The Graduate, these songs mark the line between generations, the adults still savoring "Three Coins in the Fountain" and "Isn't it Romantic."
7. Shine (1996) 
As befitting a film about a gifted classical pianist, the soundtrack bursts with Chopin, Liszt, Vivaldi, Beethoven… and the Rachmaninoff pieces that proved both his blessing and curse. The pianist in question is David Helfgott, and it is in fact his piano playing heard on the soundtrack. (For the record, Helfgott's sister wrote a book refuting the portrayal of her father in the movie.)
8. Pi (1998)
A mathematician is driven slowly mad by the possiblity that he might be able to calculate the final digit of pi… and by those— from stockbrokers to kabbalists— insisting he reveal it to them. He builds a supercomputer to help him, so the soundtrack is appropritaely provided by electronica standbys like Orbital and Aphex Twin. Massive Attack provides the creeping paranoia. (Director Darren Aronofsky's latest is The Wrestler.)
9. Wet Hot American Summer (2001)
It's American summer camp, it's summertime, and it's the 1980s. So we're talking Foreigner, KISS, Rick Springfield, Kenny Loggins… even Loverboy and Jefferson Starship. Pass the bug juice and look out for water balloons.
10. The Pianist (2002)
Another Jewish pianist in a dangerous situation, only this time not caused by a demanding father but "Der Furor" himself. Chopin, Beethoven, and Bach are what the pianist wants to play, but we also hear the klezmer and Polish songs that he heard as a child. The klezmer piece is played by the primier British klez ensemble, The Burning Bush.
11. American Splendor (2003)
Harvey Pekar, who just died in July, might have made his name with his autobiographical graphic novels, but he was also a renowned collector and critic of blues recordings. The music here ranges from the expected standards to "Escape (The Piña Colada Song) to rock by The Pretenders and The Clash. But what makes this soundtrack special are the tracks by blues shouter Jay McShann and by Pekar's friend and collaborator, illustrator Robert Crumb, who has a roots music ensemble on the side: R. Crumb and His Cheap Suit Serenaders.
12. Garden State (2004)
Emo music goes with mumblecore movies like warm applesauce with cold latkes. Coldplay, Nick Drake, Iron & Wine, and The Shins provide the musical backing for this romantic-not-comedy. Special appearances— also in shoe-gaze mode— are made by Lionel Richie, Colin Hay (of Men at Work), and the original sad boys of popular music: Simon and Garfunkel.
13. Everything Is Illuminated (2005)
A young American Jew travels back to the Old Country to trace his roots. But the Old Country isn't only old, which is why the soundtrack heavily features Gogol Bordello, a band that jazzily deconstructs traditional Balkan melodies and modes. Other Central-to-Eastern European bands contribute tracks like "Zvezda Rok-n-Rolla." Fans of Balkan Beat Box and Golem will enjoy.
14. The Squid and the Whale (2005)
If "pop" is short for "popular music," then this is "un-pop," with folkies like Bert Jansch and the McGarrigle sisters, jokers like Loudon Wainwright III, and cult faves like Tangerine Dream and The Feelies. So as to not entirely alienate everyone by presenting only unfamiliar music, Lou Reed, Pink Floyd, The Cars, and even Bryan Adams show up. Oh, and you know that Train song that keeps going on about a band called Mr. Mister? They actually existed, and one of their songs is on here. Plus, a song from Schoolhouse Rock!
15. When Do We Eat? (2005)
Moses' two tablets are no match for the tablets of E a kid plops in his dad's Seder wine. This is the only soundtrack to a mainstream Jewish movie consisting of honest-to-Hashem Jewish songs. Rabbi Shlomo Carlebach and his daughter Neshama contribute tracks. So do the Phish-goes-Sephardic acts RebbeSoul, Innasense, and C. Lanzbom (of Soulfarm). There are rap tracks by Etan G and Chutzpah, which is unfortunate as there are far better Jewish-rap acts out there. But the rest of the tracks are by Mark Adler, who also did the soundtracks to The Unbearable Lightness of Being, Arthur Miller's Focus, and more recently Bottle Shock.
16. Margot at the Wedding (2007)
You may know the bands, but you probably don't know the songs: Steve Miller's "Dear Mary," Blondie's "Union City Blue," Donovan's "Teen Angel," Alice Cooper's "You and Me," Fleetwood Mac's "That's All for Everyone." Also, remember Dinosaur Jr., X, Gilbert O'Sullivan, and the dB's? Somebody did. Stephen Bishop's "On and On" is here, too; you know his voice from the Tootsie soundtrack.
17. Nick and Nora's Infinite Playlist (2008)
He's in a band. Her dad's a rock producer. They are going to a concert. Music is very important to these characters, but how's the music in the film? Indie-licious. An amazing 37 songs are crammed into the movie's run-time: Devandra Banhart, Bishop Allen, Vampire Weekend, We Are Scientists, Band of Horses, The National, Tapes'n Tapes, Modest Mouse… it's like a Pitchfork Festival in your pocket. For contrast, there are tracks by Billy Joel, Dusty Springfield, and The Spice Girls.
18. Taking Woodstock (2009)
Break out the tie-dye for this, story of how some hippie Jews threw the greatest rock party ever. The soundtrack features the usual suspects: The Dead, Dylan, Janis, CSN, The Doors, Jefferson Airplane, Ravi Shankar… plus folkies like Joan Baez, Arlo Guthrie, Richie Havens, Tim Hardin, and Simon and Garfunkel. Don't worry, bubbeleh, there's a Yiddish song in there, too.