Permanent link
All Posts
07/19/2010
I was lucky enough to be one of the group leaders on a recent Shorashim Birthright Israel trip.  We had an amazing 10 days in Israel with all the necessary highlights—the climb up Masada, the dunk in the Dead Sea, the beach in Tel Aviv, the Wall in Jerusalem and more.  But what surprised me most wasn't a tourist attraction at all.
Because this was a Chicago trip, we visited Kiryat Gat-Lachish-Shafir, JUF's Partnership 2000 region.  JUF provides money, resources, and volunteers to help this community that sits off highway six, toward the middle of the country.
The region's biggest claim to fame is that it is home to the largest Intel Factory in the world.  However, we were not there to look at computer chips.  There is an absorption center in Kiryat Gat— a place where new immigrants to Israel stay when they first arrive.  The center provides a support network teaching the language, culture, and life of Israel to the new olim.  We really found a melting pot of people living there from Yemenites, to Russians, to Ethiopians, all sharing the same falafel stand.
We were there to help.  There is a children's center— think Israel's version of a YMCA.  It's a place where kids can go after school to play, relax, and be safe.  It keeps them off the street, away from drugs, and generally out of trouble.  It turned out to be one of the best two hours we spent in Israel.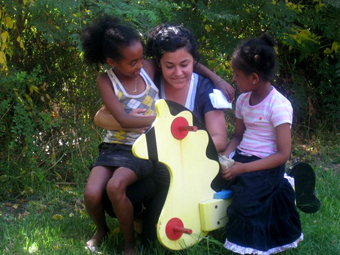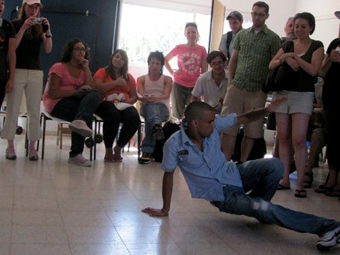 The kids, who ranged in age from three to about 13, didn't speak much English, but it didn't matter.  You don't need English to understand coloring, videogames, or breakdancing.  "When does the breakdancing start?" I asked.  "As soon as you clear this room, you guys interrupted it when you came in here," I was told.  The crowd dispersed, the music started and an 11-year-old boy started spinning on his head.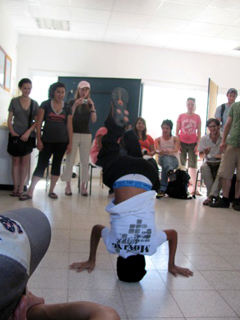 Meanwhile, intense games of basketball started up on the basketball court and soccer in another part of the yard.  In another building there were board games, videogames and all kinds of arts and crafts.  Running around the entire property came two kids on the back of one our group members and three of the biggest smiles you ever saw.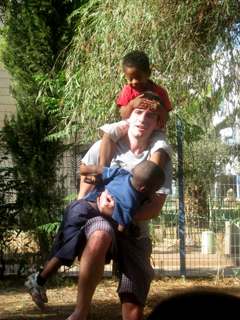 Before we got to the center, one participant pulled me aside to tell me he didn't really like kids and was disappointed we had moved around a hike that was originally scheduled for that time.  He also happened to be the first to grab a drum and bang along with the other kids while the music was playing.  "I thought you didn't like kids?"  I asked him when we returned to the bus.  "I guess I didn't know that I did," he said.  He pledged to donate some of his old instruments to Kiryat Gat and deliver them personally.  He decided right then and there that he would return to Israel and spend part of his time volunteering for this wonderful community.