Permanent link
All Posts
04/21/2010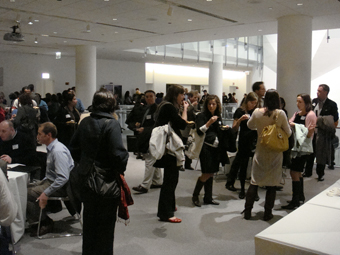 I've now written a couple of blog posts about the virtues, the benefits, and the "how-to's" of networking.  These were a few of the thousands of blog posts out there from experts, professionals, and aficionados on the subject.  However, I still meet with many people who do not take advantage of this tool to improve their professional, personal, or employment standing.  I thought I might offer a case study of how some casual networking between three professionals turned into something that benefitted hundreds.  I think it shows that the most important question in a networking conversation is "How can we help each other?"
I met Angela Jacobs at a Career Connections event hosted by JVS Chicago.  I had been on the job for less than two months; she had been coming to JVS Chicago events for a while.  Angela is the Senior Associate Director, Talent Development for Alumni Relations and Development at the University of Chicago and she told me she often meets good candidates for her job openings at JVS events.  A significant part of my role at JVS was defined as Employer outreach and since I had an employer standing right in front of me, I reached out to her.  "JVS has several free programs that help employers fill positions," I told her.  "We also have a new job board launching this summer.  Perhaps I could stop by your office, tell you a little bit more about what we do, and see if we can help you."  We exchanged contact info and I promised to email her to set up a meeting.
In the meantime, Angela also connected me with Erin Slott, Director of Recruitment and Alumni Affairs at Spertus Institute.  Fantastic, I thought.  Another key part of my job was outreach to Jewish Organizations.  I brought my materials for show and tell and she brought hers.  She was excited to hear about the services JVS might be able to offer her students once they graduate.  I was glad to learn more about Spertus Graduate Programs for JVS clients considering higher education.  A relationship was born of mutual benefit.
My meeting with Angela was equally as productive.  She was looking for some very specific types of candidates for her openings.  We were launching a website that might bring some of those candidates to her.  She also was glad to hear there might be more networking events for us to go to, as I was adding more to the schedule.
Angela also shared with me another idea that she and Erin were starting to develop.  Angela had been navigating the nonprofit world for some time.  She even had experience serving on nonprofit boards.  She had observed that there were a lot of nonprofits out there with a lot of great ideas.  Very few of them, however, were talking and sharing these ideas.  Angela wanted to host an event that would get everyone in the same room together.  Erin was on board, because she had 75 students and thousands more alumni that were desperate to get there foot in the door at organizations all over Chicago.  Without hesitation, I offered to support the event.  Perhaps some JVS clients looking for nonprofit work might want to come.
This initial meeting was in June.  It took many email exchanges, several meetings, and a lot of creative marketing, but we got the event approved from all three organizations.  Nonprofit Networking Night was planned for October 2009.  We had an engaging speaker/author presenting on a clever topic: how to self destruct.   Erin had made arrangements for us to use the Spertus auditorium and serve refreshments afterwards.  We kept asking ourselves.  What else do we want?  Who else can we call?  We took some chances.  We were all over LinkedIn.  We sold our bosses on using dedicated emails and inviting staff.  Erin and I were able to get our executive directors to come in support of the program.
On October 15, 2009, it was raining sideways outside of 610 South Michigan Avenue.  But inside, 250 people were settling in to one of the best attended events that JVS or Spertus had hosted in some time.  Some were job seekers that heard about it through JVS, hoping to make connections for informational interviews and maybe even jobs.  Some were students hoping to gain some insight on what the post-graduation world would look like for them in the nonprofit world.  Some were professionals, well established in their fields, looking for new ideas and new contacts, and new ways to help.  Everyone was there to meet someone and most walked away with a new idea, contact, or opportunity.  It all started with a simple meeting where the question was asked, "What can we do to help each other?"
The next Non Profit Networking Night: How to Thrive when the Economy takes a Dive, will be held Thursday, April 29 at 5:30 p.m. at the Spertus Institute, 610 S Michigan Ave.  Admission is free, but reservations are required.  To RSVP by Friday, April 23, email   nnn@spertus.edu .  For more information, call (312) 322-1707.