Permanent link
All Posts
04/16/2010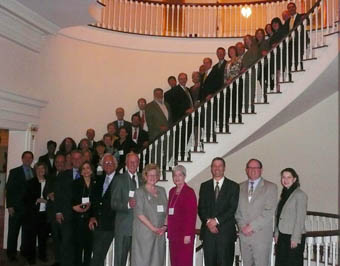 On the spiral staircase at the Governor's Mansion.
As a high school senior, I wanted to be president. But I knew I couldn't become president because I'm not a natural-born U.S. citizen, so I decided I could settle for at least some sort of elected official – maybe a representative or a senator.
I haven't thought about this dream in a long time, and the last two days changed my mind completely—I'd rather stay away from public office. After all, elected officials often have to make extremely painful decisions that affect millions of lives. I'm not sure I can live with that.
I was part of a group of 40 local organizational volunteers and staff from the Jewish Federation of Metropolitan Chicago who traveled to Springfield this week to advocate for human services funding. Illinois is having a huge budget crisis, with a deficit of about 50 percent of the revenue it needs to function – roughly $13 billion! As one of the legislators put it, "if last year was doomsday, this year's budget is doomsday on steroids."
Illinois subcontracts private service providers – like the Jewish Federation system – to care for the state's most vulnerable citizens. If things remain as they are, vital programs will be cut, including services to the mentally ill (4,000 people now living in residential mental health facilities are projected to be on the street on July 1), older-adult in-home care, and respite programs for children with disabilities.
Among the potential cuts is a successful demonstration program run by CJE SeniorLife. The program provides home-health aides, transportation, and other services to seniors to help keep them out of nursing homes. Prevention, as Department of Human Services Secretary Michele Saddler told us, is always the more cost-effective route. The cost of a nursing home for one person could provide about three people living at home with services. The program is poised to be cut because it is not statewide, though it has been successful for 14 years and follows the latest guidelines issued by the state.
As part of the mission, we met with both state Senate and House leaders from both sides of the aisle. We also met with some of the elected officials and their staff that represent our city. All said they felt our pain. All were embarrassed that they hadn't done more to prevent the budget crisis.
State Sen. Don Harmon, who represents Oak Park, greets Ann-Louise Kleper, JUF Government Affairs Domestic Affairs vice president.
Although none of our meetings produced a solution, legislators and department staff welcomed our group's input and noted the Federation and its agencies are an important partner in providing services to and speaking for those who cannot speak for themselves.
Want to know more about the issues facing the Federation system and its services? Read my story about the trip and my tweets.