Permanent link
All Posts
09/15/2009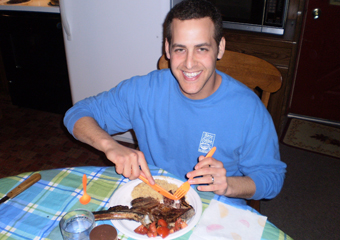 Michael Goldstein, aka the Mensch with a Wrench, is the ultimate handyman. He will tackle the projects you don't know how to do, don't want to do, or simply don't have time to do. Some people refer to Michael as a marriage counselor because he takes care of the 'honey-do' list! He'll put together your IKEA furniture, mount your T.V., fix your electrical problems, or build you a deck. Plus, he's got two little handymen of the future, fraternal twins Ethan and Charlie who are almost two years old. When he's not at home in Lincoln Square, he goes on adventures with his family to places as close as the neighborhood playgrounds to as far as the family's cottage on Commerce Lake. So if you enjoy swimming in the lake, love your little toddlers, or need something fixed, Michael Goldstein is a Jew You Should Know!
1. What is your favorite blog or website?
Craigslist.org - you can find anything in the world on there. I have sold a lot of stuff from window air conditioners, furniture, and tools. It is the most random site. I'm also hooked on Ebay and msn.com, but am still trying to figure out the blogging world.
 
2. If time and money were limitless, where you would travel?
Everywhere and anywhere. I would have an open ended ticket around the world, first stopping at the Island of Truck in the Micronesian Islands. My parents volunteered in the Peace Corps there right after they got married almost 50 years ago. I grew up seeing slides and pictures and have always wanted to go there.
 
3. If a movie were made about your life, who would play you?
Jeff Cohen, the actor who played Chunk in The Goonies. Growing up I was the chunky kid and had the nickname of Chunk.
 
4. If you could have a meal with any two people, living or dead, famous or not, who would they be? Where would you eat or what would you serve? 
I would have lunch with two people: Lin Brehmer from 93.1 WXRT and my father's father, Abe. I would take Lin to Manny's for a corned beef sandwich (I would have latkes since I keep Kosher) and pick up the tab. I've always enjoyed his humor. He does a great piece in the mornings where people write the most random questions to him and he answers them on the air. Once I wrote in and asked for advice about having twins since I knew his brother has twins.
 
I never met my grandfather Abe – he died when my father was only eight years old. But if he's anything like my dad he would have a big sweet tooth. I'd get to know him over a milkshake at Margie's.
 
5. What's your idea of the perfect day? 
The perfect day would be 85 and sunny and I would spend it at my family's cottage in Commerce, MI splashing in the lake with my children, Ethan and Charlie. Everyone has their little piece of heaven and this cottage is mine. My mom's from Detroit and her family bought the cottage in the 1950s as an escape from the city during the Polio epidemic and it has been in the family ever since. My mom and her siblings grew up there, then I spent a week there every summer with my sister and two brothers, and now I take my family there.
 
6. What do you love about what you do? 
It's an adventure and I get to meet a lot of very nice and interesting people. The project I'm most proud of is the huge two level deck I built for my brother in Washington, DC. I took a road trip out there and built him a deck in one week. I guess that's what younger brothers are for.
 
7. What job would you have if not the one you have now? 
My dream job would be to run a Habitat for Humanity site. I volunteered with them while in college at the University of Wisconsin-Madison and did some electrical work here in Chicago at a site in Pilsen. I would also love to own an overnight camp with my wife as the director and myself in charge of facilities. My wife and I were both overnight campers growing up. I went to the Habonim Dror Camp Moshava in Maryland, which is a kibbutz style camp where I learned some Hebrew and a lot about Israel.
 
8. What's your favorite Jewish thing to do in Chicago? In other words, how do you Jew? 
My favorite Jewish thing is being a Shabbat Dad at the JCC for my children's classroom. I also like celebrating Shabbat with my family and volunteering for Yad B'Yad. I also worked at the JCC for seven years.
If you need a handyman, Michael can be reached at...
Michael Goldstein
773.791.7769
michael@menschwrenchchicago.com
menschwrenchchicago.com