Permanent link
All Posts
09/04/2009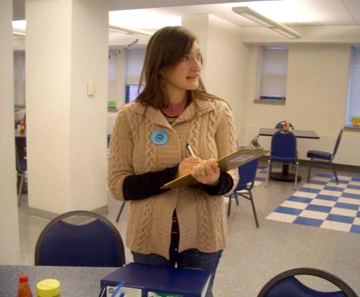 Caren Minkoff checks out the list of tasks at JUF's Uptown Cafe,
where the group volunteered earlier this year.
They all have full-time jobs, but for the past 2 years, the five people who founded Chicago's first Moishe House have been turning a shared passion for all things Jewish into about seven – and sometimes more – events a month.
Open to the larger Jewish community, Moishe Houses are ways for young Jews to get in touch with their heritage in an agenda-free environment. Since the organization's founding in 2006, the organization has grown to 18 houses in the United States and eight around the world, from Beijing to Warsaw.
"We aren't affiliated with any movement and so there's room in the House for everything," says Joe Harrow, 27, who has lived in the House since its founding.
"Moishe House gives people a chance to be what they want to be, without any rules," adds Ilana Schuman-Stoler, 26. "The people who come to our House are the people that Jewish community institutions want: they're waiting longer to marry, waiting longer to join existing institutions, they might have gone to Hillel when in college, but are out of school now."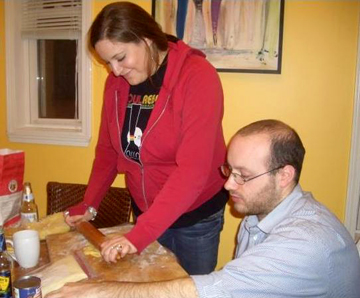 The Moishe House kitchen was full of people as some rolled the
dough and others filled hamantaschen with traditional fillings.
Harrow and Schuman-Stoler have known their housemates – Caren Minkoff, 27, Elana Porat, 26, and Karen Lutsky, 26, – for years. All five worked at Camp Tavor in Michigan and ended up in Chicago after college.
Over the two years of its existence, Moishe House Chicago – there are two now: a house targeted toward Russian speakers opened in July – has hosted everything from barbeques and movie nights to trips to see Sox and Cubs' games to excursions to learn Chicago's Jewish past.
Their most popular events are the laid-back monthly Shabbat dinners, which regularly attract about 25 to 30 people. Nestled in a quiet courtyard in Wicker Park, the cozy third-floor abode becomes a hub of activity on Friday nights. The Moisheniks cook a vegetarian feast, and guests supply side dishes, dessert and drinks. The choice to go all-vegetarian for communal events was a conscious undertaking, says Minkoff. Their kitchen isn't kosher, but the House's residents want everyone to be comfortable eating there.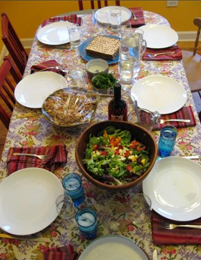 The Moisheniks combined their eco-conscious attitudes
with Passover to create an Earth Day Seder.
Some people who first discovered the Moishe House through a Shabbat dinner have become fixtures at events. Others don't really go to any other event besides the Friday night celebrations. Still others might show up one day only to disappear for two months and come back later, says Lutsky. "It's part of their lives," she says.
Last week's Shabbat dinner was a bittersweet gathering – it was the last for this group of Moisheniks.
The journey has been great for two years, but it's time to "pass the torch," Joe says. Each of the five founders of the Chicago House will stay involved in some way. They aren't moving far, either. They even plan to hold a communal Shabbat dinner once a month like they did while living in the House – and of course, they'll be at Moishe House programs, too.
"The house isn't about us at all," says Lutsky. "We're in a different place in our lives now, but Moishe House is a great thing to continue."
Five new Moisheniks are moving into the House this weekend.