Permanent link
All Posts
08/14/2009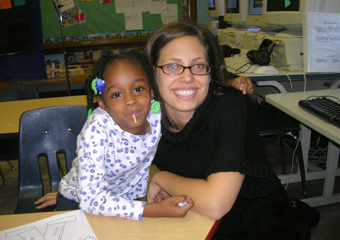 Rachel and Dejanay, the student she tutored at George Manierre
Matchmaker, matchmaker, make me a match! Hey Oy!sters, it's your friendly neighborhood matchmaker here – ready to make your dreams come true.
Wait…I hope you're not expecting me to find you a boyfriend or girlfriend. That's not quite what I'm referring to. I am a professional volunteer matchmaker. I am here to help you find the perfect volunteer project.
Working at the JUF TOV Volunteer Network, my time is spent cultivating relationships with nearly 100 Jewish and general nonprofits throughout Chicago and its suburbs so that when you call, I can suggest a handful of agencies that correspond to your availability and interests.
So yes, if you work eighty hours a week and can only volunteer once a month at a location that is accessible by public transit, I can help. Or if you are between jobs and are looking to volunteer A LOT to keep yourself busy and distract yourself from the tortures of a job hunt (and maybe buffer your resume), I'm also your girl. All you need to do is fill out this form and you'll receive a list of agencies with opportunities that are right for you.
With the summer coming to an end (boooo – I know!) and the 2009-2010 school year just around the corner, I wanted to fill you in on a great volunteer opportunity that is ideal for a busy young professional like you.
TOV, in conjunction with a nonprofit called Innovations for Learning coordinates a program where you can tutor a first-grader from Cabrini Green without ever leaving your desk at work.
The JUF TOV Literacy Project's Online Tutoring program uses an interactive website for students and tutors to connect, read stories, and play word games that enhance the classroom reading curriculum. TOV hosts a meet-and-greet party at the school in late September where you'll meet your student and then in just 30 minutes per week (even during your lunch hour if you want!), you can make a difference for a student in the first grade class of George Manierre School.
All you need is an internet connection, a phone, a bit of patience and the desire to make a difference.
For information on this program and other volunteer opportunities throughout Chicago, call Rachel at the TOV Hotline: 312-357-4762, or email her at tov@juf.org.