Permanent link
All Posts
07/01/2009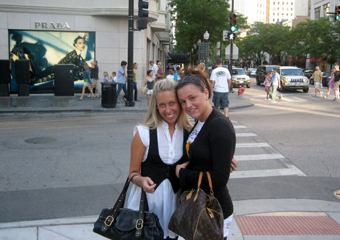 Abby, shopping on the Mag Mile
In the winter I dream of tank tops and exposed toes.  I crave short dresses and new bikinis.  I long for the warmth of the sun's rays on my back in my skimpy summer attire, turning my shoulders a delicious shade of golden brown.  I anxiously await the day that my pale pink nail polish goes into summer hibernation, to be replaced by a brighter, eye-catching shade of magenta, coral, or bright purple, and I live for the excitement of purchasing the latest summer fashions in vibrant, stimulating hues.
While not all of you love summer style as much as I do, I'm sure you can at least commiserate, as fellow Chicagoans, about how long we have to wait until summer arrives.
It's not fair that I see pictures of Kate Hudson walking around LA all year long in her maxi dresses and gladiator sandals.  It's not fair that summer styles appear on fashion websites in February, as I sit shivering in my bulky parka, trying not to cry out of jealousy, for fear that my tears may freeze on my cheeks.  And, it's definitely not fair that fall fashions hit the runway in late May, as we Chicagoans are still waiting for our summer to come.
Typically, I go a little nuts when it comes to shopping for summer clothing.  You couldn't have guessed that from reading the last few paragraphs, would you?  HA!  However, this year is a little different.  Not only does the schmuckonomy suck, but I also happen to work for a non-profit.  Bad schmuckonomy, plus non-profit salary, equals, yep, you got it, not a lot of spending money.  The plus side of the horrible economy, and as a friend endearingly calls it, my "breadcrumb winner" salary, is that it has forced me to take a step back and assess my summer fashion purchases.  I decided to sit down and make a list of everything I "absolutely needed" for the warm months ahead.  My list, after every boho maxi, boyfriend jean, ombre sunglasses, one-shoulder top, leather jacket, statement necklace, and gladiator sandal was added, resembled a Torah much more than a shopping list.  My list needed major re-evaluating.  I started thinking about what I truly needed.  I crossed off items that were "one time wear" trendy items.  I crossed off the items that in reality only look good on the models, and make normal people look silly, and I crossed off items that I knew in my heart of hearts that I just didn't need.  I kept crossing off and kept crossing off.  Eventually, my list looked like less of a Torah, and more like a small (chapter) book.  All joking aside, it was comprised of much more practical, realistic items, sprinkled with a few fun/trendy pieces that I decided to treat myself to throughout the summer.
After looking at my list, I realized a few things.  One of the most important realizations I had was that I really don't make a list this big for other seasons.  Maybe it's because winter is so cold that I lose all motivation to shop.  Who knows.  Either way, it's a fact that I live in Chicago.  And, unfortunately (or fortunately, for my wallet) it's a fact that it is too cold for summer clothes nine months out of the year.  So why was I spending all of this money on clothes I could only wear three months out of the year?  After thinking about it more, I realized that of those three months, I can really only wear my fun summer clothes on weekends, away from work.  That leaves me with thirteen weekends between Memorial Day and Labor Day.  Let's figure in three rainy weekends to be realistic, and I can only wear these summer clothes for ten weekends!  Ten weekends!  Depressing!  Awful!  Yet, liberating!  Liberating, because it made me realize how ridiculous I've been in the past with my shopping habits.
Even if I do spend nine months of the year dreaming of the clothes I can wear for ten weekends, I am proud to report that my summer shopping was much more controlled this year.  I've learned that I can salivate over the summer trends on websites like shopbop.com, without giving in to every "ammmaaaazing" item I see.  Though I'd love to be able to buy more and give in to the urge of every summer trend, I know I'm fortunate for what I have, and if you ask my friends, I still have more than enough clothes.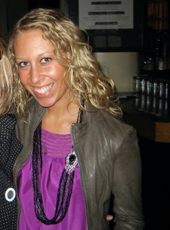 Oy's resident fashionista sporting some of this summer's latest trends; bright colors (top, Banana Republic- on sale $60, leather jacket (Gap, on sale, $200), and statement necklace (Street fair in California, $10)
As a reformed summer-shopaholic, I want to conclude my very deep, highly intellectual article by sharing a few tips with my fellow fashionistas on a budget:
1.  Make a list of what you REALLY need vs. what you want.  Buy yourself what you truly need (hopefully on sale because of the schmuckonomy) and treat yourself to a few key pieces for special occasions (birthday, raise, big date, breakup, etc.) and try to find those special items on sale!
2.  Invite your friends over for clothing swap parties.  Pop open an (inexpensive) bottle of champagne, and invite your friends to bring over several items of clothing (must be cute and in good condition) that they would be willing to swap for something else.  You can swap permanently, or just borrow each other's clothes temporarily, to increase your wardrobe.  It is a fun (and inexpensive) activity to do with your girlfriends on a Friday night!
3.  Look for trendy items in places you wouldn't expect.  Don't empty your wallet buying a statement necklace at Neiman's that you'll only wear this summer - take advantage of the many street fairs in Chicago and maybe you'll find an awesome beaded tribal necklace like I did, for less than $15.
4.  When it comes to the big items, shop around for the best price.  Resist the urge to be impulsive, because you never know, maybe something else will come along that you like better, and you can't afford both.  Tip: put big items on a list for one month.  If that month passes and you still feel like you can't live without it, then maybe that will be your summer treat to yourself.  If the month passes and your eye has already moved on to something else, you'll be glad you didn't spend your money on the first item.
5.  Remember the weather!  We live in Chicago (i.e. the tundra), and summer colors might be fun, but they won't go far.  As amazing as the bright pink Foley and Corinna leather cross-body bag is, remember, you can only wear it ten weekends a year, so it makes a lot more sense to buy a more neutral color that you can use all year.
6.  Visit places like Borrow a Dress Couture where you can rent high-end dresses for as low as fifty dollars.  So often we spend big bucks on that one dress for that one occasion, and then we can't wear it again because we just wore it (you know how it is) so spend a fraction of the price, and rent a dress!
7.  If you are going to spend a lot of money on a purse/clothing item, make sure it is an "investment piece".  That black, studded, "rocker glam" purse may be cute now, but are you really going to wear it next year?  Invest instead in neutral colored bags and classic, well made clothing that doesn't go out of style.  Leather jackets are in style now, but make sure you find one that isn't too trendy, that can carry you into fall, and many seasons to come!
Remember, you can be fashionable and still not spend a fortune.  Maybe some of that money you save can be used to go on a vacation this winter to give yourself one more week of sizzling summer style!