Permanent link
All Posts
06/24/2009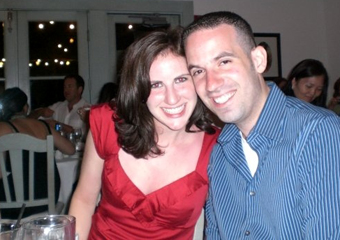 Jacey flaunting her new figure at a wedding
The dreaded moment that every girl fears came to me about a week ago.  I was standing in my room, looking for a pair of jeans, and suddenly it hit me that I only had one clean pair—the "skinny" jeans—and that's not referring to the cut.  Like most girls, I have a section in my closet dedicated to days I feel skinny and a section dedicated to PMS and brownies.  (Let's face it, we Jews like to eat.)  So, I grabbed them off the hanger and wiped off the dust.  I put one leg in, then the other.  I pulled them up, sucked in hard, shut my eyes, and low and behold…they fit!  All hail the Bar Method!  And just in time for summer!
For the past few months, I have turned into one of those crazy people who actually likes to work out before work.  I wake up at 5:15 a.m. in order to be at the Bar Method by 6.  What's the Bar Method you ask?  The Bar Method is a revolutionary way to tone, tighten and stretch your body.   Located on Belmont and Sheffield, it looks like a sweet little place where lots of twenty-something females come to get in shape.  The truth?  The Bar Method = The Devil.  But, it's a devil that works.
Each class is one hour long and begins with 40 knee lifts, definitely doable.  After that it gets a little tricky.  Starting with 2 and 3 lb. weights, they work your triceps- repeating tiny, 1-inch movements until the muscle gives out and you can't do anymore reps.  This is continued with your thighs, butt, abs and more.  My favorite part is when they say, "Good shaking, Jacey!"  To me, the shaking means my muscles are saying "Why are you hurting me?!"  To them, it means that you're only just getting started.  Trust me, you will shake.
While the workout itself is insanely difficult, the staff makes up for it with their cheerful personalities.  I have no idea how they do it, but those women are awake, friendly and ready to chat at 5:30 in the morning.  They make an effort to learn your name, and they will cater the class to your needs.  And, the moment you want to give up and crawl back into bed, they are there, cheering you on.
Insider tips:
- Reserve your spot online.  There will probably be a waitlist, but you will usually get in.
- If you know you are not going to go, cancel at least an hour before!  They charge you $20 for every missed class, and trust me, it adds up.
- Make sure they are aware of your specific physical limitations as there are variations to every move.
- Buy the socks!  They sell Bar Method socks with grips on the bottoms, and while it is not necessary, it definitely helps.
The best part about the Bar Method is that it works, and the more you do it, the easier it gets.  If you are looking for a new, interesting and effective way to get in shape for the summer, check it out!  You will feel really good, like me, when your size 4 jeans actually zip-up!