Permanent link
All Posts
04/20/2016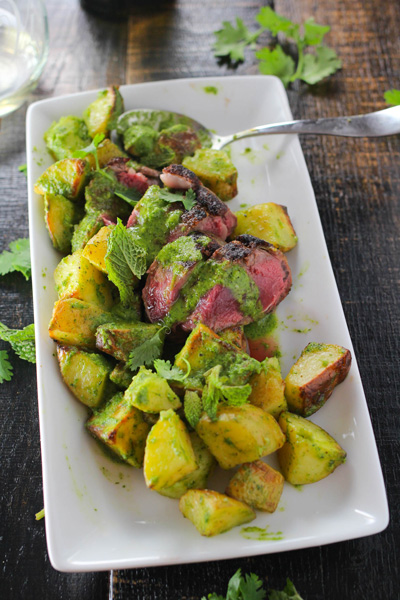 When I am not inventing new recipes in the kitchen, I find my favorite way to enjoy an evening is to get together with close friends and family over a warm meal. As most hosts will say, a lavish dinner is not an easy task to accomplish.
I like to think that I am a pretty fabulous host, the kind who is focused yet gracious; when my guests arrive, I seem perfectly put together and in control in a dashing outfit, seemingly relaxed and putting finishing touches on my food with a sprinkle of this, a dab of that and refilling everyone's emptying glasses.
Yea …not so much. Most of the time I am doing last minute dinner parties and running around like a chicken with its head cut off -- in yoga pants -- slicing, dicing, grilling and roasting. But you damn well better believe I am refilling everyone's glasses. That part is not optional.
I have always believed that every host has to have an arsenal of weapons at his or her side to prepare for dinners. And the most important weapon? The recipe.
The perfect recipe makes the host shine out like a star and leaves the guests salivating for more. Forget the chicken, forget the tenderloin; ladies and gentlemen, I would like to present to you the star of our show -- lamb.
Many of my friends and clients are terrified of making lamb. The hefty price tag per pound will intimidate any food-lover and make them question if they are worthy of cooking such a beautiful cut of meat. The bottom line is, yes, you are worthy and no, it is not difficult to make.
This recipe is a one-pan roast that is a true crowd pleaser. I used lamb loin only because it was given to me by a friend of mine who ordered meat from a purveyor and had no idea what to make with it. This recipe will work just as fabulously with boneless leg of lamb though.
The lamb loin is seasoned super simply with salt, pepper, really fruity olive oil and garlic powder. I added some potatoes to the pan and let them roast with the lamb, slowly absorbing the luscious juices. While the lamb cooks up, a quick whizz in the Vitamix and I have the sexiest and most delicious mint chimichurri to douse my taters and lamb in. It's delicate yet uber-flavorful -- perfect for this simple dish.
The aromas that fill the kitchen will truly make anyone's mouth water. And while that lamb is in the oven, you can even enjoy a delicious glass of wine. Go on, do it -- you deserve it! Yoga pants or not, you are still fabulous.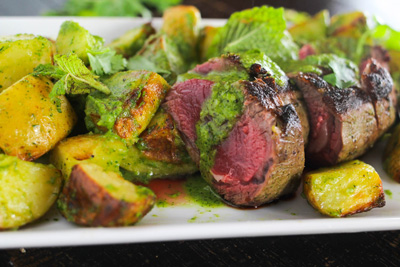 ROASTED LAMB LOIN WITH MINT CHIMICHURRI
From Girlandthekitchen.com
INGREDIENTS
1 lamb loin (they vary from ½-1 lb in weight)
2 pounds of red potatoes, washed and cut into 1 inch pieces
¼ cup of olive oil
¼ cup of mint, loosely packed
2 tbsp of dill
3 garlic cloves
Pinch (or more) of red pepper flakes
1 tbsp of freshly squeezed lemon juice
Water as needed
Salt and pepper to taste
INSTRUCTIONS
1. In a food processor or blender, combine mint, dill, half of the olive oil, garlic, red pepper flakes, lemon juice and salt and pepper. If the mixture is a bit to "tight" loosen it up with a bit of water.
2. Preheat oven to 450-degrees.
3. Line a baking sheet with a raised edge with foil. I actually prefer to do this in a foil pan. Much easier clean-up.
4. Place the lamb roast flat side up on the baking sheet. Place cut-up potatoes around the lamb roast and drizzle with remaining olive oil, salt and pepper.
5. Roast for 30-35 minutes for medium rare. Toss the potatoes halfway through cooking to ensure even browning. An instant-read thermometer should read 125-130 degrees for medium rare.
6. Remove pan from oven and place tenderloin on the cutting board. Let rest for 10 minutes.
7. Toss the potatoes with half of the chimichurri sauce.
8. Slice the lamb loin, drizzle with remaining sauce and enjoy.