Permanent link
All Posts
03/21/2016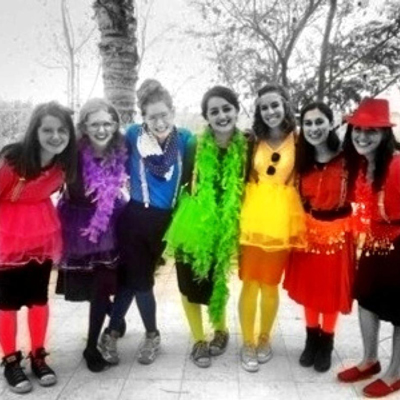 It doesn't take much to realize why I'm happy -- I've got a Purim grogger in one hand and a lasso in the other. I'm marching my way to shul in the same suede and tasseled cowgirl costume I've rodeoed into for the fourth consecutive year. I've got on a sheriff's badge and a when I walk into the front lobby, a man tips his striped "Cat in The Hat" hat at me and says, "Howdy." I tip my hat too, but don't say howdy back. I'm 9 years old after all, and still too shy to acknowledge outright kindness.
Sitting on mom's lap (because 9 year-olds are NOT too old for laps), my finger is expectantly wedged in the third chapter, the first time Haman's name is mentioned. That's the whole point of the holiday, right? To say this man's name, rattle a few boxes of rice and put on clown-noses, poodle skirts and Thing 2 wigs.
Mom tells me to get off her lap. She's been fasting all day, and must be feeling weak. Good thing I snuck some Shaloch Manot Oreos into my fringed-vest pocket. I'll give her one after the Megillah reading. On second thought, best keep the fact that I've been sneaking from our not-yet-delivered Shaloch Manot between me and my vest pocket. I'm a smart cowgirl, but Mom's a mom, so obviously, she already knows. Nine-year-old cowgirls aren't the best at hiding cookie crumbs. They're good at one thing though, making noise at the sound of Haman's name.
****
I've got Oreos in the pocket of my kilt and I'm waiting for this darn reading to finally be over. Yesterday, Laura's mom took us shopping at thrift stores to find a costume. We sifted through racks and racks labeled "WOMEN'S TOPS FINAL SALE," some with tags still on, others marked "lightly used." It's always hysterical finding bras and underwear at Good Will, though admittedly sobering to see someone put those items in her cart.
We paved our way through the hanger maze, and I found a used kilt I would only grasp between tweezer-like fingers. I remember Laura's mom saying, "Don't worry, we can put it in the dryer on high. That'll kill whatever's living on it." Comforting.
And yet I'm wearing the Scottish kilt, which is sucking in my growling belly. I hear Haman's name and shout like I am nine, not 17. Mom still lets me sit on her lap sometimes. It's fun being the youngest kid: she doesn't want me to grow up either and I'm okay with that. If she knew where the skirt -- now hanging on my hips -- hung only yesterday, she'd probably slide me off. In either case, the Megillah reading is just about over, and me and my kilt have got an NCSY costume competition to win.
****
The seven of us became friends early on in seminary. We are an eclectic group of two Chicagoans, two Brits, two newly Aliyah-ed and one Canadian, and we are running around Ben Yehuda and King George streets hunting for fluffy tutus, tinkering belly skirts, hair-dye and rainbow suspenders. We are each decked-out in different colors of the rainbow. I shotgun blue, because blue is objectively the best color. 
We spend the day delivering Shaloch Manot to our favorite teachers in the Alon Shvut community. I see a throng of people clustered in a Purim parade. There's a kid dressed as a jumbo milk carton, a gang of teens holding up a homemade Egged bus costume, an elderly man as the regal Pharaoh and an Ethiopian as a spritely blue fairy. I snap pictures, not of them, but with them, jumping into the parade and becoming one of the mass. My rainbow crew and I leave after an hour and half. We've got to get to our Purim Seudah where there will be platters of barbecued chicken and steak, fresh french fries, guacamole, and of course rounds and rounds of alcohol. We will go out on the sand-dusted balcony to snap a few pictures before heading to the busses. Boys will be drunk and flirtatious there. One will compliment my eyes, saying they're the lightest shade of blue he's ever seen. Then he will drunkenly crash his head into the pole he's holding and vomit in the back of the bus.
****
It's a couple days until Purim and I have to hold back the heartbreak. After months of searching the web for the perfect peasant top, feathered hat, striped skirt and leather corset -- no one will get to see the pirate costume I've impatiently been waiting to wear. I've got class Wednesday night from 7-10 p.m., which means I'll miss the Megillah reading. I can't afford to miss the class because I've reached an all-time low of 55 percent and the teacher isn't the extra-credit-giving type.  I'll be too tired after three hours of coding anyways, and likely won't see anyone in costume either. There's a women's Megillah reading Thursday morning that I'll have to skip and working in Annapolis twice a week means waking up at 6 a.m. -- too early to manage with a hangover. It feels as if Purim decided to skip a year.
Some Jews at work have mentioned that they may not come in at all Thursday. They say they want to "have some fun." Am I supposed to tell my supervisor, that different Jews hold a different level of observance? I feel conflicted by real-world responsibility to clock in the hours and a burning nostalgia to cloak up in a pirate cape. Every day as Purim approaches, my heart sinks as my dress-upportunity sails off in the distance. My boyfriend has already bought a plan B costume, but I'm too bitter to appreciate his excitement to be Daredevil for a day.
In coming to terms with my Purim-less week, I've decided to pack a pirate's survival kit to work: a bottle of rum (for a mini mid-day l'chaim), a grogger for when I read the Megillah to myself, and of course, a small stash of Oreos, because hey, some traditions don't die.