Permanent link
All Posts
03/14/2016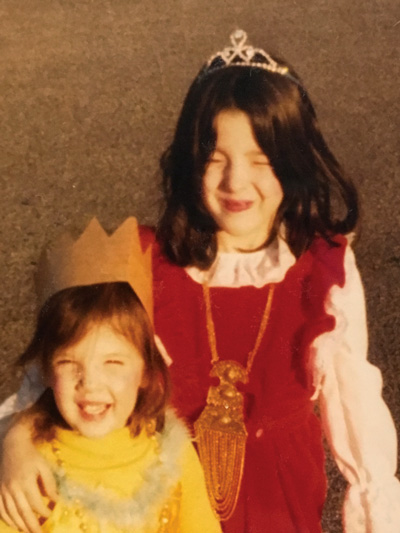 Like so many other Jewish little girls on Purim, my big sister and I would both dress up for our annual Purim carnival as Queen Esther. The morning of the carnival, my mom would dress us in regal dresses, bright red lipstick, and a homemade crown or sparkly tiara my mom had bought for this very occasion--and only this occasion--so as to raise grounded daughters the rest of the year.
And in households down the street, the Jewish boys I knew would dress as the male hero of Purim--Mordechai.
Our costumes were a fun way to reinforce the attributes of these Jewish heroes who were brave, and stood up for what's right.
But then, after a couple hours at the carnival, we'd reach our Purim fill. The combs at the ends of the tiara would start to scratch the backs of our ears, the lipstick would smear on girls too young to pull off crimson red, and our bellies would ache from cotton candy and hamentaschen overload. At that point, we'd go home, take off our royal dresses, and return to our comfy play clothes--still brave girls--minus the fancy costumes. And being ourselves, it turned out, was pretty nice too.
Thirty years later, my generation of Queen Esthers and Mordechais are all grown up, but we're still working on taking off our masks.
For most people, learning to be comfortable in our own skin, becoming our authentic selves, is a lifelong work in progress.
In some ways, media today--particularly social media--has made it all the easier to don a mask. On Facebook, for instance, we package ourselves exactly the way we want the public to see us--as the shiniest, happiest-looking versions of ourselves. As we scroll through our newsfeeds of our friends' adorable babies and dogs, or better yet, the baby posed with the family dog, brides and grooms so perfect they might as well perch themselves on top of a wedding cake, and pictures of us sipping piña coladas on the beach, things look fantastic.
Yet, that's just it. Those pictures are fantasy. As someone once told me, "I wish I was having as much fun in real life as I am on Facebook." Because, come on, get real. No one's that happy all the time.
But it's not all fake. Despite the virtual masks we sometimes wear, society can be an easier place to be real and open these days than in the past--if we choose to.
As the world grows smaller, we're revealing ourselves and relating to one another in a way that often makes us feel less alone. In this age of sharing (and over-sharing), some of us are shedding light on the parts of us that aren't so shiny and happy all the time. In the world's biggest group therapy session, we're electronically sharing our emotional, mental, and physical struggles with each other more than ever before. We're bonding over our shared human experiences of love, loss, failure and success, spiritual growth, and purpose. We're more likely to admit that life isn't only sunshine and rainbows--and that makes each of us feel less alone in whatever we're going through.
A couple of years ago, I wrote a blog post about my mom's struggle with--and, thank God, her triumph over--bipolar disorder. My mom post garnered more "likes" and positive response than any other piece I'd written in 15 years. For months, people would approach me with their personal mental health struggles. Before that time, I had rarely spoken or written in a public forum about the previously stigmatized illness.
But then I figured times have changed and her illness is no longer shrouded in darkness, and it's something so many people are touched by. Plus, I realized that being open could go a long way in helping people face whatever hardships they're dealing with.
It's wonderful to teach our kids to embody the bravery of heroes like Esther and Mordechai, and it's exciting to dress up as someone else every now and then.
But when the tiara starts to itch and we grow tired of our disguises, let's remember that the best and bravest face to wear at the end of the day is our own.