Permanent link
All Posts
12/04/2015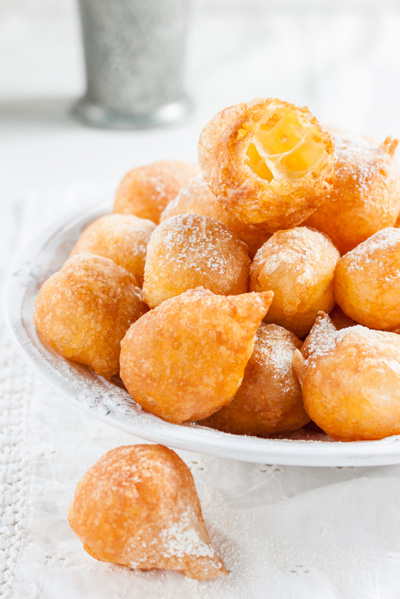 Every year, friends and family gather to celebrate the miracle of an event that happened in ancient times. After the Maccabian revolt, there was only enough oil in the temple to last one day. Miraculously, it lasted eight. All around the world, Jews gather to celebrate the holiday for eight days. We also gather to eat, for what would a Jewish holiday be without food?
The holiday commemorates the oil lasting for eight days and to honor that, we Jews celebrate by eating amazing, crispy, crunchy, delicious foods fried in oil. We certainly know how to party!
Latkes (potato pancakes) and sufganiyot (jelly donuts) are central players in many celebrations. I love latkes and oh, how I love me some donuts! But making latkes  for a party also means making a main dish and then a main dish leads to sides (latkes are the starch; I mean a veggie side) and then there is a salad and then maybe an appetizer etc… you can see where this is going. Before you know it, you are cooking for days and that is only for one of eight festive nights!
But, what if there was a dish that was all inclusive? What if your dish could be the main, the side, the everything? I am thinking about a delicious platter of crunchy, and satisfying Fried Fish and Chips. I simply crave fish and chips. They are the answer to my holiday quest for Jewish comfort fried food.
It is not random that I am planning my fried fest to include savory fish and chips. Fried fish is actually Jewish in origin. Marrano Jews dipped their fish in egg and bread crumbs and fried it. The "chip" part of the dish came later. The first fish and chip shop was founded by an Ashkenazi Jew in 1860 and the rest is history.
This year for Chanukah, I am celebrating a true Jewish food and by munching and crunching my way through Fish and Chips.
Fish and Chips
For the batter:
1½ cups all-purpose flour
½ cup rice flour
1 tablespoon baking powder
1 teaspoon kosher salt
½ teaspoon freshly cracked black pepper
¼ teaspoon cayenne pepper
Dash of Old Bay seasoning
1 bottle dark brown beer
1½ pounds cod, tilapia, or other firm fleshed lean fish, cut into 2 inch pieces
4 large russet potatoes
Cornstarch for dredging
4 cups canola oil
Directions
Preheat oven 200 degrees
1. Place ice and water in a large bowl. Fit a mixing bowl into the ice water (this step will yield a light and delicate batter).
2. Whisk all the ingredients for the batter together over the ice. The batter can be made one hour ahead of frying and should be kept on ice. 
3. Pat dry the fish and set aside.
4. Slice the potatoes, skin on, into wedges about 1 inch thick and place in cold water.
5. Heat the oil in a large heavy-duty saucepan to 320 degrees.
6. Dry the potatoes completely and fry them in batches until they are opaque and limp. Transfer the par-cooked potatoes to a sheet pan lined with paper towels or a brown paper bag (helps to sop up the oil).
7. Increase the heat until the oil reaches 360 and add the potatoes. Fry the potatoes until they are golden brown and crispy. Transfer to a lined pan. Keep the potatoes warm in the oven.
8. Dredge the fish in the cornstarch and then into the batter. Fry the fish in batches until golden brown and crispy. Transfer the fish to a lined platter and keep warm in the oven.
Lemon-Garlic Aioli
½ cup mayonnaise (preferably homemade)
2 garlic cloves, grated on a microplane
1 tablespoon lemon juice
1 tablespoon olive oil
Zest of 1 lemon
½ teaspoon kosher salt
½ teaspoon freshly cracked black pepper
3 tablespoons finely chopped Italian parsley
Dash of hot sauce
1 tablespoon prepared horseradish
Directions
Whisk all of the ingredients together.
Vanilla Bean Zeppole
What is the holiday without a dessert? Here is a simple and delicious, lighter-than-air donut-called a zeppole. Chag Chanukah sameach! Happy Chanukah!
1 vanilla bean, scraped
½ cup sugar, plus
3 tablespoons
2 tablespoons ground cinnamon
1 stick butter
¼ teaspoon kosher salt
1 cup water
1 cup all-purpose flour
4 eggs
Directions
1. Cut open the vanilla bean lengthwise. Using the back of a knife, scrape along the inside of the vanilla bean to collect the seeds. Scrape vanilla bean seeds into a small bowl. Add the ½ cup sugar and cinnamon and stir to combine. Set aside.
2. In a medium saucepan combine the butter, salt, 3 tablespoons of sugar, and water over medium heat. Bring to a boil. Take pan off the heat and stir in the flour. Return pan to the heat and stir continuously until mixture forms a ball, about 3 to 5 minutes.
3. Transfer the flour mixture to a medium bowl or the work bowl of a stand mixer. Using a mixer, add eggs, one at a time, incorporating each egg completely before adding the next. Beat until smooth. If not frying immediately, cover with plastic wrap and reserve in the refrigerator for up to 1 day.
4. Pour enough oil into a large frying pan to reach a depth of 2 inches. Heat the oil over medium heat until a deep fry thermometer registers 375 degrees Fahrenheit.
5. Using a small ice cream scoop or two small spoons, carefully drop about a tablespoon of the dough into the hot olive oil, frying in batches. Turn the zeppole once or twice, cooking until golden and puffed up, about five minutes. Drain on paper towels. Toss with cinnamon and sugar. Arrange on a platter and serve immediately.