Permanent link
All Posts
11/24/2015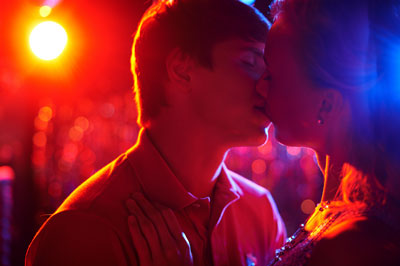 My roommates and I lounged around in Sunday pajamas, which became our outfits for the day, when a friend walked in, plopped onto our sofa and announced how last night she had come close to losing her virginity.
"Do I have a story to tell you," Frieda Leah said to us four-suddenly-transfixed-"you"s.
It started with a high ponytail, a pair of acid wash skinny jeans and a couple of modest vodka rounds. Cutting through the bar throng, Frieda Leah was approached by John, whose body smelled of packed people and breath reeked of bottled yeast. John said he remembered F.L. from freshman year oral communication class.
"What a smooth talker," she said with a faraway glance.
John showered her with compliments at the bar and before long the two were making out on her tie-dye blanket back in her apartment. She described the pace and place of their movements and how their contact erotically accelerated. It wasn't long until John made his intentions clear: he wanted to have sex -- without a condom.
My roommates and I were like tamed snakes wholly bewitched by the tune F.L. played. My mouth tasted dry, at which point I realized I was gaping.
When F.L. decided things between her and John were getting precariously pregnant, she told him flat out, "I'm not having sex with you." And his single response sobered Frieda Leah to guilt.
"Did you know we weren't going to have sex when you brought me here?" he asked.
Side note: In every moment we have the right to change our minds, and we often do at the expense of another's expectation. In this moment, F.L. did not change her mind, but told her mind, which serves as a commentary on our need to be better communicators so expectations are consensually fitting before they are formed.
--
Last year I lived in a dorm with a library that made me feel misplaced without a terry cloth robe and engraved Sherry glass. I would do almost all my work in that library and take frequent breaks to chat with Wyn. He would tell me about the screaming nuns in Catholic school and I would tell him whatever he wanted to know about Judaism. One day though, I put religious discussions aside and asked Wyn about sex. (Tell someone once in your life that you're a virgin, and I promise, you'll be replaying their furrowed, blushing and contorting face as they process the unfathomable over and over. It's pure gold.)
I asked Wyn how long he usually waits after meeting a girl for them to have sex. He said usually after their third hangout or date, confirming the Hollywood image I knew. "But, I'm seeing this girl right now and I've never met anyone like her," he said. "I want it to be special, so I'm going to wait three weeks."
--
In my 2.5-hour poetry workshop class, it doesn't take long to discover who among the crew isn't catching on. With a class of 17 "success-exually" prowling poets, my homework is to read about drugs and sex.
I've scanned stanzas of Skype sex that described "pink pixels," cringed through rhymes of rape and blushed at ballads depicting boats hitting the dock back and forth, driven by the current. My poems, on the other hand, were about a pickpocket, a mother putting her daughter to sleep with a fairy tale, and moving into a new house. They're not the poems that have you running to google "areola" and "coitus." (Never mistakenly hit Google Images.)
When I was at my Bubby's for Sukkot, I was trying to find one of my poems in a folder and she accidentally picked up one of my classmates' entitled "I Lost My Penis." My Bubby's blouse rippled as she shook in a fit of laughter. If Mom and Dad had been there I would have heard for the umpteenth time their disgust and misgivings over not sending me to Stern College for Women (a Jewish university).
--
I don't judge Frieda Leah; how can I? Do I consider myself much better? Not at all. Because to be poetic -- to wield a judge's mallet against another -- requires virtuous values that my own two feet cannot support. And to be blunt, we all can relate to having sexual drives.
Being immersed in secular college, with its own cultural code of conduct, my Orthodox ideologies are being pushed and shoved to accept or reject this sex culture that I haven't come to terms with. As an Orthodox Jew I believe in saving sex for marriage, and as a Jewish college student I feel this tug of war between making my parents proud while enjoying the funnest years of my life. But, just as Me, I know I'm deeply jealous of those who don't have to reconcile both.
To my sexually active peers who read this, use protection. To my very modest friends, don't worry, I promise the world is safe. To mothers who read this, teach your kids everything they need to know about sex before sending them to school. And to sisters who read this, make sure mom isn't reading this.