Permanent link
All Posts
11/23/2015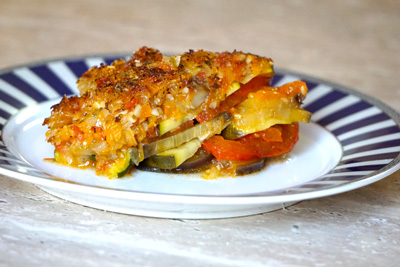 Food and eating has and always will be special and unifying to my family. There is no doubt about it -- the kitchen is by far the most important room in my parents' home. They are forever hosting and it doesn't matter if you stop by for a few minutes or a few hours, you won't be allowed to leave until you've had a beverage and some homemade goodness.
My dad loves cooking and lately he's been on a French roll (pun intended), and it's little wonder why. The French do it right. France exudes beauty in all things: in life, love and especially food. Eating is not merely to sate your appetite, it is recreational -- it is art.
And let me tell you, this dish is beautiful! There are so many colors, flavors, and it just warms your heart and stomach. It's the mother of all cooked veggie dishes, a French traditional delight -- ratatouille!
I'll be honest, when my dad first told me about this dish, the first thing that popped into my head was the beloved Disney movie. It stars the lovable rat Remy, who has hopes and dreams of one day becoming a serious chef. (It's a great movie that I totally recommend.)
But as adorably cute as the movie is, let's unveil the real star here in all its glory. This ratatouille is a hearty creation including, but not limited to, tomatoes, zucchini, eggplant and onions. Often times it's baked and served with cheese too. The key here is to make it your own, and make it our own we did.
I loved making this dish for a few reasons:
1. It's freaking cold outside, so I've gone from light and easy to hot and heavy ... food, people, we're talking about food.
2. This dish is super healthy. There's nothing but veggies and olive oil here. So indulge as much as your heart desires and leave your guilt freezing its ass off in the cold because there's no room for it here.
3. No, like really, it's super healthy. We're talking vegan, gluten-free, dairy-free and egg-free. The whole nine yards.
4. It's filling. For real, a couple servings, and I'm good to go for hours (and so is my dad, who is a man that loves to eat and casually stands at 6 ft. 2 in.).
5. This dish is art. It's beautiful, it's vibrant; it's a colorful collage. I truly believe that the more colors you eat, the more colorful your life. When I eat this, I not only feel nourishment, but I physically see it.
6. Lastly, but most importantly, this was quality time well spent with my dad. I love cooking with him because when we share our ideas, we come up with some pretty incredible dishes (just my opinion, of course).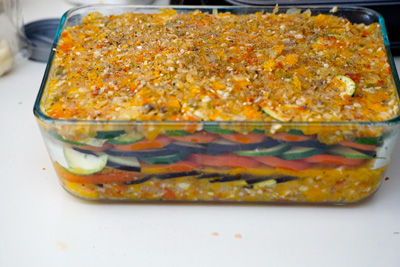 Ingredients
Sauce
2 large onions chopped
1 orange pepper chopped
3 handfuls of mushrooms chopped
8 garlic cloves
1 jalapeño pepper chopped
1 large tomato chopped
half a teaspoon of black pepper
1 teaspoon of oregano
2-3 tablespoons of extra virgin olive oil
Main Dish
1 eggplant sliced
2 zucchinis sliced
3 medium tomatoes sliced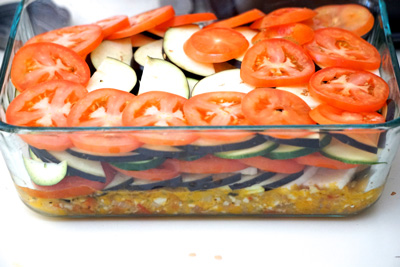 Making the sauce
1. Put 2-3 tablespoons of extra virgin olive oil into a wok or pan over high heat. Let the wok heat up for 30 seconds, and throw in the chopped onions. Stir occasionally until onions become translucent. They will give off a lot of liquid, which is exactly what we want to create a nice sauce base.
2. Now it's time to throw in the garlic/jalapeño and mix that in.
3. Repeat step 2 one-by-one for the tomatoes, orange pepper, and mushrooms. Stir as you go and watch all the beautiful colors melt and blend together.
4. Season with black pepper and oregano. Let the liquefying mixture simmer for 5 minutes and the sauce is done!
Time for the Main Dish
1. Take out a baking dish. We used a glass one but it really doesn't matter what kind you use as long as it has depth so that we can layer our veggies :). Then pour out a nice layer of sauce.
2. Now the fun part, we will use our sliced eggplant, zucchini, and tomatoes and start layering these veggies one on top of another (and watch art come to life).
3. Once all veggies are layered twice, pour the 2 nd half of the sauce on top, dousing the top layer of veggies entirely.
4. Preheat oven to 350 degrees and allow the dish to bake for an hour.
5. In the meantime, set the table & call the family, because they will not want to miss this glorious dish!
6. Indulge friends!
I'd like to thank my dad for this incredibly simple and healthy recipe. It's really perfect for the whole family and it's sure to make your winter more colorful.