Permanent link
All Posts
11/13/2015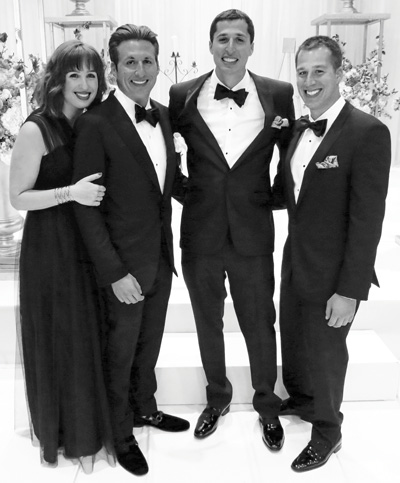 Carly and her brothers
My eldest brother recently got married to a beautiful woman whom I'm now fortunate to call my sister-in-law. The Drake Hotel in Chicago was the perfect romantic backdrop for the magical evening celebrated with close friends and family, scrumptious food, delicious drinks and a groovy band.
But, what made this wedding unlike any I've attended is that both a priest and rabbi officiated the wedding ceremony.
My brother, coming from a Jewish household, and his wife, coming from a Catholic one, both wanted to honor and respect their loved ones and came to the decision to have their marriage encompass both faiths. Naturally, I was curious how this would work. I know plenty of people who have married someone of a different faith, but the couples opted for Jewish ceremonies. An interfaith wedding in the truest sense, was new to me -- and the many guests.
But the ceremony was truly exceptional. It began with the wedding party, groom and bride walking through the beautiful Grand Ballroom to the sounds of a band playing contemporary love songs. The elegant floral arrangements of pink and white flowers that aligned the aisle blended exquisitely with the room's golden pillars and turquoise marble walls.
Tears, smiles, and laughter filled the room while Rabbi Ari Moffic and Father Bernie Pietrzak stood under the chuppah (wedding canopy), each taking their turn explaining the wedding customs of Judaism and Catholicism and then leading the guests in prayer.
I also had the privilege of honoring my brother's and his wife's religions during their wedding ceremony. Along with one of my brother's oldest friends, I had the pleasure of signing their ketubah, or wedding contract, as witnesses. Then, during the ceremony, I read a section from the Book of Sirach, a section of the Catholic Bible, that explains the joys a wife can bring to her husband and home.
After the vows were said and kisses exchanged, the beautiful interfaith ceremony came to an end. During cocktail hour, I had numerous people of different faiths exclaim the warmth they felt during the ceremony. I couldn't have agreed more.
What struck me most about their wedding ceremony is that it blended two religions and symbolized how they now coexist in a union. Now their marriage will have a strong foundation of welcome-ness and respect for the differences that makes us all unique and loved.