Permanent link
All Posts
11/04/2015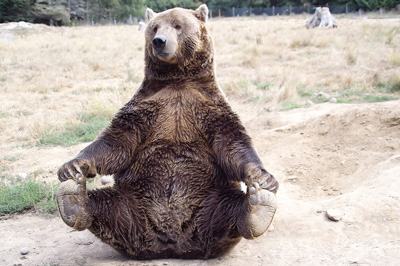 To survive hibernation, bears pack on the pounds in autumn. We do the same thing, even though binge watching Netflix is not the same as hibernating.
Aside from a buffet of viewing options, we also have actual buffets and endless eating options during the late fall and winter months. It starts with Thanksgiving mashed potatoes, and ends with a champagne toast on New Year's. It feels like an unavoidable health trap, but it doesn't have to be that way.
You can survive the holidays without all the weight gain! With a little planning, you won't need to add larger pants to your holiday wish list.
Become a "food snob"
My favorite trick to avoid most treats is to become a food snob. I will never quit desserts, but if it's average brownies, I'm going to skip it. I love a good chocolate chip cookie, but I won't let a plate of burnt chocolate chip cookies ruin my diet. The same philosophy can be applied to mashed potatoes and green bean casserole. If something is Top Chef quality I'll take a small portion, maybe get seconds, but anything super salty or not that good gets passed. Don't feel guilty because a pushy family member or friend is guilting you into it.
Find the healthy alternative
If you are in charge of a menu or a dish, make it healthy and delicious. Be sure to spice things up too with natural flavor boosters -- don't give healthy food a bad rap. Turmeric, curry, paprika, garlic powder, cumin, dill, oregano, basil, thyme, rosemary, ginger, and cinnamon (it's not just for desserts!) can do wonders. If you are trying to lose weight, bring fruit for dessert. Or better yet, combine them. I used to make healthy cookies using apple sauce and though my family did not love them, pumpkin was another story. Pumpkin is high in vitamin A, has three grams of fiber per cup, and has other health benefits. It is great in baked goods, breads and soups.
Home is where the gym is
As the colder months come and you don't want to venture outside, work out in your home. Buy some fun fitness videos, have a dance party, or work with a trainer. A cheaper option to personal training is working with a trainer online. All trainers do it differently, but whether through Skype, texting or emails, having a "virtual coach" helps. I have clients log their food and I send them workouts. We talk about the workouts and I offer some healthy eating options. The key is in the tracking. Once you have to write down Doritos and Oreos as a snack, you make better life choices.
If you decide to workout at home, and need some equipment, I recommend bands. They are affordable, don't take up a lot of space, and you won't break your toe if you drop it. I like the bands they sell at www.resistancebandtraining.com and the Spri bands with handles. If you want to get a bunch of stuff, check out craigslist; people are always trying to get rid of equipment.
Lastly, have some fitness fun! Now is a great time to take tennis lessons or join a basketball league. When I don't have time to work out, I setup an obstacle course and have my four year old do it with me.
What are your holiday health hacks?