Permanent link
All Posts
10/26/2015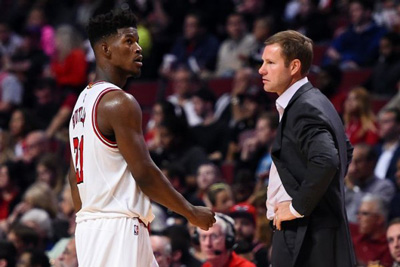 Jimmy Butler and Fred Hoiberg
The 2015-16 NBA season tips off this week, and when the Chicago Bulls face off against the defending Eastern Conference champion Cleveland Cavaliers on Tuesday night, they'll be sending out a lot of familiar faces. Except of course, for one.
The Coach
After five seasons as head coach, the Bulls parted ways with Tom Thibodeau. In so many ways, Thibodeau's time in Chicago was a success. His 255-139 regular season record is the second best in team history behind only Phil Jackson, but his teams -- once at the top of the league in most defensive categories -- were beginning to tune him out. Talk of championships turned to questions about playing time and injury management. Add a rift with the front office and a .451 winning percentage in the playoffs and his fate in Chicago was sealed. Thibodeau was as good a coach as there was in the NBA in terms of Xs and Os, but his shortcomings began to become glaring as the current roster's window of opportunity began to close.
So at the end of last season, the Bulls parted ways with Thibodeau and hired Iowa State coach (and former Chicago Bull) Fred Hoiberg. Hoiberg brings with him an approach that features a spread, high-paced offense, which should fit the myriad of wing shooters Gar Forman and John Paxson have assembled.
The roster from last season is almost entirely intact, giving Hoiberg a playoff-ready, experienced group hoping to achieve what they couldn't under Thibodeau.
The Backcourt
For the past four seasons the big story has been the health of Derrick Rose, and after his first healthy off-season in recent memory, it appeared they were going to avoid that this time around. Not so fast. Rose suffered an orbital fracture in practice about a month ago, but as it stands now, appears on track to play in the season opener.
But this isn't Rose's team anymore. This team is now led by Jimmy Butler, who cemented leadership status and his future with the Bulls when he signed a five-year, $95 million contract at the end of last season. Last year's Most Improved Player has seen growth in his game every season and now with the spotlight and the big contract he is looking to take his game to the next level and be the star the Bulls have been looking for to take them all the way.
Behind the starting backcourt of Rose and Butler is a familiar group. Aaron Brooks, Kirk Hinrich and E'twaun Moore return to back up and act as a three-man insurance policy for Rose. Brooks seems the best fit in Hoiberg's offense for his scoring ability, but Moore saw extended minutes in the pre-season and could see time if the Bulls use smaller lineups.
Moore or even Hinrich could see time at two guard, where the Bulls are a bit thin. Tony Snell is primed for a breakout season, but it remains to be seen whether he'll start at small forward or come off the bench to back up Butler. Either way, Snell will play a major role on this team as a guy who can not only score, but can also take some of the pressure off of Butler in guarding the other team's best perimeter players.
The Bulls' starting small forward, Mike Dunleavy, will start the season on the injured list after undergoing a low back microdiscectomy to address some issues he was having in the off-season.
With Dunleavy likely missing at least the first 4-6 weeks, this is an opportunity for last year's lottery pick, Doug McDermott, to emerge. McDermott, who essentially served a "red shirt" season in his first under Thibodeau, is a perfect fit for Hoiberg's offense, which relies heavily on the three-pointer. In the preseason, the Bulls averaged about 30 3-pointers per game, nearly eight more than last season's average, and McDermott has not only made more than anyone in the league, he's shooting it at 43 percent. While McDermott will likely start the year coming off the bench, Hoiberg has said he likes the scoring spark he brings to the second unit. He has an opportunity to really develop in this new system.
The Frontcourt
Chicago's crowded frontcourt is the big story heading into the season, returning Joakim Noah, Pau Gasol, Taj Gibson and Nikola Mirotic and adding talented rookie Bobby Portis. While Noah and Gasol may be the obvious choice given they started together last season, they also never quite found chemistry when they were on the court at the same time.
If it is chemistry you're looking for, a Gasol/Mirotic or Noah/Gibson combination appear to be the best bet, but there are issues with both. While Gasol and Mirotic will spread the floor and put up a lot of points, they are both defensive liabilities. And while Noah and Gibson will protect the hoop, neither has the ability to create their own shot. It will be something to monitor all season long as Hoiberg gets to know his team better.
And with only 96 total front court minutes to go around, where does Portis fit in? While it is easy to put him behind all four experienced players, Portis made a strong case for himself in the pre-season, averaging 12 points and over 10 rebounds per game. He is not only Hoiberg's first draft choice as head coach, he is another player who has size and can spread the floor. Don't be surprised if you see a mid-season trade involving one of these players, most likely Gibson or Noah, especially if Portis plays well.
In case of injury …
And as is the case every year, the Bulls will be defined by how healthy they are. The end of the Thibodeau era likely means an end to guys playing hurt or too many minutes, but as long as Rose and Noah are on the team, injuries will be a hot topic in Chicago.
If they can stay healthy, this team has a lot of depth. If Hoiberg can find the right combinations and still enforce enough defense to supplement their offensive fire power, the Bulls will be right there in the East come playoff time. This may be the last opportunity to win a title for this group as it is currently composed, but we are beginning to see the core emerge of the next Bulls era, and there is a lot to be excited about.