Permanent link
All Posts
08/18/2015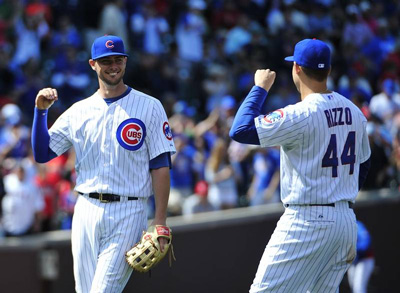 The Chicago Cubs' nine-game win streak came to an end this weekend, after a dominant 15-strikeout performance by Chris Sale in a loss to the White Sox on Sunday at U.S Cellular Field.
And this is no disrespect to the Cubs, but when I saw Sale vs. Haren, I knew the end of the road was near.
The loss ends an exciting run by this young Cubs team, which is performing well above expectations and ahead of schedule.
The last time the Cubs won nine games in a row was in May 2008. The fact that they are in playoff contention and winning in this fashion so late in the season is not only remarkable, but also completely unexpected. According to ESPN Stats & Info, this was their longest streak in August or later since they won 10 in a row in September 1953.
After being swept by the Phillies at the end of July, many analysts thought this would be the beginning of the downward spiral for this young Cubs team. They had kept themselves in contention for longer than anyone expected, but lack of experience was finally going to get the best of them as the games started to matter more and more.
The Cubs didn't see it that way.
They went on to win 16 of 19 after that series, including a 4-game sweep of the defending champion San Francisco Giants. During that stretch, Kris Bryant had a 12-game hit streak and Anthony Rizzo and Dexter Fowler both hit near .400, not to mention the hot run Kyle Schwarber has been on since his most recent call up. But it hasn't just been the bats. In his last 10 starts, Jake Arrieta is 7-1 with a 1.23 ERA, which is 3rd best since late June.The Cubs also have the best road record in baseball at 33-25.
This is not a fluke. The Cubs really are this good. They'll tell you themselves.
And it has been so much fun to watch, in part because you can tell it has been so much fun for them. This does not feel like a "curse-busting" team of strung-together players like we saw during the playoff runs in 2003 and 2007-08. This does not feel like a group carrying the baggage of 109 years of losing like those teams did. This is a whole new type of Cubs team, a complete re-build of not just a roster, but a way of baseball in Chicago.
The Cubs are somehow still "quietly" sitting with the fourth best record in baseball, in part because of the quality of their own division. Two of the three teams with better records than the Cubs also reside in the Central, the St. Louis Cardinals and the Pittsburgh Pirates. With the exception of the AL Central, the Cubs would be in first place in every other division in baseball. The fact that the hype machine has not completely overtaken Chicago yet is a factor I believe is helping the Cubs focus entirely on improving as a team and winning games.
As great as they are playing on the field, I would be remiss if I did not give credit to the work Manager Joe Maddon is doing. As exciting as the Maddon hiring was prior to the start of the season, expectations were still not through the roof. Baseball managers do not add more than 3-4 wins above replacement, especially on a team with their best days still expected to be ahead of them. As much as Maddon is known for his personality and antics, his biggest role so far in Chicago has been to keep them grounded -- focusing on fundamentals, not taking anything for granted and earning their way onto the field every day. So far there has been very little drama and they look like a team that belongs in the playoff race every time they come out onto the field.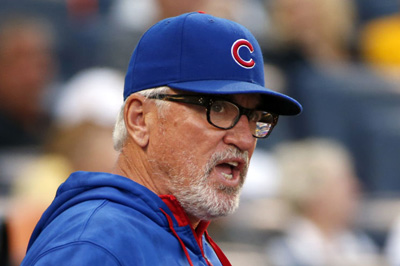 Joe Maddon
But as I watch and as expectations continue to rise, I feel it is important to make a plea to Cubs fans not to forget to exercise patience in a sports world focused on results, viewing anything short of a title as a failed season.
As great as they have been, there is plenty of time to regress. We've seen them go through stretches where they struggle to score runs, and with a tough final seven weeks ahead of them that will see two series each against the Cardinals and Pirates, it is still possible that despite their record, the Cubs could still miss the playoffs -- be it by record or a loss in a play-in game.
It is important to remember, we were not supposed to be here yet this season. This is still a team with four rookies that are more or less everyday starters. We were not even supposed to see Schwarber or Addison Russell until next season. Let's not let our history of bitterness and cynicism spoil what this team has already done. I hope as much as anyone that this continues into the playoffs, but if it doesn't, this season was still a huge success.
The Cubs are finally moving in the right direction. It is not always going to be an exponential growth, there will be setbacks, but the fans on the north side need to appreciate that they have the privilege of watching the Cubs play in games that matter in August and September. Even if they lose those games, the fact that they are meaningful at all is something to be grateful for.