Permanent link
All Posts
It's like the 'First Day of Camp'
08/11/2015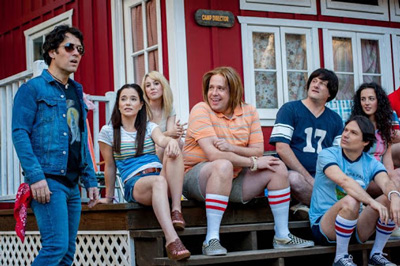 The arrival of Netflix's Wet Hot American Summer: First Day of Camp came with a feeling similar to that first day of overnight camp: who will your new friends be? What will your new memories look like? Will you find someone special? The possibilities seem limitless, and so was the case for David Wain's return to the cult classic that launched his career and the careers of so many of today's biggest stars.
I already praised 2001's Wet Hot American Summer as one of the best Jewish movies of all time, so needless to say, my excitement at seeing the entire cast (and then some) return for this prequel series was palpable, and my interest in what the Jewish components might be even more so. My expectations, on the other hand were tempered. Comedies of the cult variety are nearly impossible to replicate.
Fourteen years of reflection and insight definitely help First Day of Camp. Wain and co-writer Michael Showalter, who plays Coop, have a real sense of the spirit of their film and why it caught on as a cult classic, and they honor that without apology in this 8-episode series, which while not brilliant, has enough nostalgia and subtle laugh-out-loud moments to warrant the return trip to Camp Firewood.
The key is self-aware absurdity. Just the concept of making a series with all the same actors playing teenagers again (teenagers technically younger than they were in the movie, which took place on the last day of camp) is ridiculous enough. First Day of Camp makes jokes about it. Camper Abby Bernstein, for example, is played by a young girl in the first episode, but then gets her period, and from then on is played by Marisa Ryan, reprising her film role.
The Jewish humor of the series is more overt than it was in the 2001 film, and you can tell its personal for Wain; he plays a new character, Yaron, a counselor from Israel.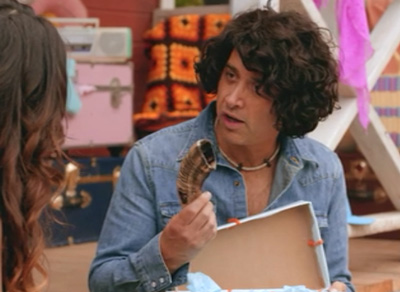 Yaron is the free-spirited, sexually liberated Israeli who is friendly and sweet with everyone yet intimidates and angers his fellow American male counselors, namely Coop, simply by default, i.e. he steals away their women with his Israeli swagger. In particular, Yaron captivates Coop's girlfriend Donna (Lake Bell), also a new character, a Jewish hippie type with a Star of David necklace who gifts everyone in camp a shofar from "Yerushalayim."
Israeli shlichim, the Israelis who come to American each summer to work at camps, are an integral part of the American Jewish camping experience, and so Yaron feels like the piece of the original movie that was missing. His subplot with Donna and Coop enhances the Jewish tone of the new series, suggesting Wain felt a certain pride over his movie's Jewish roots and popularity among Jews, and wanted to fly the flag a little higher this time around.
The entire First Day of Camp series is totally outrageous, sometimes to the point of tedium, but it's all in homage to the movie. The stories for each character line up with the original and sometimes in ways that put a twist on what we thought we knew about those characters -- for better or for worse. It's a total reunion-type series, much like Netflix's foray with Arrested Development, and it works as just that. A Wet Hot "virgin" would have a much lower chance of appreciating the series and wouldn't get many of its subtle references to the movie.
True to form, the only time the series is sincere is in the notion of camp friendships and romance, specifically the subplot involving nerdy camper Kevin (David Bloom), who gets bullied and has a crush on a girl. That's the truth of both the film and the series -- camp is a magical yet unforgiving place where a lot of growth happens in a short time.
So in a very roundabout way, First Day of Camp further reinforces why Jewish kids need to go to Jewish summer camp -- just don't show it to them until they're older.