Permanent link
All Posts
06/24/2015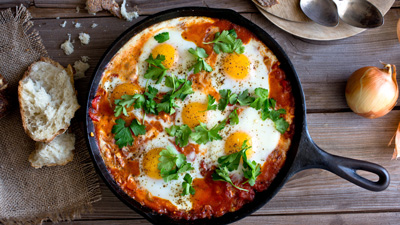 Shakshuka! Shakshuka! Shakshuka! I bet you can't say it 10 times fast. You probably can't say it very fast more than once. I know it sounds like your new favorite curse word, but it's way more than that.
Shakshuka, if you're not familiar, is a Tunisian dish of eggs poached in a spicy tomato sauce. If you've never heard of it, mazel, meet your new favorite meal. If you do know shakshuka, welcome back!
I happened upon shakshuka a couple of weeks ago while browsing through cookbooks. A gorgeous picture of eggs in a tomato sauce leapt off of the page and into my heart. It's the perfect breakfast or lunch dish to make to show off for friends. You can serve it with a mountain of challah and/or pita on the side. I've only ever made it for dinner, because I don't want to have to share it with anyone!
There are many reasons to make shaksuka. The absolute number one reason to make it is that it tastes amazing. The second is that it's maybe the easiest recipe you've ever prepared. I've been completely obsessed since I first discovered it just a few weeks ago. Did I mention that it's a one-pot meal? What is better than that?
Congratulations, your life is about to change.
Ingredients
1/4 cup olive oil
1 medium onion, finely chopped
4 garlic cloves, coarsely chopped
2 jalapeños, seeded, finely chopped
1 15-ounce can chickpeas, drained
2 teaspoons Hungarian sweet paprika
1 teaspoon ground cumin
1 28-ounce can whole peeled tomatoes, crushed by hand, juices reserved
Kosher salt and freshly ground black pepper
1 cup coarsely crumbled feta
8 large eggs
1 tablespoon chopped flat-leaf parsley
1 tablespoon chopped fresh cilantro
Warm pita bread
Remember! Cooking is fun and there is more than one way to get something delicious on your plate. If you're not in to jalapenos, maybe substitute green chillies. Don't like chickpeas? How about white beans. Get creative!
Directions
Preheat oven to 425 degrees. Heat oil in a large ovenproof skillet over medium-high heat. Add onion, garlic, and jalapeños; cook, stirring occasionally, until onion is soft, about 8 minutes. Add chickpeas, paprika, and cumin and cook for 2 minutes longer.
Add crushed tomatoes and their juices. Bring to a boil, reduce heat to medium-low, and simmer, stirring occasionally, until sauce thickens slightly, about 15 minutes. Season to taste with salt and pepper. Sprinkle feta evenly over sauce.
Crack eggs one at a time and place over sauce, spacing evenly apart. Transfer skillet to oven and bake until whites are just set but yolks are still runny, 5-8 minutes. Garnish with parsley and cilantro. Serve with pita for dipping.