Permanent link
All Posts
06/15/2015
As Father's Day approaches, our minds turn to the men who raised us, and -- as is customary -- we honor them with barbeques and fishing poles and colorful greeting cards that sing. But this year, I will break from my traditional gift-giving practices and try something new: a story for my dad.
While I admit, this choice is slightly influenced by the pitiful state of my bank account, I prefer to think of it as one of those "it's the thought that counts"/"it's perfect because my child made it" scenarios.
So, Dad, sorry there's no tackle box this year, I hope this story will do!
---
I don't think Joel Cohen ever dreamed of becoming a stay-at-home dad, in fact, I'm sure of it. If you somehow were able to go back in time and tell his 20-something self that he would spend his 40s making sock puppets and grilled cheese sandwiches, he would look at you like you had six heads.
You see, when he and my mother met in the late 1980s, Dad's life was all about classical music, contrary to the statement made by his Ringo Starr haircut. His life revolved around his roommates -- the percussion instruments set up in his living room. Dad practiced day and night, worked day and night too, tirelessly looking to become the best musician he could be. At times, his devotion was endearing; others, it was mildly concerning. Suffice it to say, my grandmother was elated when he brought home a girl instead of a drum for Shabbat dinner.
A few years later, my parents tied the knot and became the first Jewish couple to get married at the Chicago Athletic Association. The mahogany ballroom popped with touches of pink (that matched the bridesmaids' dresses) and the halls rang with the sound of the wedding march that Dad wrote especially for the occasion.
They had carefully planned everything for their new life. They sold their condos and bought a cute little house in the suburbs. Mom went to work each day at the American Cancer Society, and Dad worked the odd morning and evening hours of a professional musician. He picked her up each day from the bus stop at the corner and they walked home together. This system held true all throughout Mom's pregnancy and resumed shortly after I came home from the hospital, seeing as maternity leave was not yet a legal standard in the workplace. And the next thing my parents knew, without really planning it, Joel had become a stay-at-home Dad.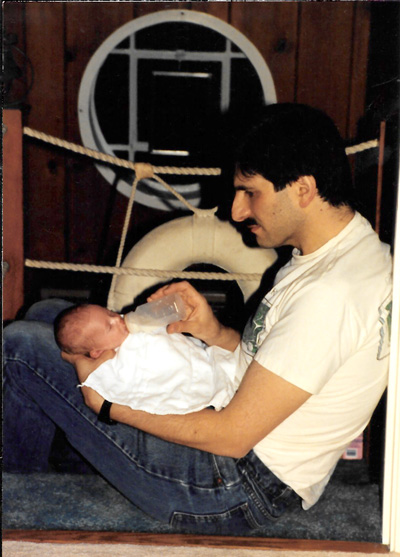 He said it was a great aesthetic improvement when the drums moved into the basement to make room for my bright pink dollhouse in the living room. He learned how to brush curly blonde hair but never quite built up a tolerance for the associated melodramatic screeching. Dad invented fanciful stories about my toys on our way to preschool and playdates and quickly won over the mothers of my classmates who didn't believe that men could provide the same loving care as their stay-at-home counterparts.
As I got older, story time evolved into science projects that destroyed the kitchen and hours spent arguing over math homework and music lessons. My daily refusal to practice for band made him emotionally short circuit, but he cheerfully ate the loaves of banana bread I made each week, something my mother was especially grateful for when I began experimenting with ground cloves and peanut butter. Even more impressive than Dad's culinary daring was his willingness to go to Walgreens and buy me pads when Mother Nature unexpectedly came to call. Bless him -- he always remembered to get the ones with wings.
Now that I'm grown, quite a bit has changed. I drive myself to playdates and buy my own pads, but I still ask for Dad's help when I'm testing out a new recipe, or learning a new song. I still call him for directions even though I have GPS on my phone and ask him questions that Google could easily answer. He remains one of my favorite shoulders to cry on and I love that he bombards my inbox with pictures of cats to brighten a rainy day.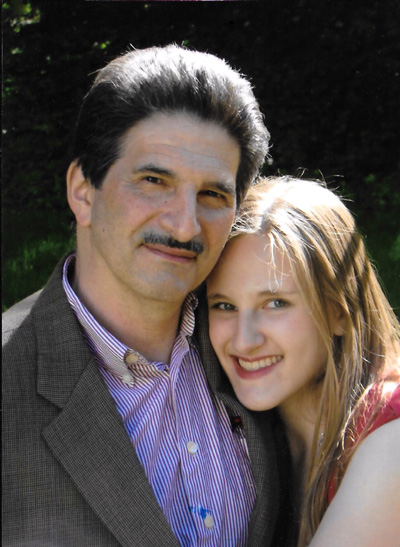 So, with that said: Happy Father's Day, Daddy! Thank you putting up with me. You are a hilarious friend and playmate and an excellent parent. You keep me sane and you make me crazy. You make a mean "Frappuccino" and I'm very proud to call you mine.
To read more posts in the "World's Greatest Jewish Dads" blog series, click here.