Permanent link
All Posts
06/09/2015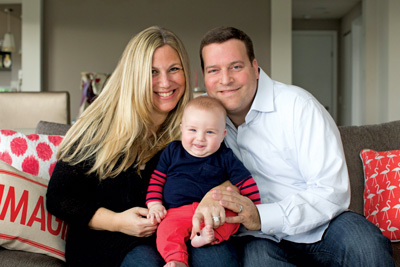 Dear Chicago Jewish community,
It's been five years since I called Chicago home, having moved to Miami upon experiencing a family tragedy. Then, I had no idea that JUF would be the source of two of my life's greatest blessings: my husband Michael Rosenburg and father-in-law, Kenneth Rosenburg z"l.
It was a JUF-sparked friendship that led to my 2005 life-changing introduction to Michael. I went on a JUF Ben-Gurion Society mission with Amy Winick. She soon began dating someone; he took her to a Shabbat dinner where she met Michael, and said to him then and there, "I have a girl I'm setting you up with."
Our relationship, which began with our dating, evolved into a friendship. Years later, it deepened with the shared grief of each having lost a parent prematurely. And then, when Michael visited Miami in July 2011, it unexpectedly deepened further.
After a whirlwind, long distance romance, we were married in November of 2012. One year later, we were overjoyed to discover that I was expecting our first child. From the pregnancy's beginning, Michael was the consummate husband and father -- protector of my well-being, fulfiller of my every craving, and fierce researcher of all items that would ensure the baby's safety -- from strollers and car seats to new tires for our vehicles. I carried our child, but my husband carried me -- with humor, affection, and the sweetness that's inherently Michael. Only he could make me feel so loved in my biggest, most swollen (read: third trimester in the hot Florida summer) months.
Since our son Noah arrived last August, it's been a crazy ride. We initially had a few medical issues to resolve. Thank God that is all behind us. But in those first trying months, Michael's calmness, coupled with his ability to care for a healing preemie and healing wife, were nothing short of heroic-all while managing a full work portfolio, maintaining the highest regard from his colleagues and serving on the board of our synagogue.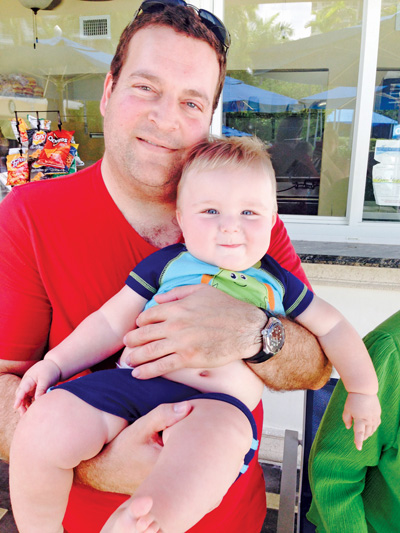 Earlier this year, we elatedly learned that I am pregnant again. This time, the demands are greater as doctors instructed me not to lift our now 9-month-old son. Without missing a beat, Michael assumed an even more significant hands-on role on nights and weekends. I live in awe of how he balances his demanding career with the demands of our family. I live in awe of his interaction with our child -- the playfulness, affection, and attentiveness to all aspects of Noah's development. I live in awe of how blessed I am to share a life and family with my amazing husband.
Michael's devotion to family and responsibility to community come from a home that nurtured it. My in-laws set wonderful examples as parents. And while I never had the fortune of knowing my father-in-law -- I am privileged to do so spiritually through Michael's anecdotes and actions. It allows me to continue developing a relationship with his father. And that will enable me to help our children grow to know and love their Papa Kenny.
One of the greatest gifts Michael has given me was under our chuppah. To include Michael's late father and my late mother, Naomi, in our wedding, we privately expressed to our Rabbi, for him to share during the ceremony, what our respective parents would have loved about our spouse. It was then that I learned of the JUF connection and passion for community that bound Ken and me.
In my 10 post-college years in Chicago, I immersed myself in JUF leadership opportunities through YLD, National Young Leadership Cabinet, the TOV Volunteer Network and Hillels of Illinois. Ken, a busy attorney, was quite immersed himself -- sharing his heart of gold with JUF since 1973, when he initiated the first communal residence for the elderly. He participated in the first Melton Jewish Leadership program, chaired numerous initiatives including the JUF campaign events at Yehuda Moshe and the Northside Lawyers' Division dinners for years, and served on JUF's Financial and Education board.
Thanks to JUF, for the gift of our meeting, Michael and I will celebrate his first Father's Day as Noah's daddy. Thanks to JUF, I celebrate a connection to a father and grandfather whom I never met, but greatly cherish. And of course, I celebrate my own wonderful father, David Kudish -- Noah's Zayde -- who introduced me to JUF and has always been a vibrant example of Jewish communal responsibility for me to emulate. I am forever grateful to all.