Permanent link
All Posts
05/19/2015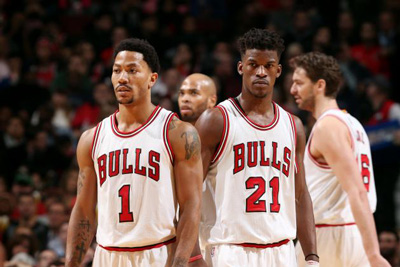 This is becoming a familiar feeling -- the Bulls' season cut short by LeBron James.  
I've thought about this a lot over the last week or so once I saw the writing on the wall that this team just didn't have what it would take to get past James and company, yet again.  
As much as we love the Bulls and as much as they have improved the roster -- probably the best roster they've had in the Tom Thibodeau era -- they never found an identity this season. They were never able to identify a true leader on the court, and they struggled pairing Thibodeau's defensive mind-set with a focus on making the Bulls a better offensive team.  
Their skill on the roster and on the bench got them as far as they could possibly go, but it was clear to me that this team was floating more often than not. Not only did they struggle to score at times, but they looked completely lost on offense for entire quarters.  
Here are my grades for each player this season. It will be interesting to see which, if any, pieces get moved around in the off-season.  
Pau Gasol -- Gasol was the Bulls' most consistent player this season, leading the league in double-doubles and earning his first appearance as an All-Star starter. Once seen as an off-season consolation prize in the Carmelo Anthony sweepstakes, Gasol gave the Bulls more than anyone expected. He was great in the pick-and-roll game and was the low-post scorer the Bulls have been looking for. His defensive lapses were often made up for by his shot-blocking ability. Although the veteran missed time when it really mattered in the playoffs, he was healthy for nearly the entire regular season. --  A  
Mike Dunleavy --  I really liked what I saw from Dunleavy this season. He gave the Bulls solid wing minutes, played good defense and hit threes coming off of screens as well as spotting up. Injury kept him out about 20 games this year, but he was a good veteran presence who wasn't afraid to play a little nasty on a team that lacked toughness at times. I would have liked to see him used more but that wasn't his fault. He may be the odd man out with his contract up after this season, but I think he would be a good asset to have if they can figure out a way to get him back. --  B  
Joakim Noah --  This year's Joakim Noah was not the Joakim Noah we've been accustomed to seeing. Maybe it was injuries, maybe it was difficulty fitting into the offense or with Pau Gasol, but Noah never really found his groove this season. His production dropped in every statistical category and just didn't have the emotional flair he had when he was All-NBA First Team last season. -- C-    
Jimmy Butler --  The NBA's Most Improved Player established himself this season as one of the league's best two-way players. He averaged 20 points and attempted a team best seven free throws per game. Butler bet on himself turning down the Bulls' pre-season contract offer and it looks like it is going to pay off. -- A  
Derrick Rose --  It was unclear at the start of the season which Derrick Rose we would see, if we would see him at all. Despite missing some time with a meniscus injury, Rose certainly showed signs of his former self. Prior to the injury he depended too heavily on the three-point shot (and was 28 percent from long-range), but in the second half of the season began to attack the basket again and played much more efficiently. Playing 51 regular season games and every game of the playoffs earns Rose a good grade alone for this season, but his inconsistent shooting and knack for turning the ball over drops him a bit. -- B+  
Taj Gibson --  I feel like I've been saying every year is going to be Gibson's break out year, but this might be his ceiling. After getting rid of Carlos Boozer, the starting power forward position was supposed to be Gibson's, but signing Pau Gasol and bringing over Nikola Mirotic changed that and Gibson struggled to find his role on this team. He looks to be the Bulls' most attractive trade bait this off-season as the odd man out in a crowded front court. -- C  
Nikola Miroti --  It was a hot and cold year for the rookie, but I loved the flashes that I saw from Mirotic. His ability as a big man to hit threes, put the ball on the floor and also find the open man put him at the center of some Rooke of the Year talk at points this season. He still has a ways to go on defense, but he definitely has potential to be a very good sixth man on this team for the foreseeable future. Once his confidence grows and he develops more of a low-post game, he can be a very, very dangerous player. -- B  
Aaron Brooks --  In the long line of great off-season point guard pick-ups, Brooks filled the bill. His often stellar scoring ability carried the Bulls a lot of the time when Rose or Hinrich were out. He got into the lane, hit impossible shots and shot well from (and sometimes two feet behind) the three-point line. But Brooks disappeared completely in the playoffs, showing very little ability to score the way he did in the regular season in limited minutes. -- B-  
Tony Snell -- Snell struggled to get into the rotation consistently, but he showed the potential to be the Bulls' next hidden draft find. When he did find his way on the floor, he showed he can hit from long range and also displayed a smooth, quick drive game. With Dunleavy's status in question next year, Snell may be ready to emerge as a potential starting 2 or 3 next to Jimmy Butler. -- C+
Kirk Hinrich --  Captain Kirk has always been someone I have defended when others didn't want to see him on the floor, but he made it awfully difficult to be in his corner even for me this season. Hinrich was always a favorite of Tom Thibodeau so he ended up in games even when he maybe shouldn't have been. He lost a few steps on defense, where he had been reliable in the past. -- D
We did not see much from E'Twaun Moore, Doug McDermott, Nazr Mohammed or Cameron Bairstow this season, but with the need to clear some cap space, we could see more of the first two next year and possibly not see the latter two on the roster at all.
I think it's unlikely that Thibodeau returns next year, and I'm guessing we'll see a few roster changes, but I don't know how much better the Bulls can be with the roster structured the way it is now. With Jimmy Butler likely to receive a max deal and Derrick Rose's max contract still on the books, we'll only see minor moves unless a trade is made.
It should be an exciting offseason full of speculation, but it appears for now that any improvement the Bulls make will have to come from within.