Permanent link
All Posts
03/18/2015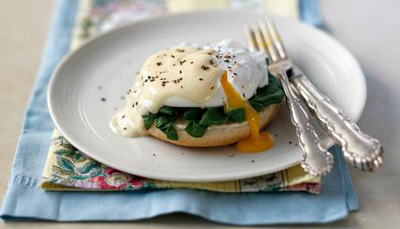 I recently poached eggs – successfully. I'm honestly not sure I've ever been more proud of anything; which probably means that I should find a more thrilling life.
Poaching eggs has been on my to-do list for a while, but I haven't attempted them because I've been too afraid. They've always sounded like a difficult science experiment that I wasn't sure I was strong enough to tackle.
When you think about it, though, they are kind of magical. How else are you supposed to describe cooking eggs in water? Then again, they can't be that difficult to achieve since a poached egg of some sort is on every brunch and breakfast menu. They can be found everywhere, and up until this week everywhere excluded my apartment. 
Maybe you're like me and you've let the idea of failure scare you out of the kitchen. I started cooking mostly because I got tired of the same boring takeout in my neighborhood. Most of the time I'm not very confident in the kitchen, but I'm learning to bite my tongue and go for it. I am slowly checking seemingly difficult cooking projects off of my to-do list. Originally I was hoping that would make me a better and braver cook; what I'm finding is that it's making me a better and braver person. 
I can't think of a better metaphor for life. Cookbooks are as readily available as any other book. They're full of instructions – you just have to be able to read and try to do what they ask. The key word here is try. If you mess up, so what. Try again. If I've learned anything from my kitchen experiment, it's that trying something new is absolutely worth it and when it does work out you feel like a magician. What's better than that?
My (Magical) Version of Eggs Florentine
There are a zillion steps to this recipe, but once you've done everything and assembled it you'll feel like a champion.
Hollandaise
12 tablespoons unsalted butter (1½ sticks)
4 large egg yolks
3 tablespoons lemon juice
1½ teaspoons salt
¾ teaspoon pepper
¾ teaspoon cayenne pepper
Melt the butter in a small sauce pan. Place the egg yolks, lemon juice, 1½ teaspoons salt, ¾ teaspoon pepper and cayenne in the jar of a blender. Blend for 15 seconds. With the blender running, slowly pour the hot butter into the blender and blend for 30 seconds, until the sauce is thick. (You can leave it in the blender at room temperature for up to 1 hour. If it is made in advance, add 1 tablespoon hot tap water and blend for a few seconds before serving.)
Sautéed Spinach
1 tablespoon butter
1tablespoon extra-virgin olive oil
1 small onion chopped
10 ounce package baby spinach
Salt and pepper to taste
Heat a large skillet. Melt the butter, and then add the olive oil and chopped onion. Cook until soft, about 3 minutes. Add the spinach and cook, stirring, until spinach is wilted. Season with salt and pepper and toss again. Serve warm.
Poached Eggs
Heat the water: Add enough water to come 1 inch up the side of a narrow, deep 2-quart saucier. Add 1 teaspoon kosher salt and 2 teaspoons white vinegar and bring to a simmer over medium heat. Meanwhile, crack 1 very fresh cold large egg into a custard cup or small ramekin. Use the handle of a spatula or spoon to quickly stir the water in one direction until it's all smoothly spinning around.
TIP: Use this whirlpool method when poaching a single serving (one or two eggs). For bigger batches, heat the water, salt and vinegar in a 12-inch nonstick skillet and do not stir.
Add the egg: Carefully drop the egg into the center of the whirlpool. The swirling water will help prevent the white from "feathering," or spreading out in the pan.
Let it poach: Turn off the heat, cover the pan and set your timer for 5 minutes. Don't peek, poke, stir or accost the egg in any way.
Lift it out: Remove the egg with a slotted spoon and serve immediately. Alternatively, move the egg to an ice bath and refrigerate up to 8 hours. Reheat in warm water just before serving.
Put it all together: Toast an English muffin and then top it with a bit of the spinach, top it with a poached egg and a bit of hollandaise sauce.