Permanent link
All Posts
03/17/2015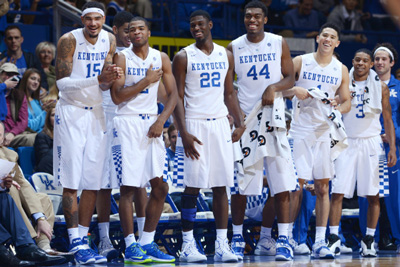 One of my favorite times of year is finally here – March Madness. The good weather, the high stakes, and basketball on television nearly every minute of every day.
Now, I am by no means an NCAA aficionado; I don't watch every minute of every regular season or even conference championship game. But since when does being an expert make you more qualified to pick winners when it comes to the NCAA tournament? Sure, there are trends to follow and hot players and teams heading into the tournament, but what truly makes March Madness great is its unpredictability – the "madness" if you will. It is one of the few sports bets you can make where the biggest college basketball fan has little advantage over the casual viewer. The thing I love about it is that no matter how much I know about any of the teams going in, I am going to become as emotionally invested as any other fan once that first game tips off.
I actually think I approach this with a bit of an advantage over someone rooting for their alma mater. My college doesn't even have a team, so I go in completely unattached and open to jumping on and getting behind whoever I think is the most fun to watch. It is one of the few times for me when a loss doesn't equal heartbreak. It's like speed dating: I don't have a life-mate, nor am I looking for one – I'm just going out looking to have fun.
With that said, let's make some preliminary picks. These may not be the picks I stick with, but they are the ones I like right now after actually watching a good amount of college basketball this year and using a healthy mix of good, solid research and pure gut prediction. I'll go region by region.
Midwest Region
I only see one real upset coming out of the Midwest, and that is 12th ranked Buffalo topping 5th ranked West Virginia in the first round. Aside from the history of upsets in the No. 5 vs. No. 12 portion of the bracket, I think there is a lot to like about Buffalo and they are a perfect underdog to get behind. This is their first trip to the tournament, coached by former NCAA star and NBA player Bobby Hurley. Their main weapon is big man Justin Moss, who nearly averaged a double-double this season. With a few notable injuries on West Virginia and a little Cinderella magic dust, I can see this 12 seed moving on. I like Notre Dame, but they struggle to get stops on the defensive end. Teams with stars typically have success in the tournament, and Maryland potentially has one in Melo Tremble. But this region starts with Kentucky, and I believe it ends with them. They are more than just hype – this is a team nobody wants to play. They have depth and were dominant all season long. Sure someone could always sneak up on them, but as of today, this is my team to come out of the Midwest.
East Region
I don't see an obvious favorite coming out of this region. To me, the team to watch out for is Michigan Stage. Don't be fooled by their seven seed. You can never count out a Tom Izzo-coached team, who will be coming in with a big chip on their shoulder as a result. I think they could get past two seed Virginia, but may have trouble with a team like Oklahoma. In fact, I'm going to take Oklahoma out of the East. They finished the season hot and have one of the best starting five in all of college basketball.
West Region
Now to the West where Big Ten champion Wisconsin holds the top seed, but I think Arkansas is the dark horse team to watch in this region. Arkansas can flat out score and are led by SEC player of the year Bobby Portis. Wisconsin is probably still the favorite and Arizona will be a tough out, but I am not buying Wisconsin. Bo Ryan has them right there every year and they are as fundamentally sound as a college basketball team can be. If the tournament were a "best-of-seven" scenario, Wisconsin might be my champion. But this tournament is about momentum as much as it is about skill and I see them being beaten on any given day by a team playing with more heart. I'm going to take Arizona out of the West because of how well they play against ranked teams.
South Region
The South has my true Cinderella team, Stephen F. Austin. SF Austin is a great offensive team who made noise in the tournament last year and I think have a favorable bracket to do it again. But to me this region comes down to whether or not Duke and Gonzaga are for real. Duke is a favorite every year and Jahlil Okafor may be the best player in the tournament. Gonzaga is one of the top teams every year, and this may be one of the best teams they've had in recent years, but the 'Zags have a tendency to disappoint come tournament time. If either one of these teams come up with a letdown, look out for Iowa State in the South. I like them every year, probably because of my affinity for head coach Fred Hoiberg, but I also think they can shoot lights-out.
So, my Final Four looks like this: Kentucky, Arizona, Oklahoma, Iowa State. And my National Title game? Kentucky over Iowa State to win it all. Kentucky is just too skilled and too deep. They have everything that makes a championship team, and as much as I love to ride an underdog, I just don't see them being upset on their road to becoming NCAA National Champions.