Permanent link
All Posts
01/26/2015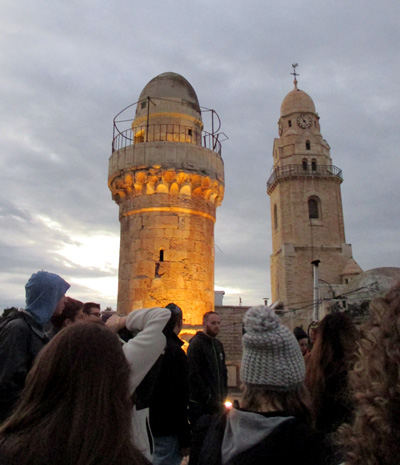 So majestic and powerful to the point where I am almost blinded by the beauty. A humble graciousness arises. I just landed in Israel and the feeling has no words.
As I touched the ground, the soil, the Holy Land, I felt empowered. There were so few reasons as to why I shouldn't have done this sooner. My grandmother pushed, and pushed, and I always found a way to get by and say, "Maybe next year, Nonny!"
Why? Why did I wait for such an amazing opportunity? Such a precious gift was upon me, and I was now ready to face it.
Traveling on two planes, being away from home, packing for 10 days, all included in one slightly anxious bound. "I have never done this before" kept running through my mind. Meeting new people is one of my favorite things, but how was I going to meet over 50 people, and not feel overwhelmed?
As I was going around, telling everyone about myself, I noticed similarities, not the stereotypes I had pictured in my head. "Hi, my name is Veronica, and I like to paint, bake, and swim." I kept it basic; I didn't know everyone, but I was excited. Never in my life did I think for one moment that I would make such a difference in lives, in Israel, in people that I did not know. Everyone was so welcoming, free-spirited and very understanding.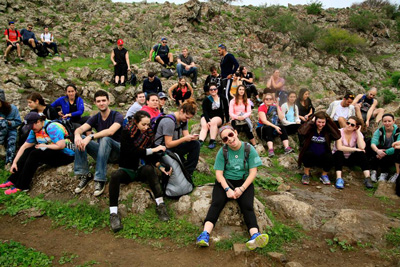 Staying at the kibbutz, for three nights was beautiful. It was like living amongst your people, your heritage – and contributing to each other. Everything was communal including where we ate. This is where I got to know everyone. Who knew food would bring us all closer?
The Israeli scenery appeared more gorgeous every single time I looked at it, even in a different perspective. Palm trees, water, even rocks – all stunning. As I looked at the sky over the Western Wall, or even looking at the Dead Sea, I felt surreal; I felt at home.
Every part of Israel had a special story. As hard as it may be to describe the power and empathy I had at Yad Vashem, Israel's Holocaust memorial and museum, I felt sad yet curious. How could this happen? Never again. There was no sign of what would or could happen next in those times. Questions arose, people cried – I cried – and I felt like it was okay to cry. It was okay to understand each other, to experience our emotions together as a group and as a family.
I don't have a favorite part of my trip, I loved every single moment. There are no words to describe how close I felt to Israel and the people. Did I mention the Israelis on our trip? If it weren't for them, I would not know how to say, "Lama-makara!" also known as, "But why?" Even though they may have taught us some funny phrases, they made the trip. I appreciate every moment I spent with every Israeli because of their enthusiasm and love for Israel.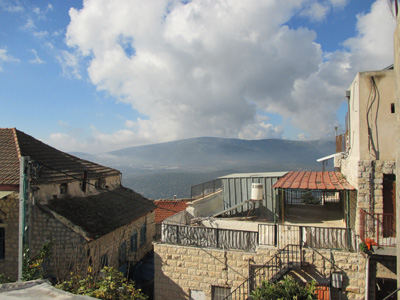 As our tour guide, Yossi took us everywhere: upside-down, sideways and anywhere else he could think of to open our minds through Israel. He knew how to create a social atmosphere that connected all of us and our differences. I will never, ever forget him and how he made my trip, just like the Israelis and the group did.
My trip on bus 217 was the most amazing decision I have made in my life. I miss everyone, and even though most of the group surrounds me in Chicago, I really miss being together, especially singing our morning song every day. In the song, when we got to, "the dew falls away," that's how we all knew we were awake and having fun.
This trip – this gift – changed my life as a Jewish woman in America. All of the news in the U.S., all of the things people say may be true, but once you are in Israel, and once you see it for yourself, you understand the feeling that everyone has been talking about, and you tend to gather your own opinion.
Israel changed my life, and my heart. I have a new passion and love for a country, history, people, heritage and more. I fell in love and never want to break that bond. With that said, Israel, you may have challenged me, but I will always love you.
Veronica Korengold recently returned from her Taglit-Birthright Israel: Shorashim-JUF Chicago Community trip in December, a life-changing trip for Jewish 18-26 year olds that also provides participants with an incredible network and connection to the Jewish community in Chicago upon returning home. This summer, all Chicago community trip flights will be departing from Chicago, making it easier, cheaper, and more convenient than ever to get to Israel for free from Chicago. Shorashim is the only Taglit-Birthright Israel trip provider with flights leaving from Chicago, so make sure to tell your friends and family to register for a community trip!
Registration opens for new applicants on Tuesday, Feb. 3 at 9 a.m. CST and for returning applicants on Monday, Feb. 2 at 11 a.m. CST at israelwithisraelis.com. With many trip dates and trip options, it's easy to find the trip that is the best fit for you! Questions? Contact Shorashim at info@shorashim.org or (312) 267-0677.