Permanent link
All Posts
The Only Way to Make Summer Produce Better
07/15/2014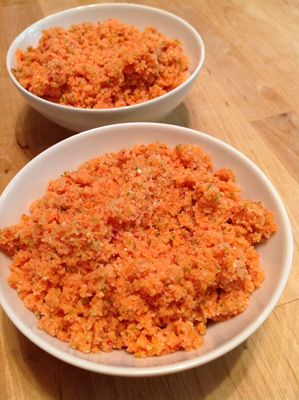 Summer is both the best and the most challenging time of year to cook. Everything is in season and readily available (yay!) but it's all so beautiful and ripe that the idea of futzing with it in any way seems sinful (boo!). For real, when there are ripe tomatoes and technicolor peppers and fruit so sweet it's basically crystalizing on your countertop, who needs recipes, or ovens, mixing bowls, or skillets? Cut open a mango and spoon it directly into your mouth. Boom. Dinner. Done.  
But if you miss being in the kitchen and absolutely need to get your little chefy paws on the gorgeous produce you bring home, here is a way to enhance it without screwing up a good thing. Take a lesson from the Southeast Asians, the Mexicans, and the South Americans and sprinkle summer time fruit with salt and chilies. Because salt and spice make fruit taste even … fruitier. 
Here is my recipe for chili and lime salt. It's pretty basic, but you can also add things like fresh herbs and even a little sugar to balance things out a bit. All you need is some perfectly ripe fruit to sprinkle it on and you will be the hit of the party/summer/your own personal summer oasis in front of the air conditioner. Best part is that you can make a big batch and put it in the fridge for up to a month.
Chile Salt
2 red chilies (I like Fresno, but red jalapenos work well too)
2 limes
2 cups kosher salt
A bunch of cut up fruit (I cannot think of a fruit that wouldn't be delicious with this salt on it, but my favorites are pineapple, melon, and papaya)
Optional: a bunch of fresh herbs (cilantro, mint, tarragon, basil, etc…), and sugar (in case you would like to balance out the salty/spicy with some sweet.  
Slice the chilies. It doesn't really matter how big or small your slices are because they are about to be pulverized in the food processor, but if you aren't so much into super spiciness, this is a good time to remove the ribs and seeds.  
Use a vegetable peeler to remove the zest from both of the limes. Be careful and take your time. This recipe does not call for human skin.  
Throw the chilies, lime peels and salt into a food processor and blitz until everything comes together in a beautiful red sand. If you are using fresh herbs, throw some of those in too (about half a cup). Typically, I would tell you to dip a finger into anything you are processing and taste it for seasoning, but this shit is spicy and you might want to use a cut piece of fruit instead. Feel free to add more of any of the ingredients to balance the flavor as you see fit.