Permanent link
All Posts
06/24/2014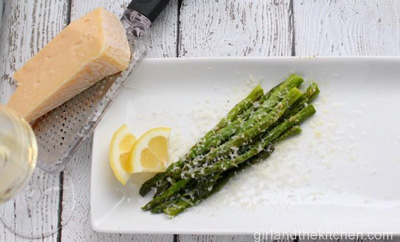 Most of the time, dinner in our house needs to be quick and easy. Like most other supermoms out there, my days are long and I usually have about a two-hour window to cook and prep for the week.  
That being said, I do my very best to keep our meals high in protein and loaded with healthy, nutritious veggies.  Asparagus is one of those veggies that I absolutely cannot get enough of. When I take a pan of this lemony asparagus out of the oven, I usually munch on it until I realize that I have consumed half the pan myself and have ultimately become a vegetarian for that night.
This asparagus is super versatile! In the cold months I roast it in the oven for a few minutes, and in the gorgeous summer weather, I throw it on the grill for a quick sear along with some chicken or steaks and ring the dinner bell (or in my case, text the hubby to get his dinner on).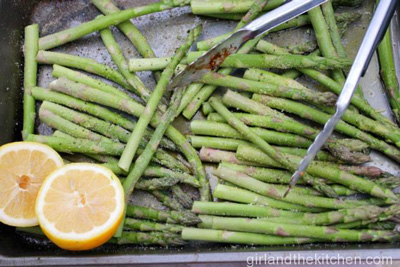 Lemon Parmesan Asapargus
By Girl and the Kitchen
Ingredients
1 pound of asparagus 
juice of one lemon 
2 tablespoons of olive oil 
2 tablespoons garlic powder 
salt and pepper to taste
Parmesan cheese as desired
Instructions
1. Just grab your asparagus, which is typically tightly bound with rubber bands, and place it on a cutting board. You are going to want to cut off the woodsy ends. To know where that is, just take an asparagus spear and hold two fingers on one end of the asparagus and two fingers (from the other hand) on the other side, now bend it. Where it naturally snapped is the woodsy end. Use that one asparagus as a measuring point for the rest of the asparagus and cut off the woodsy ends. You can discard those, unless you are planning on throwing them into a soup for flavor.
2. Wash the asparagi (hmmm is that a word?) thoroughly and then towel-dry it. Place it into a roasting pan (a foil pan works perfectly fine). Drizzle olive oil, lemon juice, salt, pepper and garlic powder.
3. Place it into a 400-degree oven for 5-7 minutes or grill it on high for about 5-7 minutes. It should be tender to the bite but not mushy.
4. Now is the fun part! Take some good nutty Parmesan cheese and grate it all over the asparagus. Make it as cheesy as you want...