Permanent link
All Posts
06/02/2014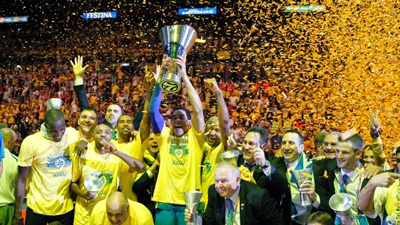 The biggest Jewish sports news of the summer is a huge "mazel tov" to Maccabi Tel Aviv for winning the Euroleague Basketball Championship. This is an incredible accomplishment; Israel went crazy after the historic victory.
Also, mazel tov to Shoni Schimmel, who went eighth in the WNBA draft to the Atlanta Dream. Schimmel graduated last year from Louisville, where her sister, Jude, will be a senior. Both sisters are part Jewish and part Native American.
Recently and unfortunately, Jewish baseball players Josh Zeid and Ryan Kalish have been sent down. Also, Aaron Poreda has been optioned to the Pacific Coast League even though he has been pitching well. We hope to see them all back up soon.
In NFL news, former Bears punter Adam Podlesh has signed a one-year deal with the Steelers, while Brian De La Puente has joined the Bears and Jewish coach Marc Trestman's minyan after snapping/starting the last two years with the Saints. He is currently behind Roberto Garza on the depth chart.
In college basketball news, the charismatic college coach Bruce Pearl is back. Pearl is the new head coach of the Auburn Tigers. Auburn makes a big splash with a proven coach. It is good to see Pearl back on the sidelines and out from behind a desk. Pearl has wasted no time building a staff bringing aboard Auburn legend Chuck Person and adding two Jewish coaches to his team: Harris Adler, formerly of La Salle, and Columbia's Todd Golden.